Su-35 Purchase: Evidence of Sino-Russian Relations' Weakness or Strength?
Publication: China Brief Volume: 15 Issue: 23
By: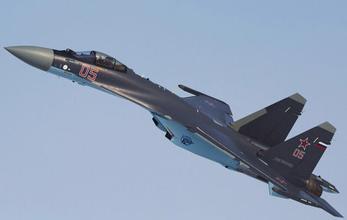 In a reversal of previous statements about Russia's long-delayed sale of Sukhoi-35 fighter jets to China, Russian military-industrial conglomerate Rostec's President Sergey Chemezov confirmed that the negotiation has been completed and "we have signed a contract" (Takungbao Online, November 19). Media discussions of the purchase were largely met with silence from official Chinese sources. But, a visit by Vice Chairman of the Central Military Commission of China, General Xu Qiliang, and Minister of Industry and Information Technology Miao Wei to a related engine manufacturer can be taken as evidence that negotiations appear to be coming to a close (People's Daily, November 19; UEC [Russian], November 18).
The deal will be accompanied by Chinese purchases of advanced communications systems to connect the long-range fighter to other aircraft and bases. The United Instrument Manufacturing Corporation (UIMC) has announced that the Su-35s will include the S-108 aerial communications system and NKVS-27 ground-based communications system (Rostec, November 23). This system has a range of 1,500 kilometers, allowing the Su-35 to remain in contact over the long distances with bases and patrol zones, such as the line between Taiwan and the PRC, and China's far-flung claims in the South China Sea. [1]
PLA Senior Colonel Du Wenlong noted in an interview that the Su-35 purchase could herald a further deepening of Russo-Chinese technological cooperation (People's Daily Online, November 23). With the delivery of other advanced systems, including the S-400 surface-to-air missile system (SAM) to Syria, the resolution of issues surrounding a similar sale to Iran, and interest in the Su-35 from Indonesia, the pressure is on for Russia to finalize the sales to China. Additionally, as China is importing significantly fewer resources from Russia as its own economic growth slows, Russia could be more amenable to sales of advanced technology to China, despite the risk of intellectual property theft.
Both sides need each other to accomplish their military modernization plans. Sanctions have hurt Russia's arms business, as has the cut-off of access to important airframes and engines from Ukrainian companies like Antonov and Motor Sich. Though Russian export authority Rosboronexport head Anatoliy Isaykin emphasized that Russian units have first priority for the systems being produced, this pressure, and the Chinese agreement to a smaller initial tranche of the fighters (previous announcements of the sale had included as many as 48 fighters, rather than the recently reported 24) may have been the key to an agreement (Interfax, October 27).
The Su-35 will take over from the Su-30MKK as the most sophisticated of China's fighters. In addition to advanced avionics and vectored-thrust capability, the Su-35 features an increased range. This latter capacity will allow it to take on long-range patrols similar to those currently performed by the Su-30, including the "line" between China and Taiwan patrolled by Su-30s flying from Feidong Air Base in Anhui (China Brief, October 10, 2013).
Given Chinese success at procuring technical details through espionage, a demonstrated ability to improve of a number of copies of complex Russian systems (including the HQ-9 SAM system Turkey had until recently planned to buy) it seems unlikely that this reliance will last much longer.
Though many of the systems are refinements of Soviet platforms, the sales of the S-400 SAM and Sukhoi-35 jets are significant because they represent a shift to post-Soviet innovations and modernization. Moscow understandably would be reluctant to pass on to Beijing long-range strategic weapons systems that could in turn threaten Russian soil.
Much discussion of China-Russia military exports revolves around China's purchases of engines. The primary source of those engines, the United Engine Company (UEC, formerly Saturn) produces the AL-31F jet engine used in several Sukhoi aircraft (including the J-11) China operates as well as China's indigenous J-10. Other engines produced by the UEC include the D-30, which are key to improved versions of China's long range H-6K bomber, the KJ-2000 early warning aircraft, and the prototype Y-20 heavy transport (United Engine Company [Russian], November 18; Salut.ru, Accessed November 30). Additionally, in a country working to expand its helicopter fleet to improve tactical mobility, Russian engines are also needed for the workhorse Mi-8 series transport and specialized anti-submarine-warfare Kamov helicopters. China is, therefore, reliant on Russian engines for key components of its developing long-range strike capability, as well as its strategic transport.
Previous sales of Russian technology occurred when Russian economic fortunes were down. The 1990s saw bartering of Chinese goods for Russian tech. Similar dependence on Western food imports during the late 90s bred resentment—not better relations. It may be too soon to herald the sale as a sign of strong Sino-Russian trust. [2]
Note:
1. Note that Russia's state military export company Rosoboronexport is a subsidiary of Rostec.
2. Phillip Saunders and Joshua Wiseman, "Buy, Build, or Steal: China's Quest for Advanced Military Aviation Technologies," China Strategic Perspectives, No. 4, National Defense University, Center for the Study of Chinese Military Affairs, December 2011. p.35.