Syrian Unrest Raises Sectarian Tensions in Lebanon
Publication: Terrorism Monitor Volume: 9 Issue: 31
By: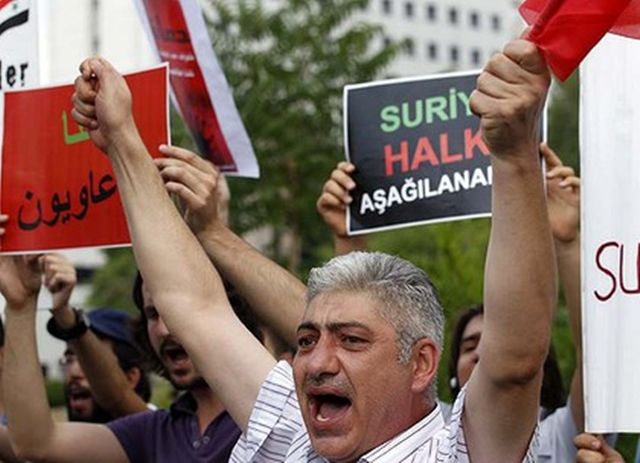 As the turmoil affecting Syria persists with no apparent end in sight, fears about the potential impact of the crisis on Syria's neighbors remain at the fore. Among all of its neighbors, the complexity that defines Syria's relationship with Lebanon and the characteristics of Lebanese society and politics – linked inextricably in so many respects to Syria – leave Lebanon especially vulnerable to a spillover of violence and instability from Syria, which continues to enjoy tremendous influence in Lebanon even after withdrawing its troops from the country in 2005.
Since the state launched its crackdown against opposition protestors demanding the end of Syrian President Bashar al-Assad's reign, thousands of refugees fleeing the unrest at home have fled into northern Lebanon as well as Turkey and Jordan. While some Syrian refugees who made the journey have returned home, approximately 2300 remain in Lebanon (Daily Star [Beirut], July 23). With a sizeable Syrian community in Lebanon – a popular destination for Syrian guest workers – the nation has experienced public displays of solidarity organized by Syrians both in support of and against Damascus. Rallies organized by pro- and anti-Syrian Lebanese factions in Beirut and elsewhere have also raised the political temperature across Lebanon (Peninsula [Doha], April 21; al-Masry al-Youm [Cairo], March 31).
The most alarming repercussions of the crisis in Syria for Lebanon to date occurred on June 17 in Lebanon's northern city of Tripoli. Anti-Syrian demonstrations organized by Sunnis there degenerated into armed clashes between Sunni militias and gunmen from Tripoli's minority Alawite community. It remains unclear which side initiated the violence that left six men dead and several others wounded. Members of both factions accuse each other of shooting first (al-Jazeera [Doha], June 17). The clashes occurred during a protest staged by an estimated 600 Sunnis in support of Syria's opposition forces (al-Jazeera, June 17). Tripoli's predominantly Sunni community is aligned with Lebanon's March 14 Alliance, a U.S. and Saudi Arabian-backed bloc featuring Sa'ad Hariri's Future Movement. The March 14 Alliance opposes Syria and its Lebanese allies, namely the ruling March 8 Alliance that includes Hezbollah and its benefactor, Iran. In contrast, Tripoli's Alawite minority is allied with the March 8 Alliance and looks to Syria for support. Alawites, a tiny minority in Lebanon who number between 50,000 to 60,000 members and are largely clustered in Tripoli and its environs, are a Muslim sect viewed as heretical by many Muslims. [1] Yet in spite of their minority status in Syria – Alawites make up about 12 percent of Syria's population – Alawites tend to dominate Syrian political life; President al-Assad, among other leading figures in Syria, is an Alawite.
Tripoli has witnessed a number of sectarian clashes and other bursts of political violence in recent years, including incidents involving Sunnis and Alawites. Coming during a period of turmoil in Syria, the latest episode of violence in Tripoli exemplifies how events in Syria can impact Lebanon, inciting old rivalries and instigating new tensions.
Flashpoint Tripoli
Tripoli, the second largest city in Lebanon, is a microcosm of the treacherous field of Lebanese politics. Due to its volatile sectarian character and its role as a stage for an array of fickle allegiances and feuding rivalries between Lebanese and foreign actors, Tripoli has often served as a dangerous flashpoint, the June 2011 clashes being a case in point. Sectarian tensions between Sunnis and Alawites erupted into days of violence in 2008 in the form of acts of arson, armed gun battles, sniper fire, mortar and rocket propelled grenade (RPG) attacks, all taking place against the backdrop of the heightened antagonism between partisans of the March 14 Alliance and the March 8 umbrella group in Tripoli. The ensuing strife left eight dead and scores more wounded before a Beirut-brokered ceasefire enforced by Lebanese security forces was put into effect (Daily Star, June 24, 2008). Sectarian tensions between Tripoli's Sunni majority and its Alawite minority are particularly evident along neighborhood fault lines drawn up during the 1975-1990 Lebanese Civil War, namely the Sunni-dominated Bab Tabbaneh quarter and the adjacently located Jabal Mohsen district, which is home to a mostly Alawite community.
Tripoli is also ground zero for Lebanon's radical Salafist movement, a trend that has gained a following among the city's Sunnis. In 2007, Tripoli saw clashes between Salafist militants associated with groups such as Fatah al-Islam (Victory of Islam – FAI) and Jund al-Sham (Soldiers of the Levant – JaS), rival militias, and Lebanese security forces. Salafist radicals were also implicated in a series of terrorist attacks in Tripoli and neighboring areas as well as bank robberies. Lebanese security forces fought the Salafists in the Nahr al-Bared Palestinian refugee camp located just outside of the city, eventually laying siege to the camp following months of conflict (see Terrorism Focus, June 24, 2008). The noticeable rise of Salafist influence in Tripoli in recent years, a pattern that includes the appearance of foreign-born militants in the area with experience fighting in Iraq and other theaters, has added a dangerous ingredient to the city's already combustible mix (al-Jazeera, May 24, 2007). The most extreme Salafists view Alawites, as well as the Shi'a and other sects, as heretics and apostates. Salafist militiamen in Bab Tabbaneh are implicated in the most recent clashes against their Alawite rivals (Daily Star, June 26, 2008).
Tripoli's Very Public Politics
Visitors to Tripoli are quickly struck by the display of posters and banners fastened to the city's walls, utility poles, and storefronts, all broadcasting the political allegiances and ideological affinities of its denizens. As an essentially Sunni city that is among the most religiously conservative by Lebanese standards, posters and banners lauding prominent Sunni figures, including the late Lebanese Prime Minister Rifik Hariri and Sa'ad Hariri, are readily apparent. It is also common to encounter images of the late Iraqi President Saddam Hussein and other Iraqi Ba'athist officials associated with the Sunni insurgency. The flag of Lebanon crossed with the flag of Saudi Arabia – a key supporter of the March 14 Alliance and the Lebanese Salafist movement – is also evident throughout the city. The Islamic flag known as al-Raya, featuring a black background and the Arabic inscription of the Shahada (the Islamic creed) in white, is popular among the city's Salafists. In contrast, those who make their way through Jabal Mohsen and other Alawite areas will encounter posters and banners showcasing the allegiances of the local Alawites. Syrian flags and images of President Bashar al-Assad are displayed proudly alongside the familiar yellow and green Hezbollah flag and images of Hezbollah Secretary General Hassan Nasrallah. The logo of the Arab Democratic Party (ADP), an Alawite party that supports the March 8 Alliance and Syria, is also displayed throughout the area. [2]
The undertones of sectarianism in Tripoli were expressed through a claim by ADP leader Rifaat Eid, who accused Sa'ad Hariri's Future Movement of involvement in the recent violence: "Tripoli has become like Kandahar. They [the Future Movement] distribute weapons to incite Sunni-Alawite clashes… We accuse Hariri of having personally led the fighting in Tripoli, and we believe that he funds the Salafist terrorist groups that attacked us" (iloubnan.info [Beirut], June 19). A July 29 demonstration in Tripoli saw Sunnis set ablaze the flags of Syria, Hezbollah, and Israel. The protestors also chanted slogans in support of the opposition in Syria and called for Beirut to rein in Hezbollah's influence in Lebanon (Daily Star, July 30).
The Syrian Angle
According to the logic expressed by the ADP leader, the March 14 Alliance, along with Saudi Arabia, view the Salafists in Tripoli and other Sunni militants in Lebanon as a useful check against the influence of Hezbollah, the powerful Shi'a militia and political party, and its patrons, Syria and Iran. In this context, the current turmoil in Syria provides the March 14 Alliance with an opportunity to undermine Syria's influence in Lebanon and, by extension, Hezbollah and the ruling March 8 Alliance that engineered the ouster of Sa'ad Hariri from the prime minister's role in January 2011 (al-Jazeera, January 25).
For its part, Damascus may also sense an opportunity in Tripoli to bolster its embattled domestic position and help stave off international pressure stemming from its crackdown against the opposition forces. Syria's capacity to destabilize Lebanon is well known, as are the regional and international fears of such a scenario. Given the present circumstances, Damascus may view a crisis in Lebanon culminating in sectarian conflict as a possible way to redirect attention away from its own predicament and strengthen its case that the fall of the Ba'athist regime will be felt far and beyond Syria's borders, namely in the form of a renewed civil war in Lebanon. Rami Makhlouf, a first cousin of President al-Assad and powerful business mogul who, in the eyes of the opposition, personifies the corruption of the regime, seemed to play on these concerns regarding the future of the region if the regime in Damascus were to fall: "They should know when we suffer, we will not suffer alone" (New York Times, May 10).
The Hezbollah Factor
The ouster of Egyptian President Hosni Mubarak, a bitter enemy of Hezbollah and ally of Israel, reinforced Hezbollah's position. Hezbollah was quick to throw its weight behind the opposition forces who struggled against Mubarak in pursuit of political freedom and democracy, portraying their efforts through a narrative of resistance akin to its own mission (See Terrorism Monitor, April 1).
The upsurge of opposition against the Ba'athist regime in Syria, which is led by a sizeable segment of Syrian society who are echoing demands analogous to those voiced by the Egyptians previously endorsed by Hezbollah, has presented the group with a dangerous dilemma. After initially opting to ignore the crackdown by Damascus, the escalating breadth of the demonstrations coupled with the concomitant resort to repression by the Syrian security forces has prompted Hezbollah to address the unrest threatening its ally. Emphasizing Syria's role in regional affairs, particularly in supporting the resistance against Israel, Shaykh Nasrallah affirmed Hezbollah's support for Damascus: "We, in Lebanon and especially in Hezbollah, are highly grateful to Syria, its leadership, its President Hafiz al-Assad and President Bashar al-Assad … We believe – I personally believe and this is not built on analysis but rather on direct discussions and declarations – that Syrian President Bashar al-Assad believes and is serious and determined about reform…. I know that he is ready to take very great reform steps but with serenity, care and responsibility" (al-Manar [Beirut], May 25). Responding to accusations by Syrian protestors and their Lebanese supporters that the movement was aiding Damascus in its crackdown, Hezbollah retorted: "Repeating these lies is an attempt to justify and persuade Western intervention in the internal Syrian situation… it [Hezbollah] completely rejects such interventions, and supports reform and stability, which would secure the development and welfare of the Syrian people" (al-Manar, July 30).
Regional geopolitics dictates that Hezbollah stand by Damascus. In contrast, Hezbollah's rivals in Lebanon, namely the March 14 Alliance and its Salafist allies in Tripoli, as well as foreign actors including the United States, Saudi Arabia, and Israel, see Hezbollah's dilemma in regards to Syria as an opportunity to weaken its position and that of its allies – Syria, Iran, and Hamas (the so-called "Resistance Axis") – in Lebanon and the broader Middle East.
Conclusion
As the protests and violent counter-protests continue across Syria, the results for Lebanon will be dire. The recent sectarian clashes in Tripoli illustrate that sectarianism in Lebanon remains a tinderbox. Moreover, competing factions in Lebanon and beyond appear keen to enter the fray through local and transnational proxy forces eager to resort to violence and other forms of hostility to further their respective agendas at each other's expense.
Notes:
1. Some estimates place the number of Alawites in Lebanon as high as 150,000. Demographic data in Lebanon is often politicized to bolster and/or diminish the perceived influence of certain ethnic and sectarian communities.
2. Observations gleaned from author's visit to Tripoli, Lebanon, December 2010.