Taiwan's Intelligence Chief Warns about the PLA's Growing Strategic Weapon Systems
Publication: China Brief Volume: 11 Issue: 5
By: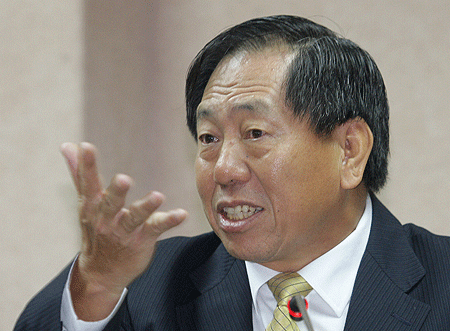 The People's Liberation Army's (PLA) arsenal of strategic weapons systems is growing in spite of the cross-Strait détente. According to Tsai Der-Sheng, Taiwan's National Security Bureau (NSB) director-general, China has deployed a 'new' type of missile that will increase the PLA's capability in terms of range and accuracy to attack hardened targets like airfields and command and control centers in the Asian-Pacific region (Taipei Times, March 17). At a hearing held by the Legislative Yuan's Foreign Affairs and National Defense Committee on March 16, Tsai revealed that the missile is a "whole new type" in the Second Artillery's series of intermediate and intercontinental ballistic missiles: "It's more powerful, advanced and has a greater range than older types of Dong Feng [DF] missiles" (Taipei Times, March 17). Tsai also reasserted the claim he made back in August 2010 that the PLA has already tested and is now deploying the "carrier killer" DF-21D, which in February was confirmed by a report in a State-sponsored media (China Review News, August 20, 2010; Global Times, February 18). According to one military intelligence source cited by Taiwan-based Liberty Times, the estimated range of the DF-16 may be somewhere between 1,000 to 1,500 kilometers (km), and the target area would cover the U.S. military base on Okinawa (Liberty Times [Taiwan], March 17).
Tsai's remarks during the "National Intelligence Work" report also revealed information beside the deployment of DF-16. In an interview largely missed by Western media, the PLA has reportedly deployed around 20 of each type of missiles (i.e. the DF-31, the DF-31A, the DF-5, and the DF-5A). Furthermore, the PLA deployed some 20 DF-21D anti-ship ballistic missiles (ASBM), and increased its arsenal of medium-to-long range missiles from 150 to 160 (China Review News, August, 20, 2010; China Times [Taiwan], March 17). According to U.S.-based Defense News citing a Taiwan defense source, China has already fielded up to a dozen DF-21D in Qingyuan, Guangdong Province (Defense News, March 21). Furthermore, one unit of the PLA's Type 094 ballistic missile submarine is deployed in the South China Sea. Yet, since the JL-2 submarine launched ballistic missile is not yet in active service, the submarine is not combat ready. Alternatively, two units of the Type 093 nuclear attack submarine are deployed in the South China Sea, and the nuclear powered aircraft carrier, Varyag, is not scheduled to go into service until the end of 2012 (China Review News, August, 20, 2010; China Times, March 17).
An article in the Global Times published in February reported that the country's largest missile weapons manufacturer, China Aerospace Science and Industry Corporation (CASIC), is set "to complete research, production and delivery of this new generation of missile by 2015." Citing an anonymous military source, the report indicated that, "The subject under development is a medium- and long-range conventional missile with a traveling distance of as far as 4,000 kilometers." "The research is going smoothly, and the missile will be produced and ready for service in five years," the source said. The source also stated that "the Chinese-made Dong Feng 21-D missile, with a firing range between 1,800 and 2,800 kilometers, is already deployed in the army" (Global Times, February 18).
The new missiles appear to be part of a growing network forming a missile defense system that is both defensive and offensive, and equipped to deal with threats emanating from land, sea, air, space as well as cyberspace. In an interview with VOA-Chinese, the chief editor of Asia-Pacific Defense Magazine, Zheng Jih-wen, stated that China's deployment of different types of missiles aimed at Taiwan would present a dynamic and multi-layered threat (VOA [Chinese], March 16; Global Times, February 18).
Indeed, China's ballistic missile forces have increased in capability and are now starting to pose a considerable conventional threat beyond a Taiwan scenario. According to Tsai, China has more than 1,400 missiles aimed at the island (Liberty Times, March 17). With the deployment of more capable missiles aimed at Taiwan, the DF-11 and DF-15 missiles may be deployed in other theaters. This is a clear reflection of how China's missile technology and accuracy have improved in recent years.
In the final analysis, the extent to which the PLA's 'new' missiles are operational remains to be seen. Yet, it is clear that China's missile buildup will have a profound impact on U.S. strategic interests as China seeks to secure its regional interests in the Taiwan Strait and beyond. According to the Taipei Times, "Ballistic missiles with a range such as that attributed to the DF-16 could be deployed at the Second Artillery's Base 52 in Anhui Province and could target Taiwan as well as U.S. bases in the region, such as Okinawa and Guam." Moreover, "the faster re-entry of a longer-range ballistic missile such as the DF-16 would greatly reduce the effectiveness of Taiwan's PAC-3 missile interceptors that were acquired at great cost from the U.S. and which are still in the process of being deployed (Taipei Times, March 18). If Tsai's intelligence is accurate, this revelation would further complicate Chinese efforts to gain the trust of the Taiwanese people and caste into doubt the feasibility of entering into cross-Strait confidence building measures. Tsai's revelation may be seen as a sign of caution to the current Ma Ying-jeou administration as it considers the right pace to move forward in dialogue with its Chinese interlocutor in Beijing.