Tajik-Iranian Ties Flourish
Publication: Eurasia Daily Monitor Volume: 8 Issue: 72
By: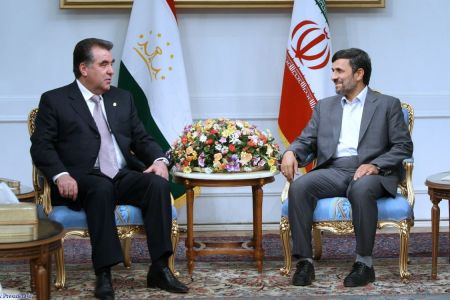 Iran's recent economic expansion in Tajikistan appears to be part of Tehran's broader strategy to strengthen its influence in the country. In addition to pledging to invest more in the Tajik economy, Tehran has reiterated its calls for Dushanbe to foster closer cultural cooperation and announced plans to build universities and hospitals in the Tajik capital.
Iran has traditionally emphasized civilization and linguistic bonds as the foundation for a "special relationship" with Tajikistan. President Mahmoud Ahmadinejad famously referred to Iran and Tajikistan as "one spirit in two bodies," and Tehran has long pushed for the expansion of cultural ties with Dushanbe. Tajik President Emomali Rahmon's trip to Tehran on March 27-28, to celebrate Novruz with the Iranian leader for the second year running indicates the Tajik leadership's willingness to embrace closer cultural links (www.president.tj, March 27).
Rahmon's visit to Tehran coincided with a week-long festival of Iranian art and culture in Dushanbe and Khujand, the center of the northern Sughd Province. The festival featured events ranging from Iranian book and flower exhibitions to public concerts and lectures. Following the festival, the Iranian Minister of Culture and Islamic Guidance Mohammad Hosseini donated 25,000 books to Tajik libraries, set up a permanent exhibition of Iranian literature in Dushanbe, and proposed to publish periodicals and produce movies jointly with Tajikistan (www.presstv.ir.com, March 24; www.irna.ir, March 26).
Such cooperation is not uncommon between the two countries. Iran has financed the publishing of works in classic Persian literature, history books and dictionaries in Tajikistan. Tehran has also opened 17 cultural centers in colleges and universities across Tajikistan, where Tajik students learn to write and read Farsi, study the Koran, and have access to Iranian films, books, and periodicals (www.dw-world.de, July 26, 2010).
Despite Tehran's intensive efforts to strengthen cultural cooperation between the two countries, Dushanbe has remained cautious in embracing some of the initiatives proposed by Iran. Tajikistan's guarded position has so far been the major obstacle to the launching of a joint TV station with Iran and Afghanistan, another country where a large part of the population speaks a Persian dialect. The three countries' leaders agreed in July 2006 to set up a joint TV channel that will broadcast on their territories from an office based in Dushanbe. In February 2011, the Iranian Ambassador to Dushanbe, Ali Asghar Sherdust, told media that Tehran had purchased the equipment needed to start the channel and was waiting for the Tajik authorities to permit the installation of the equipment. The Tajik Committee for Television and Radio responded that the building which would houses the channel was being refurbished, without mentioning even a tentative date for the completion of the renovation work (www.avesta.tj, February 9).
Tajik officials' unwillingness to speed up the creation of a joint channel, which aims to celebrate the three countries' common civilization heritage, is actually based on cultural differences among these countries. Dushanbe, Kabul and Tehran have been unable to agree on what can be shown on the TV channel and what should not be tolerated. Tajikistan, for instance, has banned TV presenters from wearing Islamic headscarves while, in Iran, the hijab is the norm for many female journalists (www.rferl.org, February 10).
Tajikistan has also recently initiated a massive campaign to close down irregular Islamic schools at home and bring back hundreds of Tajik students from madrasas abroad. As part of the campaign, about 200 Tajik students were returned from Iranian madrasas and 90 students were barred from attending a school operated by the Iranian embassy in Dushanbe (www.eurasianet.org, March 7). In addition, Tajik security agencies refused to allow a group of Tajik teachers to travel to Tehran for retraining courses. These events prompted speculation in the Tajik media about a growing "crisis" in the relationship between Dushanbe and Tehran (Asia-Plus, January 5).
Such speculation, however, was proven wrong by Tehran announcing new initiatives aiming at strengthening the two countries' cooperation in the education and health sectors. In February, Tehran's embassy in Dushanbe announced that Iran would soon open a branch of the Islamic Azad University and build a tourism college in the Tajik capital. Iran is already building a secondary school in Dushanbe which would enroll Tajik, Iranian and Afghan children. Besides, the embassy stated that Tehran has allocated $5 million in 2011 to provide 250 Tajik students with full scholarships to study at secular colleges and universities in Iran (www.avesta.tj, February 9; www.regnum.ru, March 12).
The embassy also unveiled private Iranian businesses' plans to build three specialized health clinics in the Tajik capital – for eye disorders, kidney and urological diseases, and plastic and reconstructive surgery. Amidst the country's deteriorating health infrastructure, these clinics will help meet the Tajiks' growing demand for quality healthcare. There is already a 100-bed Iranian hospital in Dushanbe, specializing in the treatment of kidney failure and heart diseases. In addition, the Iranian embassy issues more than 100 visas monthly to Tajik nationals for medical treatment in Iran (www.news.tj, February 22, 2011; www.asiaplus.tj, September 7, 2009).
Iran's expanding economic and cultural position in Tajikistan as well as an increasing number of high-level visits between the two countries indicates the flourishing multidimensional ties between Tehran and Dushanbe. Iran has already surpassed Russia, which long claimed the status of Dushanbe's key "strategic ally," as Tajikistan's major cultural partner. It remains to be seen, however, whether Tehran will manage to continue expanding its influence in Tajikistan without alienating Moscow and Beijing, as both view the country as part of their zones of privileged interests.