TAJIK PRESIDENT USES NATIONAL HOLIDAYS TO LAUNCH HIS RE-ELECTION BID
Publication: Eurasia Daily Monitor Volume: 3 Issue: 171
By: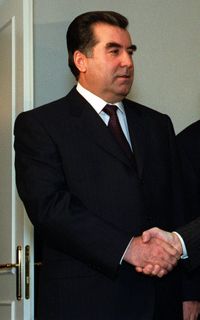 Tajik President Emomali Rahmonov is actively campaigning ahead of presidential elections scheduled for November 6. In the last two weeks, Rahmonov celebrated four national holidays before other candidates could legally announce their own participation. Under the president's leadership, Tajikistan celebrated national independence day, the year of Aryan civilization, the world assembly of all Tajiks and Farsi-speaking people, and the 2,700th anniversary of Rahmonov's native city, Kulyab.
Rahmonov also unveiled his new book, From Aryans to Samanids, which includes his own scientific investigations of Tajik history. Seven new books were published in the last few weeks by various authors reflecting on Rahmonov's politics and monographs. While Rahmonov is able to promote himself already now, his opponents cannot begin their campaigns until late September, 50 days before the elections. It is unclear who else will run for the elections.
Members of the pro-presidential People's Democratic Party such as speaker of parliament Makhmadsaid Ubaidullayev, a well-known businessman, are campaigning for Rahmonov, calling him the only guarantor of peace and stability. Similar to the last presidential elections in 1999 and referendum in 2003, issues of domestic stability remain the main theme of Rahmonov's campaign. In 1999 the opposition Islamic Renaissance Party (IRP) also focused mainly on stability, but this year the party has shifted its emphasis toward the collapsing economy and soaring unemployment.
The IRP's new leader, Muhiddin Kabiri, told party members that although Tajik society still remembers the civil war of 1992-97, it should not forget that Tajikistan today is facing extensive economic and political problems: "Under the cover of slogans about stability and unity, we should not close eyes to legal violations, limitation of voters' rights, [and the] suppression of political parties" (Duetsche Welle, September 3).
The IRP's internal cohesion has been weak following the death of the party's leader, Said Abdullo Nuri, this August. Although the party unanimously selected Kabiri as its new leader, there are a few other members, including Nuri's son, Kori Muhamaddjon, who promote competing agendas within the IRP. Pro-government forces view the tensions inside IRP as a sign of weakness.
The newspaper Chaorgi Ruz, published by Tajik political leaders in exile, openly accuses Rahmonov of corruption. It attacks the president for his manipulative politics built on threats of renewed bloodshed. The newspaper is banned in Tajikistan.
Rahmonov's new book, From Aryans to Samanids, represents the cornerstone of his national ideology. In the book, Rahmonov recounts the history of the Tajik people and its meaning for Tajikistan's present and future. The president calls on all Tajiks to be proud of being associated with Aryan civilization.
Kulyab's 2,700th anniversary was pompously celebrated. The city of 180,000 has received special attention from the government. New schools and concert halls were built in the last few years. As one Tajik expert from an international organization told Jamestown, the celebrations in Kulyab stand as a symbol of the presidential clan's power and his domestic support.
The assembly of Tajiks and Farsi-speaking people was another grand event organized to showcase Rahmonov's power. Tajik mass media outlets emphasized that although participants had to cover their own expenses while traveling to Tajikistan, Tajiks from all corners of the world were nevertheless willing to come because of the country's achievements in international diplomacy.
Like other Central Asian leaders, Rahmonov is using state- and nation-building projects to strengthen his own positions, often at the expense of other legitimate political forces. Developments in international relations, ideology, and celebrations of national independence are regarded as accomplishments made exclusively by incumbent presidents. These trends intensify ahead of presidential elections.
As the election campaign approaches, Rahmonov is following a path created by his Central Asian counterparts. Some features of his political campaign reflect Turkmen President Saparmurat Niyazov's brand of nationalism, which is centered on his own personality cult. But while Niyazov's regime is backed by natural gas revenues, Rahmonov relies on the population's fear of recurrent civil war. To secure military support for his regime, Rahmonov fosters relations with Russia and Iran.
External pressures from the international community and Uzbekistan are the only noteworthy challenges to Rahmonov's re-election. Uzbekistan recently reduced gas supplies to Tajikistan, causing an increase in local prices. Tajikistan's economy is dependent on Uzbekistan and further difficulties with the powerful neighbor could add to public dissatisfaction with the regime because of economic hardships.
(Varorud, AsiaPlus, Charogi Ruz, Prognosis, September 1-17)