Tajikistan Moves Closer to Construction of Rogun HPP
Publication: Eurasia Daily Monitor Volume: 8 Issue: 146
By: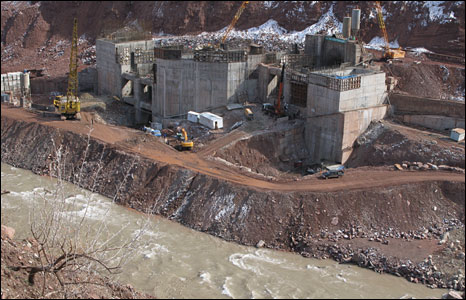 The construction of the 3,600 megawatt Rogun hydro-power plant (HPP) in Tajikistan seems as close as ever. The Tajik government has recently announced its readiness to proceed with the construction of the Rogun dam. Tajik Deputy Energy Minister, Polod Muhiddinov, said that Tajikistan has enough resources to invest in Rogun's two aggregates (www.ozodi.org, July 27). However, considerable challenges remain before the dam becomes a reality.
Rogun is a costly project. In the early 2000s it was estimated to cost roughly $2 billion; its price-tag has considerably increased since then. The dam is also a technologically complex project. If constructed, Rogun will become the highest dam in the world (350 meters tall), surpassing China's Three Gorges dam built in 2008, while Tajikistan will become one of the world's highest per capita hydropower producers.
Tashkent has been Rogun's most adamant opponent. The Uzbek government continues to publish statements and send letters to international donors warning of the dangers the dam poses to regional security. In reality, however, Tashkent is more afraid of an energy-independent Tajikistan that would be able to control water flows to downstream Uzbekistan. To date, Uzbekistan has cut virtually all electricity exchanges with Tajikistan left over from the Soviet period.
The Uzbek government also contracted reports arguing that because of high seismic activity in the area where Rogun will be constructed, in the event of an earthquake the project threatens to flood residential areas and agricultural fields (www.centrasia.ru, July 21).
Yet, Rogun's potential damage is not as clear-cut as Tashkent wants it to appear. Rogun would be a rock field dam, resistant to natural disasters (www.centrasia.ru, July 26). Before the construction begins the World Bank is to examine the project to estimate risks of potential damage natural disasters could pose to the dam. The first round of meetings between the World Bank and Tajik officials has already taken place. The next round is scheduled on August 1.
Rogun would be constructed on the Vakhsh River that supplies only 35 percent of irrigation to Uzbekistan's cotton fields, while up to 65 percent of water is comes from the Panj River. Importantly, to increase water usage efficiency, Uzbekistan must invest in its own infrastructure. According to expert estimates, due to its dated Soviet infrastructure Uzbekistan loses at least half its irrigation water.
Over the past few years Tajikistan has significantly increased its energy independence. Mostly this is due to the construction of the Sangtuda-1 and Sangtuda-2 HPPs on the Vakhsh River, as well as the construction of power grid lines that connect parts of Tajikistan bypassing Uzbekistan's territory. Furthermore, Tajikistan continued to reduce energy losses associated with corruption at local level and poor infrastructure. The latest estimates show that average losses amount to roughly 17 percent of the total energy produced, some 10 percent lower compared to a few years ago (www.news.tj, July 27).
Corruption among top officials, however, still remains a strong concern. Tajikistan's aluminum production plant TALCO, the largest in the region, is informally managed by President Emomali Rakhmon's family. The plant alone uses up to 40-50 percent of all electricity produced by Tajikistan's HPPs.
If it were not for this plant, which benefits only a small group of regime cronies, the country could be energy-independent by now. Although not as bad as in previous years, Tajikistan still experiences power shortages during the winter months when HPPs' production is minimal. Historically, Rakhmon always prioritized energy supplies to TALCO rather than the needs of the population during cold periods.
Finally, Tajikistan, known to cook the books to attract foreign investment, needs to prove it has sufficient investment potential to offset Rogun's construction. It remains unclear how Tajikistan will be able to attract such foreign investment, given the soaring levels of corruption in the government and strong opposition from Uzbekistan.
If it is finally constructed, Rogun will become an important contributor to the Central Asia-South Asia-1,000 (CASA) power grid that would deliver energy from Central Asian countries to Pakistan, transiting through Afghanistan. Due to its rapidly growing population, Pakistan has sought to diversify its energy resources; Tajikistan, with its abundant water resources, offers a great opportunity. The idea of constructing the Rogun dam has turned into a national ideology perpetrated by Tajikistan's government. In 2009, one employee of the energy company "Barki Tochik" told Jamestown that when Rogun is constructed, "Tajikistan will live like Kuwait." In a similar tone, in January 2010 Rakhmon said: "The construction of this site, important for our country, has turned into the arena of labor, bravery and generosity, trials of heroism, and, more so, our national idea" (see EDM January 26, 2010). Backed by such rhetoric, Rakhmon's government has even introduced a special "Rogun tax" to construct the dam.
With Tajikistan's growing assertiveness in regards to Rogun, Uzbekistan's resistance will continue to increase. The relations between the two countries are set to worsen over energy resources. If Rogun proves to be a viable project and Tajikistan and Uzbekistan agree on energy cooperation, electricity might become cheaper, while irrigation better managed. Such a scenario, however, remains almost impossible, given the deep-running animosity between the two neighbors.