Tajikistan Secures New Chinese Loans and Investment
Publication: Eurasia Daily Monitor Volume: 9 Issue: 114
By: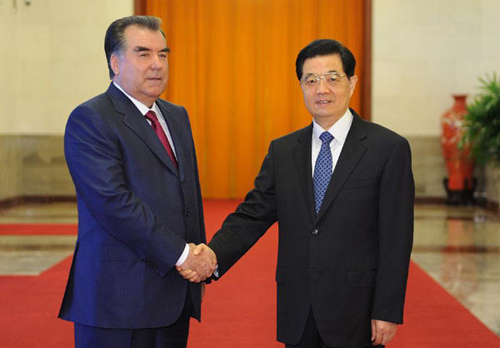 On June 7, Tajikistani President Emomali Rahmon returned home from a week-long tour of China. The tour included a five-day state visit followed by Rahmon's participation in the 12th summit of the Shanghai Cooperation Organization (SCO) in Beijing. Following the trip, the Tajik President's office announced that ten new deals signed in Beijing would bring Tajikistan about $1 billion in new Chinese investment, loans and aid. Experts suggest that the new deals will increase China's economic clout in Tajikistan, giving Rahmon more leverage in dealings with Moscow.
As part of the deals inked during the visit, Beijing has pledged to invest some $600 million to build a large cement plant in Tajikistan's southern district of Shahritus, on the border with Uzbekistan. When completed, the plant is expected to produce three million metric tons of cement annually, using local limestone reserves. According to Rahmon's press service, the plant will be a joint project between the Chinese government-run National Materials Group Corporation and the state-owned Tajik Aluminium Company (Talco) (president.tj, June 7). Eager to break its dependence on cement imports, Dushanbe previously negotiated similar deals with Tehran and Islamabad (news.tj, June 11, 2011; June 1). However, joint projects with Iran and Pakistan have taken too long to get off the ground, leading Tajikistan to seek Chinese investment instead.
Beijing has also pledged to build a coal-driven combined heat and power (CHP) plant in Tajikistan's capital, Dushanbe. Although negotiated over a year ago, the $200 million project stalled because of disagreements over the plant's technical specifications. Following Rahmon's return from Beijing, it was announced that Chinese specialists will begin the construction of the plant "within the next several days" and will complete the project within a year. The CHP plant project is part of the Tajikistani government's effort to use the country's coal resources in tackling power shortages. China is also helping Tajikistan's state-owned cement factory in Dushanbe and a number of other enterprises to switch from imported natural gas to local coal (president.tj, June 7; news.tj, April 28, 2011).
The deals signed during the visit will also increase Chinese presence in Tajikistan's mining sector. Rahmon's press service announced that Chinese company Zijin Mining Group has agreed to develop a copper deposit in northern Tajikistan and build a copper plant and a gold-refining facility in Panjakent district. The company has already invested some $200 million in the Zarafshon joint venture in the district. Last year, the gold-mining venture produced 1.45 tons of gold, selling most of it to Tajikistan's National Bank. Zijin Mining, which has a 75 percent stake in the joint project, is planning to bring the venture's annual gold output to five tons by 2016 by developing new deposits (president.tj, June 3; avesta.tj, June 4).
President Rahmon has also invited the state-owned China National Petroleum Corporation (CNPC) to explore for oil and gas in Tajikistan (Reuters, June 5). Heavily dependent on energy imports from Russia and Uzbekistan, Tajikistan has long sought to develop its own hydrocarbon resources. Presently, Russian gas giant Gazprom and Toronto-listed Tethys Petroleum are drilling for gas in the country. However, the Tajikistani authorities have been unimpressed by the progress made by the two companies. By inviting CNPC to explore for hydrocarbon deposits, Dushanbe apparently aims to push Gazprom to commit more resources toward exploration and drilling in the country as well as to prevent the Russian company from becoming a single dominant player in the sector.
In addition, Rahmon has secured a $50 million Chinese loan for the reconstruction of a road linking China with central Tajikistan, and brought home almost $25 million in Chinese aid. Finally, Rahmon has used the visit to offer a number of major Chinese companies to invest in car building, new roads, electricity grids and dam construction in the mountainous Central Asian republic (president.tj, June 3, 4).
While officials hail the outcomes of Rahmon's visit to Beijing as "highly successful," some Tajik and Russian analysts are concerned about the longer-term implications of Chinese investment. Economist Khakim Davronov believes Dushanbe should be more cautious in borrowing from Beijing. Tajikistan currently owes almost $900 million – or more than 41 percent of its total foreign debt – to China's Export-Import Bank (EximBank), the country's largest creditor. The new loans will bring EximBank's share in Tajikistan's foreign debt to almost 70 percent (ozodi.org, June 11).
Sergei Zhiltsov, the head of the CIS Center at the Russian Foreign Ministry's Diplomatic Academy, argues that Chinese loans push Tajikistan into a "debt pit." According to the expert, if cash-stripped Dushanbe continues to borrow heavily from Beijing, it may eventually have to repay the loans by ceding to China full control over its mineral resources and "strategic" roads and enterprises (ng.ru/cis, May 31). However, independent Tajik analyst Jamshed Kadyrov suggests that China's growing economic clout in Tajikistan will counterbalance Russia's traditional dominance in the country, giving President Rahmon an additional trump card vis-à-vis the Kremlin (Reuters, June 5).
In addition to being Tajikistan's largest investor, China is also the country's second largest trading partner. Trade between the two countries exceeded $2 billion in 2011. There are more than 50 Chinese-Tajik joint ventures operating in the country. As Rahmon's recent trip to China shows, these economic ties are only likely to grow.