Taking al-Qaeda's Jihad to Facebook
Publication: Terrorism Monitor Volume: 8 Issue: 5
By: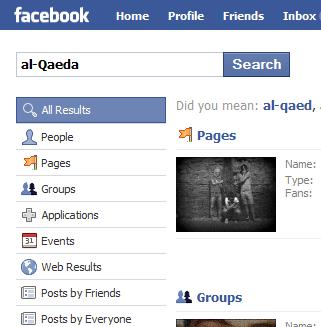 Web forums associated with jihad and al-Qaeda sympathizers have become a major source of information about militant Islamist groups, as well as a platform for the dissemination of the audio, visual and textual literature of the Salafi-Jihadis. According to the U.S. State Department, only 15 sites were run by groups described by the United States as "terrorist" groups in 1998, but the number of these sites increased to more than 4,000 by 2005. [1]
Despite the proliferation of jihadi websites, such sites and forums are prone to monitoring and closure by the United States and its allies, as well as by self-appointed censors with hacking skills. These obstacles lead the Salafi-Jihadis to search for various methods to overcome the blockages, closures and security restrictions imposed on their platforms.
In this context, active pro-jihad contributors to "al-Faloja Islamic Forums" (which today hosts more than 250,000 contributions) urged al-Qaeda's supporters to "invade" Facebook in December 2008 by creating sympathetic groups—a feature available on the networking site—to spread the Salafi-Jihadi message. Facebook is a social networking website devoted to connecting individuals and groups. According to Facebook's statistics page, the site has more than 200 million active members, and more than 100 million of these enter Facebook at least once each day.
This outreach campaign seems to have had almost immediate results; according to Pakistani authorities, the five young American Muslims arrested in Pakistan last December were recruited online via YouTube and Facebook after the suspects used these sites to reach out to groups such as Lashkar-e-Taiba and Lashkar-e-Jhangyi (Dawn [Karachi], December 16). A high-ranking Department of Homeland Security official claimed that "Online recruiting has exponentially increased, with Facebook, YouTube and the increasing sophistication of people online" (Washington Post, December 13).
The author has searched Facebook using keywords such as "jihad," "al-Qaeda," "al-Zarqawi," "Bin Laden," etc. and found a number of pro-al-Qaeda groups ("groups" on Facebook are applications created by users with common interests, fan-bases, advocates of a cause, etc). The author found that the number of members in these groups, which use names such as "Zarqawi," "al-Jihad al-Rayyan," "al-Qaeda," "Yusuf al-Batar battalion," etc. range from 50 to 150; however, groups using the name "Osama bin Laden," (there is more than one) tend to have more members, sometimes in excess of 400.
Compared to the number of participants in jihadi web forums, these numbers are comparatively low; but the author noticed that the creators of most Salafist groups on Facebook adopt symbolic usernames such as Ziad Jarrah (one of the 9/11 hijackers who was on United Airlines flight 93), Marwan Hadid (a Syrian jihadi who founded the armed faction of the Syrian brotherhood in the early 1980s) and Yusuf Al-Ayiri (a Saudi al-Qaeda ideologue who was killed in a security sweep in Saudi Arabia's Ha'il province in 2003 (see Asharq al-Awsat, April 30, 2007).
The growing number of jihadi Facebook pages created and used by members who typically keep their names secret raises a question about the purpose behind creating such groups. Are al-Qaeda and affiliated sympathizers using these groups for more than mere propaganda, such as a means to communicate between members?

Al-Qaeda and affiliated Salafi-Jihadis seem more interested in attracting new users and conveying their messages to them than in using these sites for communication. Dr. Thomas Hegghammer, a visiting professor at Harvard University who specializes in the study of militant Islamic movements, says that Facebook lends itself to jihadist propaganda poorly for several reasons: administrators can easily close or remove controversial groups, intelligence agencies can see easily who accesses these groups and Facebook seems to attract a relatively liberal crowd. [2]
Although Salafi-Jihadis successfully use web forums as media outlets and have also managed to broadcast their materials on YouTube, it appears that they cannot easily infiltrate Facebook. Abdul Hameed Bakier, a Jamestown Foundation analyst who specializes in analyzing jihadi web forums, told the author that it seems that few Salafi jihadists use Facebook to disseminate their ideology. "They are not using Facebook for serious communication. So far, 'The Secrets of the Mujahideen' remains the only tool that jihadists appear to use [for communicating] over the Internet… 'Secrets of the Mujahideen' is software programmed by Salafi-Jihadis to cipher and decipher communications. The software was recently upgraded to its newer version, Secrets of Mujahideen 2.0" (see Terrorism Monitor, September 27, 2007; March 30, 2007). Khaled al-Kadi, a computer systems specialist based in Amman, Jordan, told the author that the ease of monitoring and controlling such groups make the Salafist efforts to "invade" Facebook a difficult process.
It seems, therefore, that the Salafi-Jihadis have successfully developed their own method of disseminating information, a method which distinguishes between communications and propaganda purposes. At the operational level, it appears that Facebook, despite being exploited by various political organizations for its large community of users, still presents certain difficulties for al-Qaeda's media activities. At the same time, however, it should be noted that the increasing use of web-based social networks such as Facebook present an opportunity for Salafi-Jihadis to find new ways of attracting young Muslims to their ideology.
Notes:
1. See Gabriel Weimann, Terror on the Internet: The New Arena, the New Challenges, Washington, D.C., United States Institute of Peace, 2006.
2. Author's email interview with Thomas Hegghammer, June 19, 2009.