Taliban Regroups in Pakistan's Dir Region after Successful Government Offensive
Publication: Terrorism Monitor Volume: 9 Issue: 9
By: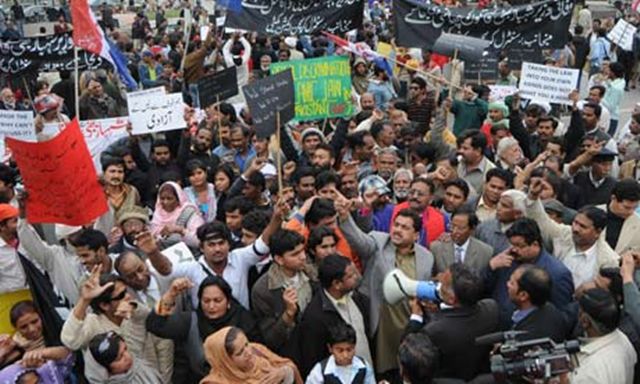 Despite the Pakistani government's announcement that its military offensive in the mountainous Dir region of northwest Pakistan had succeeded in securing the area, recent attacks by militants of the Tehrik-e-Taliban Pakistan (TTP) have not only belied the military's claims but have also whipped up fear among local residents. The attacks make it clear that the militants, who had dispersed and fled to Afghanistan and adjacent tribal areas during the operation, are regrouping and trying to regain a foothold in the region.
A former princely state until its incorporation into Pakistan in 1969 and now divided into two districts, lower Dir and Upper Dir, of the Khyber Pakhtoonkhwa province (formerly the North-West Frontier Province), Dir borders Swat, the Bajaur Agency, the Chitral district of Khyber Pakhtoonkwa and Afghanistan. [1] Except for the small Dogh Darra area, Dir remained largely undisturbed in recent years, even as militant activities in the region increased. As the Taliban made inroads in the district in early 2007, fighters from Swat, Bajaur and South Waziristan fled to Dir to escape military operations. The Taliban continued their subversive activities under the leadership of Dir TTP Commander Hafizullah and gained momentum during April 2008. [2] Dir has also remained a strong base for the Tehrik-e-Nifaz-e-Shariat-e-Muhammadi (TNSM). The hometown of TNSM founder Maulana Sufi Muhammad is in Dir (See Terrorism Monitor, March 26, 2009).
In early 2009, Taliban from neighboring Swat started to assert their authority in the area, leading the military to launch an operation against the militants in April 2009. Operational commander Colonel Nadeem Mirza declared the entire area of Dir clear of militants following the operation (Express Tribune [Karachi], April 22, 2010).
Since the beginning of 2011, however, the Taliban have started targeting "pro-government" elders and police – ¬sending not only shockwaves throughout the population of Dir but also belying the military's claims of clearing the area of the militants.
On January 25, militants attacked a guest house belonging to Zahid Khan, an Awami National Party (ANP – the ruling party in Khyber Pakhtoonkhwa) member of the Senate, killing a guard and inflicting injuries on Khan's brother. Khan's family had received several threats from the militants for their ties to the ANP, a main ally in flushing militants out from Dir (Dawn, [Karachi], January 26). Three police officials were severely injured when a roadside bomb went off near a police van in the Samar Bagh area of Lower Dir. Members of a local anti-Taliban militia pursued the militants, killing two of them (Dawn, [Karachi], January 3).
However, there have been successes in counterterrorism operations in the region. On February 4, a tip-off led Lower Dir police to raid the house of militant preacher Maulvi Jalaluddin in the Chakdara Afghan refugee camp, arresting him along with his four sons. Jalaluddin had regular contacts amongst the Pakistani and Afghan militants and police recovered a huge cache of weapons and ammunitions in the raid (Dawn, [Karachi], February 5). Similarly, security forces killed eleven armed militants on the Dir-Swat border on February 10. The men were trying to enter Swat through Dir and police increased their numbers in the area to avoid further penetration of militants into Swat (Daily Shamal [Swat], February 11). On February 23, police in the Khal area arrested two cousins of Commander Hafizullah who were involved in the January attack on Zahid Khan's guest house (Daily Azadi [Swat], February 23).
Local tribal elders in Dir suggest that accomplices of Maulana Fazlullah, head of TTP Swat, may be behind the increased militancy in the area. Media reports claimed that Fazlullah and his supporters had fled to the Nuristan province of Afghanistan due to military operation in Swat in 2009 (BBC Urdu, November 17, 2009). However, it is possible Fazlullah's group has started returning and is now targeting its rivals.
Six men logging forest wood, all from Dir, were kidnapped by Taliban militants in August 2010 and taken to Nuristan. A few days later, the throat-slit bodies of the three men were found in Arandu, an area of Chitral near the Afghanistan border. The abductees belonged to Dogh Darra, an area of Dir where the locals of 25 villages had formed an armed anti-Taliban militia and killed many militants in June 2009, including two commanders. The confrontation between the locals of Dogh Darra and the militants started on June 5, 2010 when a suicide attack at a local mosque in Dogh Darra killed 30 tribesmen (The News [Islamabad], October 10, 2010).
An elder of Dogh Darra's anti-Taliban militia said the network of Taliban militants kidnap "pro-government" people from Dir and its surrounding areas and then haul them to Nuristan (News on Sunday [Islamabad], October 10, 2010). Omar Hasan Ahrabi, spokesperson of the TTP group that claimed responsibility for kidnapping the Dogh Darra men, warned that all those joining the anti-Taliban militias would not be spared, as they were government agents who opposed the enforcement of Shari'a in Swat and Dir (The News [Karachi], Sep 2, 2010). Nuristan governor Jamaluddin Badar has also expressed his concern over the infiltration of militants from the Chitral and Dir areas of Pakistan to Nuristan's Bargmatal and Kamdesh districts (Weesa Warzpanra, [Kabul], January 24). While the Nuristan governor worried about the penetration of Taliban militants from Pakistan into Afghanistan, Malakand police head Qazi Jamil Ur Rehman announced that police and security forces had established checkpoints in the areas bordering the Chitral and Dir districts in order to stop the infiltration of Taliban from Afghanistan (Central Asia Online, January 26).
Dir has again become a hub of militancy as hundreds of militants flee from neighboring Bajaur and Mohmand Agencies to Dir because of on-going military operations in the tribal areas. [3] Those Taliban militants ousted from Swat and Dir by military operations are regrouping in neighboring Mohmand Agency to launch guerrilla warfare in Dir and elsewhere. Qari Abdul Jabbar, a militant from Dir, may have become the new face of militancy in the region by replacing Fazlullah. In Dir, locals said they had heard about Jabbar, who is leading a small group of around 400 militants chased out of Malakand division ago (Express Tribune [Karachi], December 9, 2010).
Military and government officials say the resurgent Taliban will not be able to regain control of Dir, but are likely to restrict their fight to hit-and-run tactics, an ideal guerrilla warfare approach in Dir's rugged terrain. The threat posed by militants regrouping in Dir has had a significant impact on neighboring districts and tribal areas. Because of its location bordering Swat, Chitral, Bajaur and Afghanistan, Dir can provide a strategic base for attacks in these areas as well as providing sanctuary to militants fleeing military operations in neighboring regions.
Notes:
1. Author's conversation with Javed Sheikh, a Dir-based journalist, February 15, 2011.
2. Author's conversation with Aqeel Yousafzai, a Peshawar-based expert and author of two books on militancy in Pakistan's tribal areas, February 16, 2011.
3. Author's conversation with Aqeel Yousafzai, Feb 15, 2011.