Tashkent Strengthens Security Ties with Moscow Ahead of NATO Drawdown
Publication: Eurasia Daily Monitor Volume: 10 Issue: 76
By: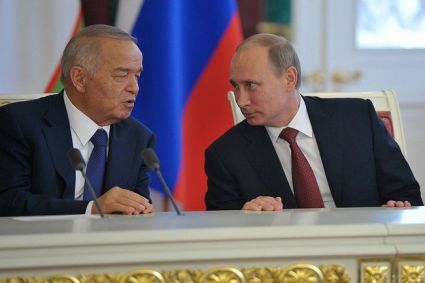 For several months after Uzbekistan's de facto exit from the Collective Security Treaty Organization (CSTO) (see EDM, July 18, 2012)—formalized during the organization's December 2012 summit in Moscow—Western analysts have speculated about the future shape of Tashkent's military and security ties. But now, Uzbekistan has moved to further deepen its defense and security cooperation with its main ally, Russia. Uzbekistan's President Islam Karimov met his Russian counterpart, Vladimir Putin, in Moscow on April 15. And the security discussions and agreements not only marked a significant strengthening of bilateral ties ahead of the North Atlantic Treaty Organization's (NATO) drawdown in Afghanistan, but also indicate a strategic shift occurring within Central Asia (Channel One TV, April 15).

Despite Tashkent's decision to suspend its membership in the CSTO in June 2012 and the later agreement among the other members to interpret this as marking Uzbekistan's exit from the body, bilateral security ties with Moscow were never jeopardized. Although some experts surmised that the move by Tashkent might signal its readiness to open a foreign military base on its territory, this did not occur. And since suspending its CSTO membership, bilateral security discussions with Moscow actually intensified. Tashkent explained to Moscow its reasons for suspending CSTO membership, and Uzbekistani officials told Jamestown that this position was fully understood by their Russian counterparts. Karimov wanted to focus Uzbekistan's preparations for 2014 on improving domestic security capacities and building ties with foreign partners through bilateral routes and so he shed the multilateral forum of the CSTO—which few in Tashkent had truly believed represented a serious mechanism for building regional security. Equally, using the CSTO option presented an overly complex route to agreeing terms with Moscow that best suited Uzbekistan's long-term security interests (see EDM, April 2, March 26, 2013; June 19, 2012).
A number of bilateral issues were discussed by Karimov and Putin, including an agreement on Uzbekistan entering the Commonwealth of Independent States (CIS) free trade zone. However, turning to the security agenda, Karimov explained: "Due to the upcoming pull-out of the ISAF [International Security Assistance Force] peacekeeping forces from Afghanistan after 2014, which has already started, I would say that the situation in the region has a tendency to deteriorate. And it cannot be denied because facts show this. In this regard, I emphasize that the fairly comprehensive talks and exchange of views that I held with the Russian president are of great importance for us" (Channel One TV, April 15).
Putin noted that during the talks the positions adopted by both countries on key international and regional security issues largely coincided. Putin added that the two leaders had explored in detail the potential impact of the "NATO pull-out" from Afghanistan in 2014 and confirmed, "We agreed to continue to monitor the topic closely and coordinate our possible joint steps." Although it was initially unclear what precisely Putin meant by this, he clarified that both countries will "render the necessary assistance to the Afghan leadership toward the stabilization of the military-political situation, and in the context of efforts in combating the drug threat, terrorism and extremism" (Interfax, April 15).
Nonetheless, there was evidently something much deeper in mind beyond the usual rhetoric concerning assisting the Afghan government. Karimov reiterated a well-worn theme in his public statements on Afghanistan, offering the prospect that security in Central Asia could well deteriorate as a result of the NATO drawdown in 2014, but this time there was new twist. On this occasion, Karimov specifically praised the role of Russia's "presence in the region," as a key factor in "strengthening peace and stability." Karimov further clarified that he was referring to "terrorism and extremism," adding that these threats could become more serious for regional security than "open war" (Interfax, April 15). Karimov called for "anticipating all possible events, trying to predict and solve them, which would be better than dealing with the consequences," based on an assessment that "the balance of forces in the region is rapidly changing, and not always in a positive direction. That is why we need to meet more often. We need to discuss our views on the crawling expansion of terrorism and religious radicalism" (Interfax, April 15).
This apparent upturn in bilateral Uzbekistani-Russian relations is also linked to economic issues such as the CIS free trade zone and Tashkent seeking Moscow's support over disputes concerning hydroelectric projects elsewhere in Central Asia. Yet, even during the period since Tashkent effectively stuck a wrench in the gears of Moscow's efforts to strengthen the CSTO's role in Central Asian security, ties between the two states have survived this fundamental difference of opinion. Indeed, bilateral military ties have remained strong, and the strongest component of the security relationship remains cooperation between both countries' intelligence agencies. Ahead of Karimov's trip to Moscow, Kommersant's sources suggested that Tashkent would pursue close defense ties with Moscow and further boost intelligence cooperation. According to Kommersant's sources, Karimov wants to deepen an already robust level of intelligence sharing and cooperation with Moscow; in return, the Kremlin expects guarantees that no foreign bases will appear in Uzbekistan after 2014 (Kommersant, April 10).
The strengthening of the Uzbekistani-Russian bilateral security relationship linked to post-2014 Afghanistan has been in preparation for some time and clearly suits the interests of both states. An element in this deepening of ties will be for Russia to explore how to compete with the United States in offering military-technical assistance to Central Asia. This will involve Moscow discerning the areas on the lists of equipment transfers that Tashkent presents to the Pentagon are not met, and making up the difference, if possible. But the key feature in this strengthening of ties ahead of the drawdown is in the realm of intelligence cooperation, and this will have very significant implications for US policymaking in the region (Interfax, April 15).
After several months of uncertainty concerning Uzbekistan's security policy linked to its exit from the CSTO and its position on Afghanistan following 2014, Tashkent's course of action has emerged. While seeking to avoid multilateral arrangements to boost security in the region, Tashkent prefers to concentrate on protecting its own national security. Where necessary, the state will strengthen security cooperation with foreign powers, but only on a bilateral basis. Russia has emerged, therefore, as Uzbekistan's number-one partner in its international security cooperation network, and no doubt this will be exploited by Putin to minimize the future impact of US security assistance in Central Asia.