TBILISI TURNS TO TEHRAN TO BRIDGE ENERGY DEFICIT
Publication: Eurasia Daily Monitor Volume: 3 Issue: 17
By: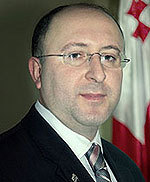 The Russian-Georgian gas crisis following the January 22 explosion of two gas pipelines in Russian territory (see EDM, January 23) seemed to be resolved by a plan to deliver Russian natural gas through Azerbaijan. But on January 24 Georgian Energy Minister Nika Gilauri reported a sudden drop in gas supplies because of damage to a gas compressor device at the Russia-Azerbaijan border.
Gilauri refused to speculate about whether the damage was deliberate, but he added that the Russian side had barred Georgian specialists from observing the repair process. Currently the natural gas and power supply to Georgia's capital, Tbilisi, and regions has dropped by almost half, and some areas are suffering acute energy shortages.
Meanwhile, observers positively noted that President Mikheil Saakashvili's government, unlike its predecessor, had aggressively confronted the energy crisis and even scored some political mileage from it by unleashing an anti-Russian information campaign that has further harmed Moscow's already battered international image.
The looming energy crisis and the possible domestic social-political repercussions likely pushed Saakashvili's government to appeal to Iran for energy assistance, despite the possible negative fallout from the Western community. Gilauri told a news conference that a Georgian-Iranian agreement had been reached on mutual electricity supplies and that Iran could become Georgia's alternative gas supplier. Gilauri mentioned that his talks with the Iranian foreign minister and the minister of energy, oil, and gas had resulted in a memorandum whereby Georgia will export electricity to Iran in the summer and import electricity from Iran in winter.
On January 24, Iranian Foreign Minister Manouchehr Mottaki told his Georgian counterpart Gela Bezhuashvili in a telephone conversation that Iran could supply natural gas to Georgia "until the crisis is overcome," the Georgian Foreign Ministry reported.
The gas crisis has rekindled political frictions between the opposition and the ruling party about Georgia's relations with Tehran. The editorial "Georgian Iran-gate" in the Resonansi daily on January 23 argued that the Georgian government is casting doubt on its pro-Western orientation and complicating relations with its strategic allies by making energy deals with Iran.
The Democratic Front opposition parliamentary faction stated on January 22 that it was not going to use the energy crisis to trigger anti-governmental protests and would resist any similar attempt by other political forces in order to keep Russia from possibly provoking unrest in Georgia. Meanwhile, the faction called on the government to suspend once and for all the "irresponsible talks" about selling Georgia's trunk gas pipelines to Russia and to clearly define the national energy-security strategy. "The government must actively seek alternative energy sources, otherwise we'll face the same problem again," faction leader David Zurabishvili declared.
These statements irritated the ruling party. Givi Targamadze, chair of the parliamentary committee for defense and security, accused the Democratic Front and other critics of the government as being a Russian "fifth column" in Georgia.
But Saakashvili's ambiguous statements about trunk gas pipelines leave ground for criticism.
During a January 19 meeting of Georgia's energy council, Saakashvili complained that Georgia is under "great energy pressure from Russia," arguing, "Our main task during the next few years is to find other sources of energy." He blamed former president Eduard Shevardnadze's government for signing a contract that allows Georgia to receive a minimal amount of gas from the Shakh Deniz gas pipeline.
However, on January 22, during an address broadcast live on television, Saakashvili sharply accused Moscow of energy blackmail then unexpectedly added that Tbilisi is "always prepared to consider sound commercial proposals," alluding to the trunk pipelines.
On January 23, the Democratic Front faction demanded that Saakashvili immediately fire Kakha Bendukidze, a former Russian oligarch and now Georgian state minister for economic reforms. Bendukidze, who is widely accused of lobbying on behalf of Russian interests in Georgia, is known to advocate selling Georgian trunk gas pipelines to Russian gas giant Gazprom. Bendukidze has stated recently that Georgia "should listen less to foreign experts" and privatize its pipeline system in accordance with its national interests. Bendukidze dismissed the accusations as "ridiculous."
Meanwhile, some analysts expressed concern that major Georgian energy units would wind up in the hands of Russian companies during the ongoing privatization of the energy sector. Selling trunk pipelines to Gazprom would send a signal that Georgia has voluntarily returned to the Russian fold, said energy analyst Liana Jervalidze. However, economic pundit Sandro Tvalchrelidze said that the fears surrounding Gazprom are "groundless." He pointed out that for the next 10 years Georgia would receive natural gas for prices 2-3 times cheaper than international prices by transferring the trunk gas pipeline to Gazprom. He said that Georgia could balance its own national interests against those of Russia.
Meanwhile, the Georgian government has decreased its anti-Russian rhetoric after a stern statement from the Russian Foreign Ministry warned of consequences from any further deterioration of bilateral relations. Some Georgian analysts criticized Saakashvili and other Georgian leaders for intemperance and argued that Tbilisi should offer evidence before accusing the Russian government of masterminding the explosions. Some of them assumed that the explosions were encouraged by Russian hardliners behind Russian President Vladimir Putin's back, because the disruption has also hurt Russia's ally Armenia.
Full gas and electricity supplies to Georgia are expected to resume in two weeks. However, difficult energy challenges remain and Georgia increasingly finds itself torn between the need to secure energy supplies and maintain a pro-Western political orientation.
(Civil Georgia, 24 Saati, Resonansi, Caucasus Press, GHN, January 23-24; TV-Rustavi-2, January 19, 23, 24; Kviris Palitra, January 23-29; www.vesti.ru, January 22)