Terrorism Fears Push Muscular Approach to 'Overall National Security'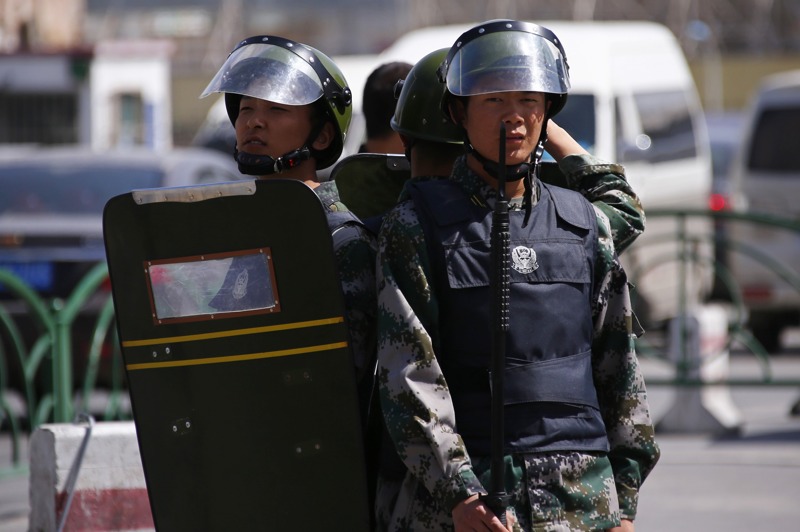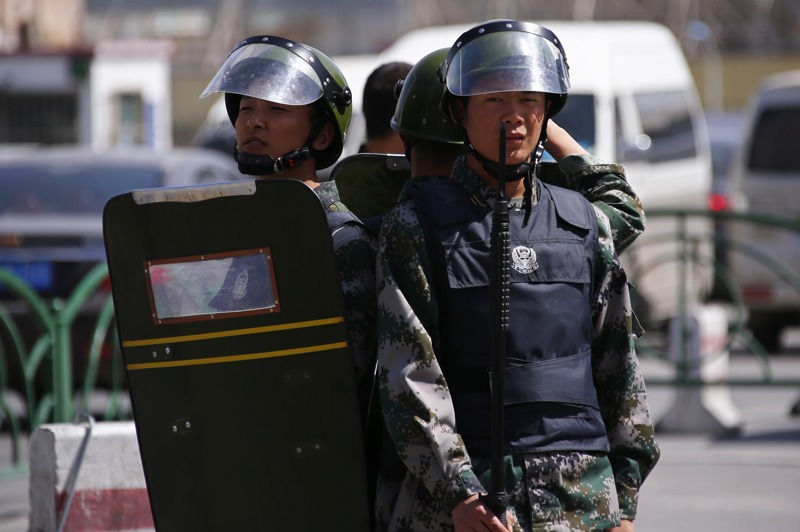 Xi Jinping's new concept of "overall national security" (zongti guojiaanquan) was put to the test on April 30, when two alleged terrorists struck at the Urumqi Railway Station just a few hours after the President and Commander-in-Chief left Xinjiang after a four-day inspection trip. At least three people were killed and 79 injured in the bombing and stabbing incident. Xi immediately vowed to take "decisive actions" against the suspects, adding that "the battle to combat violence and terrorism will not allow even a moment of slackness" (Xinhua, May 1; CCTV, May 1). Big questions, however, are being asked about the efficacy of Xi's muscular approach to improving security and law-and-order.
On at least four occasions the past month, Xi indicated his administration would devote maximal resources to maintaining state security in the following eleven areas: politics, territorial, military, economy, culture, society, science and technology, information, ecology, resources, and nuclear. "Upholding national security is of utmost importance to consolidating the party's ruling status," said Xi at the first meeting of the Central National Security Commission (CNSC)—the country's highest policy-making organ on state security—on April 15. While preserving stability (weiwen) has been a central concern to the Chinese Communist Party (CCP) the past decade or so, Xi has argued that his new concept of "overall national security," which is also known as "total security" or "mega-security," is a "road [map] on national security with Chinese characteristics" that fits the growing challenges of the 21st century (Xinhua, April 15; Global Times, April 15).
What is new about "overall national security"? First of all, the CNSC takes a holistic and all-embracing approach to different aspects of security. As Xi put it, Beijing would "pay utmost attention to both external and internal security; territorial security as well as citizens' security; traditional and non-traditional security." Moreover, Xi said, the authorities would strike a balance between "the question of development and that of security." "The security of not only individual [citizens and units] but also that of the collective will be emphasized," Xi added (People's Daily, April 16; Legal Daily, April 16).
More significant is the fact that it is the first time since 1949 that the authorities have devoted so much in the way of resources to tackling the interconnected tasks of boosting security on eleven fronts. Led by three Politburo Standing Committee (PBSC) members—Chairman Xi and Vice-Chairmen Premier Li Keqiang and National People's Congress Head Zhang Deijiang—the CNSC is a much more powerful organ than the Central Political-Legal Commission (CPLC) that late patriarch Deng Xiaoping set up in the early 1980s to look after internal security. The current CPLC secretary Meng Jianzhu is an ordinary Politburo member. And while the CPLC controls the police, state security as well as the courts and procuratorate, the CNSC has oversight over these and other departments and units including the People's Liberation Army (PLA), the People's Armed Police (PAP), the Ministry of Foreign Affairs as well as the CCP International Liaison Department ("Xi's Power Grab Towers over Market Reforms," China Brief, November 20, 2013). As CNSC Chairman Xi put it, the pursuit of "overall national security" will manifest the five principles of "concentration [of powers] and unity; scientific planning; synthesis of comprehensive and individual [efforts]; well-coordinated actions; and having a lean and high-efficient structure" (China News Service, April 15).
Qu Xing, Director of the Ministry of Foreign Affairs-affiliated think tank China Institute for International Studies, has used the theory of the "butterfly effect" to explain the interconnectivity of domestic and foreign security as well as the linkages across different security fronts. He gave as example the activities of the Central Asia-based "Eastern Turkestan movement" as inflaming ethnic violence in the Xinjiang Uighur Autonomous Region (XUAR). "The concept of total national security has five major elements," Qu wrote in PLA Daily, "The security of the [Chinese] people is the goal, while political security is the basis and economic security is the foundation…Security in the military, cultural and social arenas are the safeguards and the promotion of international security is the support." Qu specifically cited the importance of a strong army to maintain territorial integrity, the need to ward off "cultural invasion" from abroad, and the imperative of socio-political security to satisfy the people's livelihood (PLA Daily, April 27; Ta Kung Pao [Hong Kong], April 27).
Perhaps because of its sensitive nature, the authorities have given little away as to how the CNSC will dictate and coordinate a policy of "total security." Although official news agencies have released fairly detailed information about the organizational make-up of the Central Leading Group on Comprehensively Deepening Reforms—which, like the CNSC, was a superagency set up at the Third Plenum of the 18th Central Committee last November—little is known about CNSC membership or its functioning ("New High-Level Groups Threaten Line Between Party and Government," China Brief, April 9). Last March, Xi transferred a key protégé and former Zhejiang Executive Vice Governor Cai Qi, to Beijing to serve as deputy for another confidant, Politburo member Li Zhanshu, who directs the commission's General Office. The two will be responsible for coordinating multiple party, government, and military elements to raise security standards across the board (Ta Kung Pao, March 28; Ming Pao [Hong Kong], March 27).
Redoubled efforts to counter terrorism throughout China, which are being personally supervised by Xi, will give an indication about how the battle regarding "overall national security" will be waged. The CCP General Secretary and President since early March has made at least 15 references to fighting terrorism or "violent and terrorist crimes" that allegedly are being perpetrated by parties including ethnic separatists, hard-core criminals as well as Chinese who harbor severe grievances against the authorities (Global Times, April 29; Hong Kong Commercial Daily, April 29). While conducting a Politburo Study Session on national security last month, Xi called on responsible cadres to rely on the people to "perfect anti-terrorist work systems and to strengthen anti-terrorist capacities." "We must uphold [the principle of] the synthesis between professionals and the people as well as relying on the masses," Xi said. The supremo indicated Beijing would devote more resources to the area of "the masses putting up defenses [against terrorism] and the masses taking part in countering terrorism" so that "perpetrators of violent and terrorist crimes will be like rats on the street which will be beaten up by everybody" (Xinhua, April 27; China News Service, April 27).
One method is simply upgrading existing facilities as well as boosting training. While visiting Xinjiang in late April for the first time since the 18th Party Congress, Xi toured units of the police and PAP, telling local law-enforcement officers "The situation is grim and complicated and police stations are fists and daggers [in fighting terrorism]." Xi added "You must have the most effective means to deal with violent terrorists…Sweat more in peacetime to bleed less in wartime" (Legal Daily, April 29; Reuters, April 29). In the wake of a rash of Uighur-related terrorist acts, including the stabbing incident in March at the Kunming Railway Station in which 29 people were killed, more PAP and police are believed to have been moved to the XUAR. Eventually, up to 100,000 soldiers serving in the ground divisions of the PLA could be converted to PAP officers, many of whom will then be deployed in the restive Xinjiang and Tibet regions (Oriental Daily News, March 6; Sina.com, March 6).
Xi's emphasis on "relying on the masses" in the campaign against violent and terrorist crimes harks back to Chairman Mao Zedong's famous "people''s warfare" concept. The idea of recruiting ordinary Chinese as vigilantes and spies was used to good effect in maintaining law and order during international events such as the 2008 Summer Olympics in Beijing and the 2010 World Expo in 2010. Han Chinese in Xinjiang have been asked to serve as informal informants. Police and state security units in Xinjiang are offering rewards from 50 to 50,000 yuan for information leading to the arrest of suspected criminals and terrorists. The part-time spies are told to be on the lookout for "people wearing beards and those who spread information about toppling the [Chinese] regime." Also on the list of suspicious activities are Uighurs conducting activities deemed to be linked to the "three evil forces" (san gu shili) of separatism, terrorism and religious extremism (Ming Pao, April 26; Al Jazeera, April 26).
Another example of the "people's war" approach to security is to encourage units running famous monuments and tourist spots to set up their own self-defense organizations to help local police guard against violent and terrorist mishaps. One example that has received much publicity is the Anti-Terrorist Defense and Protection Group newly established within the world-famous Ling Yin Monastery near the West Lake, Hangzhou. The group, which includes 20 monks, drills every evening on the use of martial arts and simple weapons. According to Monk Jueheng, who is responsible for the unit, "we want to be better prepared against emergency terrorist attacks so as to ensure the safety of the 10,000 or so people who visit Ling Yin every day" (China News Service, April 2; Wen Wei Po, April 2).
Chinese specialists in Xinjiang, however, have raised the question of whether merely emphasizing police action could defuse the decades-odd contradiction between Uighurs and central authorities. According to Pan Zhiping, formerly a researcher at the Xinjiang Academy of Social Sciences, "the authorities should win over the heart of the people." "Friction [with Uighurs] over ethnic, cultural and religious issues should be resolved in an atmosphere of tolerance," he said. Beijing-based Xinjiang expert Jiang Zhaoyong also pointed out that Han-Chinese officials must "recognize the special social conditions of Xinjiang as well as the psychology of ethnic [minorities]" (Ming Pao, May 2; Lianhe Zaobao [Singapore], May 1).
It is significant that in his talks about bolstering law-and-order, Xi also has attached importance to placatory gestures such as improving relations between cadres and the masses as well as safeguarding the rights of underprivileged social sectors. While addressing a national conference on political-legal work in January, Xi called upon officials working in units under the CPLC to "handle well the relations between preserving stability and guaranteeing the rights of the people." "We must do a good job of resolving the reasonable and legal demands of the people…so that the masses will feel that their rights and interests have been handled fairly," said the President. (Urumqi Evening News, January 9; China News Service, January 9).
Tough tactics employed by the police and state security agents, however, have cast doubt on whether Xi's "overall national security" game plan relies on the state's naked power of suppression while paying lip service to the prospect of reconciliation. Some of those silenced include those scholars, lawyers, and NGO activists who are helping disadvantaged groups, including ethnic minorities, to air their views peacefully. Recent arrests of potential intermediaries between the government and the masses—including the Uighur intellectual Ilham Tohti and rights defense lawyer Xu Zhiyong—seem to suggest that, despite Xi's pledge that "putting people first" is foremost in his national security strategy, his ultimate preoccupation is preserving the unchallenged power of the CCP and himself (BBC Chinese Service, April 11; South China Morning Post, January 18). Silencing the moderates, after all, is a time-tested tactic for allowing the extremists to become the voice of opposition in preparation for a crackdown.