The Arctic Sea Saga Continues
Publication: Eurasia Daily Monitor Volume: 6 Issue: 165
By: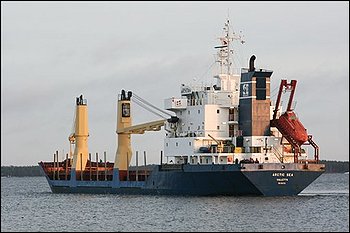 The Arctic Sea, a Malta registered ship with a Russian crew, carrying a cargo of timber worth 2 million Euros from Finland to Algeria, was apparently hijacked on July 24 in the Baltic Sea off the coast of Sweden, and disappeared for several weeks. It was recovered off West Africa in the Atlantic near the Cape Verde islands by a Russian Navy ship without the use of force on August 17. Russian Air Force transport planes flew most of the crew back to Russia from Cape Verde. Eight alleged hijackers -described by the authorities as Russian-speaking residents of Estonia and Latvia with a possible criminal background- were arrested, flown to Russia and charged with kidnapping and piracy. The Arctic Sea is at present still in the Atlantic, apparently being convoyed by the Russian Navy to the Black Sea port of Novorossiysk. Russian investigators are now on board looking for evidence of possible contraband. A group of six investigators from Malta is en route to join the Russian investigators on board the Arctic Sea. Moscow has promised to be "fully transparent" about the Arctic Sea investigation (RIA Novosti, September 9).
The freed crewmembers back in Russia have remained tight-lipped about the details of what happened aboard. The lawyers for the alleged hijackers claim that their clients did not do anything wrong and became stuck on board because of bad weather in the Baltic. The Russian investigators aboard the Arctic Sea claim they have not found any contraband -only timber- and have dismissed allegations that the ship was carrying narcotics, arms or nuclear materials (Interfax, September 8). However, these denials have not stopped the mounting international skepticism over the incident.
On September 6 the Sunday Times alleged, quoting sources in Tel Aviv and Moscow, that the Arctic Sea was secretly loaded with S-300 anti-aircraft missiles destined for Iran, while undergoing repairs in the Russian Baltic port of Kaliningrad before going to Finland to pick up the cargo of timber. Had the S-300 missiles been delivered, Iran would have significantly strengthened its air defenses. According to an Israeli air force source, quoted by the Sunday Times: "In the event of an attack on Iranian nuclear installations, such missiles could increase Israeli casualties by 50 percent." The Israeli intelligence service Mossad allegedly tipped off the Russian government by setting up a criminal gang to hijack the Arctic Sea to create a public scandal to stop the shipment of S-300 missiles, organized "by former military officers linked to the underworld" (www.timesonline.co.uk, September 6).
The Israeli press followed up the story by alleging that Prime Minister Benjamin Netanyahu secretly traveled to Moscow on September 7 to meet his Russian counterpart Vladimir Putin to discuss the Arctic Sea and to ask him not to sell advanced weapons to Iran and Syria (Yedioth Ahronoth, September 8). The Kremlin, as well as the Israeli government, has denied that Netanyahu traveled to Moscow or met with Putin (Ekho Moskvy, September 9).
Russia has indeed signed a contract with Iran to sell 40 to 60 S-300 missile launchers each caring four missile tubes, radars and control stations worth all together some $800 million. The S-300 PMU1 has a range of 150 km and can hit targets up to 27 km high. The S-300 deal has been on hold for some time, the missiles have not been delivered despite repeated Iranian requests, apparently vetoed by Putin because of Israeli and U.S. pressure (EDM, February 19).
An operational S-300 antiaircraft complex consists of radars, control stations, missile launchers and service vehicles. The radars and launchers are based on heavy 8 or 10 wheel transporters. The Arctic Sea is not a big ship -4,700-ton water displacement. It could possibly carry an S-300 antiaircraft complex, but it would have occupied the entire deck and hull. The Finnish port authorities state that when the ship came to load with timber, its hull and deck were clear (Interfax, September 8). Some contraband could have been stashed away somewhere on board the Arctic Sea, but concealing an entire S-300 complex is physically impossible. Separate S-300 missiles are also bulky (2.8 tons together with launch container) and without specialized launchers, radars and control centers they are useless.
The Sunday Times article seems to have been treated as a red herring by its sources, possibly deliberately. Foreign Minister Sergei Lavrov has stated categorically, "S-300 on board the Arctic Sea is absolutely false" (Interfax, September 8). Lavrov clearly has a point. Maybe the ridiculous claims about secretly stashed S-300 missile complexes were leaked in order to be later easily dismissed. Among other inconsistencies, the allegedly hijacked ship was moved close to Cape Verde where the Russian military during the Cold War built a very long runway on Sal Island, capable of handling fully loaded strategic bombers. I visited the Sal base in 1994 during a refueling stopover by a Russian Air Force plane going transatlantic. Since the end of the Cold War, Russian planes have used Sal from time to time.
Why would the alleged hijackers move the Arctic Sea to the only part of the East Atlantic where the Russian Navy still has some air cover capabilities, and from where the detained could be easily flown out without the authorities asking any questions about extradition procedures? S-300 on board or not, the entire Arctic Sea saga smacks of a setup.