The Battle of the Fifth Columns
Publication: Eurasia Daily Monitor Volume: 12 Issue: 39
By: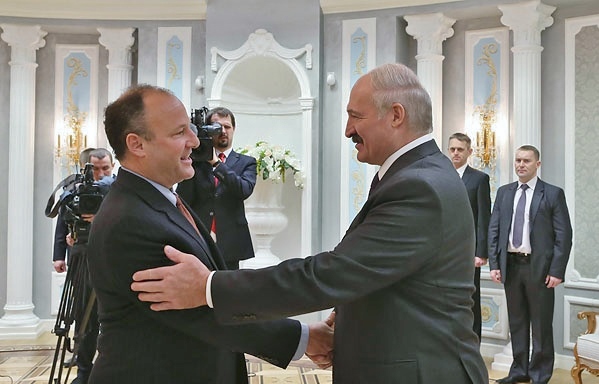 On February 17–18, the president of the European Bank for Reconstruction and Development (EBRD), Sir Suma Chakrabarti, paid a visit to Minsk and met with President Alyaksandr Lukashenka (ONT, February 17). This was the first trip by an EBRD president to the Belarusian capital since the mid-1990s. On February 20, Belarus also hosted Edgars Rinkevics, the foreign minister of Latvia, whose country is chairing the European Union's Council of Ministers until mid-2015 and which will be hosting the May summit of the EU's Eastern Partnership initiative (Tut.by, February 20). On February 24, Helga Schmid, the deputy secretary general for the External Action Service of the EU, met with the Belarusian head of state while her pre-scheduled meeting with the Belarusian opposition was canceled. On February 25–27, Andrea Rigoni, rapporteur of the Parliamentary Assembly of the Council of Europe's (PACE) Committee on Political Affairs and Democracy, met with Belarusian parliamentarians, in Minsk, as well as with the chairperson of the Central Electoral Commission, Lidia Yermoshina. On February 27–28, Sandra Kalniete, the vice-chairman of the European Parliament for the European People's Party, showed up in the Belarusian capital (Tut.by, February 23). And at the same time, Eric Rubin, Deputy Assistant Secretary of State of the United States, came to Minsk for the third time since 2013 (Tut.by, February 26) and was cordially greeted by President Lukashenka (Tut.by, February 27).
Such a high frequency of face-to-face contacts with top officials from the West represents a startling reversal from previous years. Only several months ago, a dead season was still underway when it came to Western contacts with Minsk. Valer Karbalevich of the Belarusian service of Radio Liberty lists seven reasons for this shift, which he calls a warm wind from the West. First, as a war rages nearby, geopolitical considerations become preeminent for Western governments, whereas value-laden ones are sidelined. Second, Belarus does not create problems for the West. Third, against the background of the death toll caused by the war in Ukraine, the Belarusian "regime" does not come across to Westerners as odious anymore. Fourth, Lukashenka no longer looks like the worst guy in the neighborhood, Vladimir Putin does. Fifth, the West does not want even more headaches, and that is quite a possibility if regime change were to be enacted in Minsk. Sixth, Belarus has reportedly exhausted the "resource" of its socioeconomic model and it badly needs funds for modernization. And finally, seventh, ordinary Belarusians do not show signs of willingness to democratize, so rendering outside support to that option becomes problematic (Svaboda, February 20).
Many opposition-minded Belarusians would disagree with Karbalevich's arguments, particularly with his second and seventh point. Thus, Alexander Lebedko, a veteran opposition leader, dutifully claims that since public opinion is impossible to probe under a dictatorship, it is hard to ascertain what, if anything, Belarusians really want (Naviny.by, February 1). And Roman Yakovlevsky, a pundit who usually shares his views with the most radical opposition media outlets, goes out of his way to argue that "Belarus threatens the security of Europe" because of its close ties with Russia (Svaboda, February 26).
Apparently, however, politics is, as Otto von Bismarck used to say, "the art of the possible, the attainable—the art of the next best," and Western politicians are aware of this limitation. In this regard, the EU's predicament vis-à-vis Belarus appears to be self-imposed. Indeed, Europe's double standards contributed critically to the current estrangement from Belarus because the policy of Western universalism—or as American political scientist Edward Luttwak termed it, "great power autism"—regarding democracy and human rights was selectively applied to that country but not, say, to Azerbaijan or even Russia since as early as the mid-1990s. Therefore, face-saving considerations are so important now, leading to awkward maneuvering and verbal gymnastics. Notably, Maira Mora, the EU ambassador to Minsk, declared that "relations between the EU and Minsk are being normalized but not improved" (Tut. by, February 25)—a cryptic statement at best. For his part, Latvia's Foreign Minister Rinkevics could not quite say that Lukashenka would be invited to the Eastern Partnership meeting in Riga, even as he evinced every sign of willingness to say that. At the same time, EU diplomat Helga Schmid avoided the opposition; while PACE's Andrea Rigoni, who did not evade Belarusian opposition groups during her recent visit, could not say unequivocally if Belarus, the only European country outside the Council of Europe, would be invited to rejoin. All of them crave that Minsk meet the West halfway—or even just one-quarter of the way—either by abolishing capital punishment or releasing the remaining three prisoners that the EU deems political or both.
To be sure, Lukashenka's intransigence is not the only problem. A born politician, he knows when to yield. From a broader perspective, however, Belarusians have been difficult partners all along. Not only do they not speak with one voice, their consolidation deficit transcends politics. In that sense, they are much like Ukrainians; only, the proportions associated with their divide are more slanted toward the notorious Russian world. Many fewer Belarusians are willing to fight, and many more are dedicated to public order. But the perception of the split is equally acute. Illustratively, the Belarusian service of Radio Liberty has dedicated a recent episode of its most popular talk show to the "battle of the fifth columns"—in other words, to a recurrent claim that Belarusians more frequently pursue externally defined interests (i.e., of the actors situated to the east and to the west of Belarus) than their own (Svaboda, February 22). The actual status of the Belarusian language appears to fall along the same lines. More than 70 percent of Belarusians use only Russian at home, according to the 2009 census (Naviny.by, February 20). Moreover, a group of Belarusian speakers immediately switches to Russian when it is joined by a single Russian speaker, as speaking Belarusian in public is perceived as something "abnormal, extraordinary and situational" by Belarusian speakers themselves (Svaboda, February 20).
Meeting halfway, therefore, is not only a desired option for Belarus and the West, but also—and even more so—for the two groups of Belarusians on both sides of the socio-cultural divide. It is fine not to see eye-to-eye on politics. Still, some area of agreement has to be there to begin with; and the more Belarusians on both sides of the divide realize that, the better for the prospects of independent Belarus.