The CCP is Retooling its Censorship System at a Brisk Pace in 2021
Publication: China Brief Volume: 21 Issue: 8
By:
Introduction
Earlier this month, a Chinese video-gaming industry site revealed that the Chinese Communist Party (CCP) Central Propaganda Department had introduced a trial review and scoring system for online games produced in China, effective April 1 (Games Teahouse; April 14). Under the new system, games can be prohibited if they do not sufficiently promote core socialist values, the "correct" view of history, or traditional Chinese culture.
The rules are just one of many new measures that the CCP and state agencies have ushered in since January to tighten regulatory control over political speech and online content. The changes have extended the party-state's authority to new frontiers even in the context of China's already robust censorship apparatus and signaled ongoing CCP nervousness about domestic dissent and alternative power centers. Most of the new actions fall into one of three categories: codes of conduct for elites, pressure on technology companies, and updates to decades-old media regulations.
Formalized Rules to Regulate Elite Speech
One of the first groups that the CCP targeted recently for tighter speech controls was its own membership. On January 4, the official Xinhua news agency published the CCP Central Committee's December 2020 revisions to the Regulations on Safeguarding Party Members' Rights ([中国共产党党员权利1保障条例], Zhongguo gongchandang gandyuan quanli baozhang tiaoli), which had not been updated since promulgation in 2004 (Xinhua, January 4). The new rules reduced party cadres' ability to express dissent, prohibiting them from publicly criticizing CCP decisions. The changes came after several prominent party members—including real-estate tycoon Ren Zhiqiang (任志强) and retired Central Party School instructor Cai Xia (蔡霞)—spoke out against President Xi Jinping (习近平) and his handling of the COVID-19 pandemic in 2020 (Freedom House, October 2020).
On January 12, the National Press and Publication Administration (NPPA) issued new rules requiring Chinese journalists to have their social media posts reviewed as part of the annual verification process for issuing or renewing press cards, effective immediately (NPPA, January 19). Journalists who opened social media accounts without authorization or posted content that was deemed objectionable during the review period from December 2019 to January 2021 could be denied a press card. The measures effectively extended official editorial controls from journalists' places of employment to their personal accounts.
The third set of recently issued rules targeted Chinese celebrities, who already refrain from politically controversial commentary to avoid potential backlash from officials or fans. On February 5, an entertainment industry association under the Ministry of Culture and Tourism announced that performers would be subjected to a new code of conduct, effective March 1 (China Association of Performing Arts, February 5). Public entertainment figures will be required to abide by 15 rules that largely codify long-standing unwritten rules, such as promoting "the party's line" while not "undermining national unity" or "endangering national security." Some of the rules are less overtly political, including bans on fake singing and drunk driving. Violators face suspension and even a permanent industry ban.
The new measures all targeted groups of people who were already tightly controlled or relatively compliant, indicating acute CCP concern over internal dissent and a desire to head off any potential opposition from within the country's political, economic, or media elite.
Warning Shots to Technology Companies
Chinese authorities have also moved in recent months to rein in some of the country's most prominent technology firms. The most prominent target has been Alibaba. Jack Ma (马云), the company's cofounder and executive chairman until 2019, had criticized China's financial regulations in an October 2020 speech, which was widely perceived to have triggered official reprisals. Among other actions, in mid-March, authorities reportedly ordered Alibaba to divest its extensive media holdings because of growing concerns among party officials that they gave the company outsized influence over public opinion (Nikkei Asia, March 16). These include Alibaba or its affiliate Ant Group's full ownership of the Hong Kong–based South China Morning Post, 30 percent of the social media platform Sina Weibo, and stakes in a number of major video-sharing, streaming, and digital advertising services (Hexun.com, March 16). CCP leaders reportedly became concerned about tech giants' media power after Sina Weibo censored news in early 2020 about Alibaba executive Jiang Fan's (蒋凡) affair with a prominent online influencer, which earned it a rebuke from the Cyberspace Administration of China (CAC) (CAC, June 10, 2020).
Chinese tech companies are also at the forefront of the CAC's latest crackdown on "self-media," meaning independently operated social media accounts that publish or comment on business or current affairs. New CAC provisions targeting "self-media" accounts went into effect on February 22 (CAC, January 22), with the agency citing a need to further combat "false information" following the COVID-19 pandemic (Xinhua, January 23). Under the new rules (the first since 2017) "self-media" accounts are required to obtain an Internet News Information Service Permit from the host platform and are prohibited from not registering with real names, providing news information without permission, and "using emergencies to incite extreme emotions," among other restrictions (CAC, January 22). Platforms must enforce the provisions, including by imposing temporary or permanent bans on delinquent accounts. Tighter enforcement appears to have already begun. On April 12, Radio Free Asia reported that a host of WeChat accounts covering military affairs, including "self-media" accounts, had been shuttered in recent weeks (Radio Free Asia, April 12).
Domestic companies are not alone in facing regulatory pressure. The CAC reportedly ordered Microsoft's professional networking platform LinkedIn—the only major U.S. social media site that is not blocked in China—to suspend new sign-ups for 30 days and undergo a self-evaluation for not censoring enough content during the politically sensitive National People's Congress session in March (New York Times, March 18). On March 9, LinkedIn said it would "work to ensure we remain in compliance with local law" (LinkedIn, March 9). The company has over 52 million users in China and had agreed to censor content when it expanded to the country in 2014 (LinkedIn, February 24, 2014), including preventing content on overseas accounts from being viewed inside China (Zhou Fengsuo Twitter, January 3, 2019).
Updating Old Regulations for a New Era
In recent months, government departments have issued draft revisions of two important decades-old regulations to bring them into the modern era and further entrench CCP leadership.
On January 8, the CAC released a draft update of the Regulations on Internet Information Service ([互联网信息服务管理办法 (修订草案征求意见稿)], hulianwang xinxi fuwu guanli banfa (xiuding caoan zhengqiu yijian gao)) for public comment. The original regulations date back to 2000 and remain unchanged, despite an attempted update in 2012. The new proposal deals with contemporary issues like e-commerce and online fraud, but also expands the list of prohibited online content to include "false information" and material that "incites illegal assemblies" or "endangers the physical and mental health of minors." The draft brings in the concept of "cyber sovereignty" from the 2017 Cybersecurity Law, calling for the state to "monitor, prevent, and address illegal and criminal activities using domestic or foreign internet resources to harm the security or order of the nation's cyberspace" (CAC, January 8).
Another draft update to old regulations targets the explosion of privately owned online video services that compete with traditional CCP-aligned media like the state broadcaster China Central Television (CCTV). On March 16, the National Radio and Television Administration (NRTA) released the draft text of a new Radio and Television Law ([中华人民共和国广播电视法 (征求意见稿)], Zhonghua renmin gongheguo guangbo dianshi fa (zhengqiu yijian gao)), replacing 24-year-old broadcasting regulations (NRTA, March 16). In explaining the draft, the NRTA cited the CCP Central Committee and State Council's "Opinions on Accelerating Integrated Media Development," ([关于加快推进媒体深度融合发展的意见], guanyu jiakuai tuijin meiti shendu ronghe fazhan de yijian), which laid out a response to party concerns about the rise of private digital outlets and the need to integrate traditional and emerging media to ensure continued CCP media leadership (CCP Central Committee and General Office of the State Council, September 26, 2020). The draft law covers video-sharing websites, internet television platforms, and online broadcasters for the first time, extending controls long applied to traditional media to platforms that have come into being since a comprehensive broadcasting law was last enacted in 1997.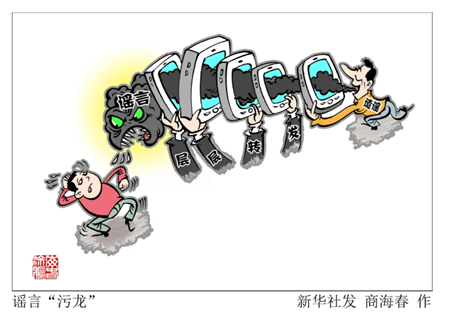 Factors Driving Increased Regulation
The party-state is constantly adapting and upgrading its content-control system to smother embers of dissent and tackle new threats, but several factors appear to be driving this latest burst of activity and influencing the forms it has taken.
The first is Xi Jinping himself. The crackdown on Chinese tech companies, for example, has been led from the very top. In March, Xi called for regulators to step up enforcement and personally chaired a meeting in which officials called for the country to "accelerate the improvement of laws governing platform economies in order to fill in gaps and loopholes in a timely fashion" (Xinhua, March 15). Xi's stylistic fingerprints are also evident in the effort to update old legislation for the digital age, a reflection of his modus operandi of "law-based governance"—or strengthening the party's control through legislation (Xinhua, December 10, 2020).
Second is the fallout from the COVID-19 pandemic. Although the CCP eventually got a handle on the coronavirus outbreak in China, its initial official cover-up as well as the suffering inflicted by its response and the virus itself left the party sensitive to any potential criticism. The above controls on journalists and self-media emerged after many shared information—including investigative reporting—on the government's mismanagement of the pandemic that ran counter to official narratives. Prominent party members' expressions of doubt about Xi's leadership during the crisis likely contributed to the new rules for CCP cadres. In 2021, the regime seems determined to enforce what Foreign Ministry spokesperson Hua Chunying (华春莹) referred to as the "correct collective memory" (正确的集体记忆, zhengque de jiti jiyi) of the pandemic (Ministry of Foreign Affairs, June 8, 2020).
The third factor is anxiety over competition that threatens the party's monopoly on information control. This explains the CCP's efforts to weaken Chinese tech giants and break up their massive holdings in media and online video services. In a November 2020 speech, Xu Lin (徐麟)—deputy head of the CCP Central Propaganda Department and director of the State Council Information Office—warned that integrated media could "dilute the party's leadership" and said that officials must "resolutely prevent the risk of capital manipulating public opinion" (State Council Information Office, November 20, 2020).
Conclusion
The regime is determined to baton down public opinion ahead of the CCP's 100th anniversary in July and the 2022 Winter Olympics in Beijing, especially as it faces growing international criticism over repression in Xinjiang and Hong Kong. The party is clearly concerned about critical views on its recent history and long-term legacy. On April 9, the CAC established a hotline for netizens to report users who "distort the history of the party," "attack the party leadership," or defame national heroes and martyrs (CAC, April 9). Those reported for speech that "defames martyrs" could face up to three years in prison under legislation that took effect on March 1 (Xinhua, December 26, 2020).
Given this context, observers in the coming months should watch for the following:
Additional restrictions and penalties related to the discussion of history, with a likely crackdown around the July anniversary;
Reports of enforcement of the new rules and codes of conduct, including journalists losing accreditation over their social media posts, celebrities facing bans, "self-media" account suspensions, and disciplinary action against party cadres for public expressions of dissent;
Smooth adoption, with little debate, of the draft rules on radio, television, and internet services; and
New rules and regulations for other avenues of relatively free expression, such as podcasts or voice-based apps built on the Clubhouse model.
Regardless of how these events unfold, it seems certain that the CCP and its leaders will continue to refine and enhance what is already the world's most sophisticated apparatus for media and internet censorship.
Angeli Datt is a senior research analyst for China, Hong Kong, and Taiwan at Freedom House.
Sarah Cook is Freedom House's research director for China, Hong Kong, and Taiwan.