The E40 Waterway: The Polish Dimension
Publication: Eurasia Daily Monitor Volume: 17 Issue: 61
By: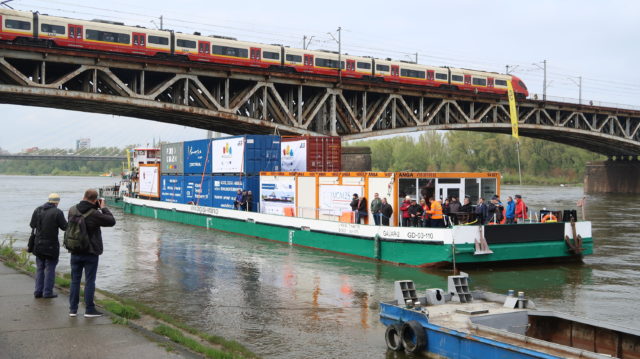 The E40 Waterway is a proposed 2,000-kilometer inland shipping route that, if completed, would connect the Baltic with the Black Sea and run through Poland, Belarus and Ukraine (Minskdialogue.by, April 20; see EDM, February 18, April 28). The project stagnated following the completion of its 2015 Feasibility Report; but after Ukraine and Belarus agreed to begin dredging in September 2019, the waterway is now progressing. In April, Ukraine reported that during the first three months of 2020, the volume of dredging works carried out was more than four times that for the same period in 2019 (Uspa.gov.ua, April 10). This includes dredging on the Kherson sea channels, a key part of the E40 route that feeds into the Black Sea. In 2019, Belarus signed an agreement for the construction of a port on the Dnieper River (Emerging Europe, October 17, 2019). But while Ukraine and Belarus are advancing, where does this leave Poland? Without the northern segment, the E40 route will, quite literally, go nowhere. Poland initially appeared to be making little headway; however, this is slowly changing, and the waterway appears to now be gaining momentum.
The Polish section of the E40 waterway would run from Gdańsk, along the Vistula River, to Warsaw, then follow the Bug River eastward to Brest, in Belarus. The Bug forms part of a natural river border dividing Poland and Belarus, whereas the Vistula runs south–north through the heart of Poland, via Kraków, Warsaw and Gdańsk, and is Poland's longest river at 1,000 kilometers. The Vistula has a rich history as a trade corridor, particularly as part of the Amber Road, along which amber was shipped south and raw materials and flint tools were shipped north. During the Roman Empire, it was one of the principal trade routes leading into Central Europe (Cezary Gołębiowski, "Inland Water Transport in Poland," Transportation Research Procedia, Volume 14, 2016, pp. 223–232).
Despite this historical legacy, Poland's current use of its inland waterways as trade routes is negligible, with riverine transport traffic representing less than 1 percent of all goods transiting the country. The majority of goods transported by inland waterway in Poland are bulk resources such as sand, gravel and coal. Water transport is one of the cheapest modes of transport: 40 containers traveling from Gdańsk to Kherson by waterway costs €56,000 ($61,100), as opposed to €82,000 ($89,500) by road or €78,000 ($85,100) by rail. Yet it is also one of the slowest, taking 14 days to complete, compared with 3–4 by train (Feasibility Study, December 2015).
Utilizing Poland's river systems would be in line with European Union policy as part of the European Green Deal. The EU is seeking to make better use of the continent's waterways and reduce reliance on roads for long-distance cargo transportation by 50 percent by 2050. However, the EU's 2014–2019 Connecting Europe Facility Grants for Poland notably designated €3,505.5 million ($3,823.8 million) for railway projects and only €147.8 million ($161.2 million) for maritime infrastructure, such as developing the Port of Gdańsk, demonstrating a mismatch in incentives and an overwhelming preference for rail investment (Ec.europa.eu, accessed May 4, 2020). Moreover, in 2000, Brussels adopted the EU Water Framework Directive (WFD) to protect and improve the quality of water environments, including waterways, which could further hinder the development of inland waterway systems due to their adverse impact on nearby rivers and wetlands.
Undeterred, Polish President Andrzej Duda signaled a clear desire to advance his country's inland waterways and signed a Memorandum in December 2017 to regulate the Vistula River and increase its share of freight to 10 percent. The same year, Poland signed the United Nations' 1996 "European Agreement on Main Inland Waterways of International Importance," which designates the E40 Waterway a route of "international importance" and commits Poland to developing the main waterways to accommodate larger ships (Treaties.un.org, January 19, 1996).
While the E40 as a whole is largely navigable, apart from the need for dredging and widening, the Bug River forms the main bottleneck. This section requires a new canal to be constructed in order to connect the Vistula with the Mukhavets River in Belarus. This has led to huge Polish construction costs totaling €11,915.19 million ($12,997.15 million), higher than the overall costs for both Belarus and Ukraine combined (Mfa.gov.by, accessed May 4, 2020). Local environmentalists are also trying to disrupt the project, as the proposed waterway crosses protected Natura 2000 sites and could have devastating environmental consequences, such as drought and flooding.
Despite the high construction and environmental costs, the 2015 Feasibility Study analyzed the cost-benefit for Poland and concluded the E40 had sound "economic justification in socioeconomic interests" and that the project could bring tangible economic benefits stimulating economic development in the regions, improving transport accessibility, and creating conditions for renewable energy. The EU's Cohesion Fund is currently contributing to the cost of construction work to improve capacity at the Gdańsk seaport, demonstrating that at least some segments of the E40 route could receive EU funding (Ec.europa.eu, July 26, 2019). The Port of Gdańsk and the Polish government commissioned a second Feasibility Study in 2018 for a further in-depth analysis of the project, due for publication later this year (2020).
For Poland—notably, an initiator of the EU's Eastern Partnership (EaP)—deepening economic ties with EaP members Ukraine and Belarus could have significant geopolitical impact. Poland is already one of Belarus's largest trade partners: mutual trade reaches $3 billion a year. As for broader EU-Belarus relations, the gradual rapprochement is part of a pragmatic approach to reduce Belarusian reliance on Russia and bolster the former's economic security. Bilateral Polish-Ukrainian relations, meanwhile, have been strained regarding mutual issues of historical memory and immigration (Wilsoncenter.org, March 27, 2018). But in August 2019, both countries' heads of state agreed to work to resolve these outstanding issues, and cooperation on a mutually beneficial waterway for the region could form part of this detente.
While the previous inertia regarding the E40 is over, challenges remain. The Polish government's focus is currently on the development of the Vistula River segment, which is cheaper and could also form part of other transcontinental waterways, such as the E70; but until the issue of the expensive Bug canal is fully addressed, the E40 could still flounder. In order to secure comprehensive funding, Poland will need to offset the environmental damage and ensure that inland waterway development is a governmental priority. That said, the collective socio-economic benefits and geopolitical potential of this project for all partners involved will likely be sufficient to see it advance in the coming years.