The Future of the Russian Black Sea Fleet's Bases: Novorossiysk Versus Sevastopol
Publication: Eurasia Daily Monitor Volume: 10 Issue: 157
By: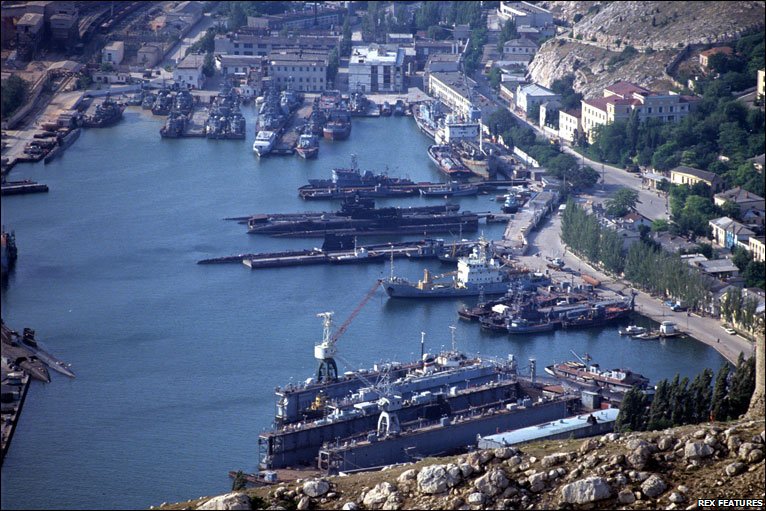 The Russian Navy has decided to deploy three ships stationed at the base in Sevastopol on Ukraine's Crimean Peninsula to its reestablished Mediterranean flotilla. In particular, on September 4, Moscow deployed the destroyer Smetliviy (https://www.interfax.ru/world/news.asp?id=326972). Some Sevastopol-based ships actually sailed for the Mediterranean via Novorossiysk, Russia, including the radio-electronic intelligence ship Priazovye and the large landing ship Nikolay Filchenkov, which left Sevastopol "urgently" to pick up "special cargo" (https://www.newsru.com/world/06sep2013/filjchenkov.html). Meanwhile, RIA Novosti (September 6) reported the ship would refuel in Novorossiysk to avoid a 30-percent customs duty levied by Ukraine. A source in the Russian Navy speaking to RIA Novosti on September 3, denied that the current expansion of the flotilla was Syria-linked. Though, earlier on August 29, it was reported that the guided missile cruiser Moskva would be deployed to the eastern Mediterranean upon completing its mission in the Atlantic (Interfax, August 29). Such operations by Russia's Black Sea Fleet (BSF) indirectly affect Ukraine, which leases the Sevastopol naval base to Russia. At the same time, Russia continues to develop a new naval base at Novorossiysk, which was considered an alternative to Sevastopol and the BSF's future home base after 2017 until the Kharkiv Pact of April 2010 prolonged the Russian Navy's stay in Sevastopol until 2042.
Even though publicly the Russian and Ukrainian governments demonstrate mutual satisfaction with both countries' navies sharing the Sevastopol base, the Russian BSF's lease is increasingly marred with disagreements reported in the local media. On August 30, BSF Headquarters received a letter from Ukrainian border authorities demanding that two Russian auxiliary vessels officially request a prolonged stay in Ukraine or leave Sevastopol by the end of the day (https://www.nr2.ru/sevas/457814.html). On September 4, Nezavisimaya Gazeta reported that the Russian navy may demand a refund of tax and customs payments to Ukraine for supplies to the Black Sea Fleet that accumulated for 15 years and amount to some $15 billion. On July 17, bilateral relations were seriously aggravated by a Russian border guard boat colliding with a Ukrainian fishing vessel in a disputed area of the Sea of Azov near the Russian shore, which Russia claims to be its economic zone. In the absence of a properly delimited maritime border, Russia is persecuting a survivor of the collision, in which four Ukrainian citizens died (Interfax Ukraine, August 3, 8).
Ukraine and Russia are also in a dispute over the consent to modernize the aging BSF. Viktor Yanukovych's administration intends to prevent Russia from acquiring new classes of warships to be stationed at Sevastopol, which would escalate the militarization of the Black Sea region, and he conditions the modernization on Ukrainian defense companies' participation. No agreement has been reached, while Russian officials make controversial statements that imply that the BSF's modernization will nevertheless occur. On May 12, the Russian Navy Commander-in-Chief, Admiral Viktor Chirkov, told RIA Novosti that the delivery of new surface ships and submarines to the Black Sea Fleet would begin as early as 2014. During the next few years, the BSF would receive six diesel electric submarines and six new frigates. It is unclear where the new vessels would be based, but given the lack of Ukraine's consent to modernize the fleet in Sevastopol, they are likely to be based in Novorossiysk (https://m.ria.ru/interview/20130512/936811614.html). On May 18, Interfax quoted a representative of the Russian Ministry of Defense confirming that because of the lack of Kyiv's consent, all new ships and aircraft, including a "Mistral"-class helicopter carriers built in France and named "Sevastopol" would be based in Novorossiysk (https://www.newsru.com/russia/18may2013/misstral.html).
Novorossiysk has some advantages for the Russian Black Sea Fleet that could make it its major home base even if Russia wishes to retain a presence in Sevastopol. Novorossiysk's primary advantage is its location on Russian soil, which provides Russia with some leverage against Ukraine's Western leanings, but also reduces Russia's logistics and supply costs. The Novorossiysk naval base abuts Russia's biggest commercial seaport, which facilitates the protection of Russian economic interests. Its construction began from a virtually virgin shore site, thus allowing the design and development of modern infrastructure. Moreover, at Novorossiysk, Russian ships, such as the flagship Moskva, would be allowed to carry guided missiles armed with nuclear warheads—which is forbidden at Sevastopol—illustrating the Novorossiysk base's strategic advantage. Combined, these advantages may outweigh Sevastopol's military value whose foremost natural advantage is its all-weather accessibility.
But building the Novorossiysk naval base is a complex engineering and management task for Russia, which set up a federal program to build the base's infrastructure. The construction includes special hi-tech barriers to protect Novorossiysk port's Tsemess Bay from frequent storms and "bora" winds that force ships to leave the harbor to avoid accidents in poor weather conditions. An article published in Nezavisimoye Voyennoye Obozreniye on September 14, 2007, further indicated that 15 piers need to be built to accommodate 30 ships in case of re-deployment from Sevastopol and mentioned the estimated base construction cost of $1 billion (https://nvo.ng.ru/wars/2007-09-14/1_novorossiysk.html).
In his May 12 interview with RIA Novosti, Admiral Chirkov admitted Novorossiysk's current stage of construction was focused on port infrastructure, while the rest of the construction is earmarked for future stages, including building the Headquarters and personnel housing, utilities and communications. However, Novorossiysk should be able to accept the first new ships in 2014. Unlike at Sevastopol, Novorossiysk is planned to also host training facilities, thus bestowing a more senior status on this military base.
Even though Sevastopol continues to serve as the Russian Black Sea Fleet's home base, its rationale is largely political—as a means to maintain Russia's Eurasian posture. Russian military analyst Igor Korotchenko admitted on his blog on May 12, "The Novorossiysk naval base is being built, to be sure, just in case Ukraine 'would ask' [Russia] to leave Sevastopol" (https://i-korotchenko.livejournal.com/643679.html).
Presently, the Ukrainian government continues to adhere to the "gas-for-fleet" Kharkiv pact. But Ukraine's future convergence with the European Union's Collective Security and Defense Policy could present different options for Ukraine. On the other hand, should Russia wish to enforce its military presence in the Mediterranean, it would likely seek to allocate priority resources to the establishment of bases in this strategically important region, for example by expanding its small base in Tartus, Syria—which would reduce the importance of both Novorossiysk and Sevastopol. However, given the cost issue, Russian expansion into the Mediterranean will probably remain largely opportunistic. Serhiy Kulyk, the director of the Nomos Center in Sevastopol, told Jamestown on August 10 that, as in Soviet times, Russia will instead try to maintain year-round presence in the Mediterranean from more distant bases.