The Geopolitics of Cross-Strait Disaster Relief
Publication: China Brief Volume: 9 Issue: 18
By: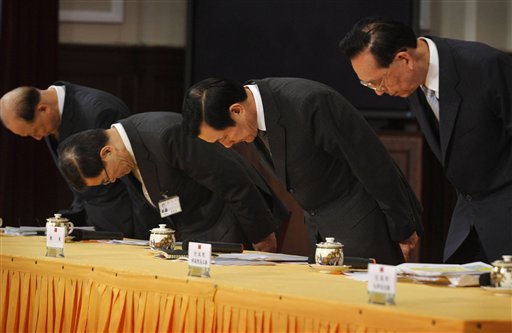 Typhoon Morakot swept across Taiwan in August, dumping over 100 inches of rain with entire villages wiped out by mudslides, leaving a trail of destruction including over 600 dead and missing. The aftermath of this natural disaster has become enmeshed in Taiwan's domestic and cross-Strait politics while the United States, China and others provide financial and material assistance to on-going relief efforts.
Taiwan's President Ma Ying-jeou has faced significant domestic criticism for a slow and bumbling response in the first days after the typhoon passed when the scope of the human tragedy was increasingly revealed. The prime minister has resigned, while a raft of cabinet members have offered to resign, including the defense minister, the foreign minister and his deputy, ostensibly in response to the slow mobilization of the military to provide relief and the foreign ministry's initial response to decline international offers of much needed aid. Beyond the domestic political issues, geopolitics lurks not far beneath the surface of relief efforts, particularly as it relates to China's offers of assistance, the latest in a long string of cross-Strait disaster relief efforts.
Within a day of receiving the request from Taiwan authorities, the United States provided assistance, which included sending a military cargo aircraft from Japan with supplies and military heavy lift helicopters from a vessel off-shore, the second time U.S. forces have deployed on Taiwan since recognition switched to China in 1979. Unlike Taiwanese military aircraft that delivered relief aid to Tsunami stricken countries in early 2005, the U.S. helicopters displayed their national markings and entered Taiwan without objection from Beijing (Taiwan News, August 17).
China was fast to offer aid to Taiwan following the disaster, despite suffering damages and casualties when Morakot swept onto the mainland. Referring to their "compatriots," China quickly shipped relief supplies including prefabricated houses, tents and medical supplies, while orchestrating the collection of millions of dollars from individuals and organizations on the mainland. Some Taiwanese have pointed out that the Kuomingtang (KMT) leadership accepted this aid while rejecting initial offers from the United States, Japan and elsewhere (Taiwan News, August 25). Mainland commentators found themselves in the somewhat awkward position of defending the KMT, which is far preferable to Beijing than the opposition, while providing advice to Ma Ying-jeou, urging him, "to dash to the very front battle line, set up a headquarters and conduct decisive maneuvering there," much as Beijing's leaders now rush to the site of their own disasters to direct efforts (People's Daily, August 24). President Hu Jintao also took the unusual step of deciding to meet publicly with a visiting delegation that represented Taiwanese indigenous groups, using the event to express China's goodwill and highlight the mainland's contributions to relief efforts (Xinhua News Agency, August 19).
China's intention for providing this disaster relief assistance is to build its influence and image in Taiwan, consistent with Beijing's strategic global interest in employing this highly specialized form of diplomacy. Much as China seeks to extend its influence abroad through disaster relief and humanitarian assistance, both Taiwan, under the Chinese Nationalist Party (Kuomintang)—which governed Taiwan from 1949-2000—and China have actively sought to achieve their respective objectives through provision of disaster relief assistance to one another. This is not a new phenomenon. The provision of sanctioned disaster relief between Mainland China and Taiwan has been a regular occurrence since the mid-1980s, while the KMT's efforts to influence mainlanders through propaganda-laden relief efforts extend further back in time. In May 1950, the semi-official Free China Relief Association, which was established that year by the KMT to provide aid to refugees from China, conducted air drops of 70,000 tons of Taiwanese rice along with propaganda texts over much of eastern China, labeling their bags, "mainland disaster famine [relief], from Taiwan compatriots." In February 1961, Taiwan's Defense Ministry floated balloons carrying food and clothes in a humanitarian gesture from Quemoy Island to the mainland in response to reports of famine following the disastrous Great Leap Forward campaign. In 1976 following the earthquake that leveled Tangshan, the Free China Relief Association floated 170,000 balloons with relief supplies across the Strait when Taiwan's offers of aid were officially rejected by Beijing.
The first instance of officially sanctioned disaster relief aid to cross the Strait occurred in 1986 when the Red Cross Society of China donated $50,000 to Taiwan's Red Cross following an earthquake near Hualian. In 1988, Taiwan's Free China Relief Association sent $100,000 to help Chinese flood victims in the first instance of the ROC providing humanitarian assistance to the PRC. Later that year, President Lee Teng-hui led a campaign to provide $1 million in aid from Taiwan's Red Cross to China's in response to an earthquake in Yunnan. President Lee said at the time that it was "proper to separate the people of mainland China from their Communist rulers, when formulating policy" (BBC, November 16, 1988). Lee justified the disaster relief donations as beneficial so long as contacts did not occur on an official level.
Just as politics underlies foreign assistance programs the world over, cross-Strait disaster assistance is no exception. In 1991, Taiwan agencies donated $210,000 and NT$1 million (approximately $37,000) worth of supplies to the Chinese Red Cross for flood relief. Ma Ying-jeou, then vice chairman of the Mainland Affairs Council, a cabinet-level administrative agency under the Executive Yuan, accused China of distorting the goodwill of the Taiwanese people in response to a People's Daily commentary that gifts from Chinese in Hong Kong, Taiwan, Macau is very moving and, "this kind of adhesive force came from the high degree of confidence of billions of people in the Chinese Communist Party and The People's Government." Five years later in February 1996, a magnitude 7 earthquake struck Lijiang, Yunnan, killing more than 200 and injuring thousands, just four weeks before the Taiwan presidential election when cross-Strait tensions were at their peak. Despite massive PLA exercises and missile tests, which ultimately saw the United States dispatch two aircraft carrier battle groups to the area, the Taiwan Red Cross and other organizations provided hundreds of thousands of dollars in relief funds and materials to the Chinese Red Cross in an operation that appeared relatively free of rancor, despite the deteriorating political and security situation at the time (Central News Agency, February 4, 1996 and February 13, 1997; DPA, February 6, 1996).
China's disaster relief assistance following the 1999 earthquake in Taiwan was not immune from cross-Strait geopolitics, particularly as the island faced a hotly contested election the next year. Jiang Zemin expressed his sympathies soon after the earthquake struck on September 12, 1999, and the mainland began offering assistance immediately afterwards. Initial responses from Taiwan's government were guarded, as Beijing peppered its statements about linkages between Taiwan and the mainland. Then Chairman of the Mainland Affairs Council Su Chi—the current National Security Council (NSC) Secretary-General—stated, "This would be a good beginning to improving ties," but politics quickly trumped humanitarian assistance as China used the earthquake as an opportunity to assert its claims to Taiwan in the United Nations and with other countries and organizations. China pressured the United Nations and countries' Red Cross societies to seek permission and consult with it prior to providing assistance, and refused permission for a Russian military rescue team to cross China's airspace on route to Taiwan. Taiwan's Foreign Minister Jason Hu expressed the island's outrage, accusing China of having political motivations and decrying their actions as, "a robbery committed during a fire" (Taipei Times, September 25, 1999).
Taiwan's contribution to relief efforts following the 2008 Sichuan earthquake contrast with the 1999 earthquake experience, reflecting the more relaxed political atmosphere following the KMT's return to power in Taiwan following the 2008 presidential election. Ma Ying-jeou's electoral victory ended the eight-year reign of the independence-leaning Democratic Progressive Party (DPP) under President Chen Shui-bian, following Taiwan's first transfer of executive power in 2000. Rescue teams from Taiwan's Red Cross and the Taipei City government flew in a direct flight from Taipei to Chengdu, the first time that a Taiwanese search and rescue team had taken part in disaster relief missions on the mainland.
Like the Sichuan earthquake effort, China's aid to Taiwan in response to Typhoon Morakot appears less affected by cross-Strait politics than past incidents, though mistrust certainly runs deep on both sides as evidenced by some local Taiwanese governments refusing to accept Chinese aid and accusations by the opposition that President Ma is leaning too close to China (Reuters, August 18). This mistrust exists not only in the cross-Strait relationship, but has often spilled out into outright competition for international influence through the provision of disaster relief assistance. Both countries clearly see the value in "Disaster Diplomacy" as a means of expanding influence, not just between each other, but globally as well.
In September 2004, Hurricane Ivan swept through the Caribbean causing extensive damage, including on the small island of Grenada. One of only a handful of countries that recognized Taiwan, up to 90 percent of the structures on Grenada were damaged and 13 people were killed. China offered assistance after the hurricane passed, despite not having formal diplomatic ties. A major recipient of Taiwanese aid since recognizing the island in 1989, Grenada's prime minister expressed dissatisfaction with Taiwan's initial offer of $200,000 in relief funds and restructuring of existing aid commitments. He requested Taiwan increase its five-year aid package to $245 million, secretly traveled to Beijing in December of that year, then switched recognition to China a few weeks later when Taiwan did not oblige (Speech by Prime Minister Keith Mitchell, December 20, 2004, Taiwan Ministry of Foreign Affairs Statement, January 28, 2005).
Much like China seeks to expand its international influence through disaster relief and humanitarian assistance, Taiwan is also a major international donor, including to countries that do not recognize it. Taiwan made significant contributions to Iran and Pakistan following earthquakes there and it was also a major donor to nations affected by the 2004 Asian Tsunami. Yet, humanitarian gestures can not be divorced from geopolitical realities, as Taiwan discovered when China successfully lobbied to exclude Taiwan from the international Tsunami donors coordination conference in Jakarta. Moreover, China carefully watched international efforts in response to the Asian Tsunami and has steadily sought to increase its capabilities to respond to international disasters. The Chinese military's recent attention to Military Operations Other Than War or "MOOTW," refines the PLA's traditional domestic disaster relief role and positions it to operate abroad in the future through new capabilities and doctrine, such as a new hospital ship and claims that China's future aircraft carrier will likely undertake disaster relief missions.
As China consolidates its place as a major international disaster relief donor, Taiwan will need to adapt its strategies and approaches. There are clear limits to "Disaster Diplomacy," as evidenced by Taiwan's exclusion from the Tsunami conference, so expectations should be reasonable. Certainly, as the victim of frequent natural disasters, and having extensive global relief experience, technology and resources, Taiwan should not be marginalized in international groupings and room should be made for Taiwan to participate in international efforts in disaster reduction and relief. While Taiwan has made good use of its advantages in this field, such as co-hosting with China the 2008 Asia-Pacific Economic Cooperation (APEC) Workshop on Large-Scale Disaster Recovery, more opportunities should be explored. Taiwan should be considered as an observer or dialogue partner to the Association of Southeast Asian Nations (ASEAN) and relevant U.N. agencies, enabling Taiwan to participate in regional programs addressing critical transnational issues, including disaster relief.
While one can not turn a blind eye to the political realities of the cross-Strait relationship, the days of Taiwan floating balloons with care packages over the bamboo curtain are clearly behind us and a new era of cooperation in the field of disaster relief and humanitarian assistance has arrived. For such occasions where future international disaster relief or humanitarian assistance is needed, both sides of the Strait can sincerely seek opportunities to build mutual trust, open channels of communication and surmount diplomatic challenges.
| | | | |
| --- | --- | --- | --- |
| Date | Disaster | Location | Disaster Relief Effort |
| Nov 1986 | Earthquake | Hualian, Taiwan | Mainland expresses sympathy and offers to "provide necessary relief supplies and other help," delivers US$50,000 donation through the Red Cross |
| June 1988 | Flood | Zhejiang, China | Quasi-official Free China Relief Association donates US$100,000 to the Chinese Red Cross via the League of Red Cross Societies in Geneva, Switzerland, marking the first time China accepts aid from Taiwan |
| Dec 1988 | Earthquake | Yunnan, China | Taiwan's Red Cross donates US$1 million to the Chinese Red Cross |
| July-Aug 1991 | Flood | Anhui and Jiangsu, China | Taiwan agencies donate US$210,000 and NT$1 million worth of supplies to the Chinese Red Cross. $44 million in assistance from Taiwanese public and private sources are eventually delivered to China. Also, the US Airforce airlifts supplies to Shanghai. |
| July 1992 | Drought & Floods | Eastern China | The Free China Relief Association donates US$300,000 to the Chinese Red Cross for drought and flood relief in six provinces |
| July 1993-95 | Floods | China | Taiwan public and private organization deliver millions in aid and supplies to Chinese counterparts for flood relief |
| Feb 1996 | Earthquake | Lijiang, Yunnan | Despite rising cross Strait tensions, Taiwan donates NT$2.75 million in funds, and NT13 million in supplies to China for Lijiang earthquake relief. All together, Taiwan donated US$3.23 million in disaster relief to China for various disaster relief efforts. |
| June 1998 | Flood | Southern China | The Red Cross Society of the ROC donated NT$20 million (US$574,713) worth of goods |
| Sept 1999 | Earthquake | Nantou County, Taiwan | The Red Cross Society of China offered $100,000 to the Taiwan Red Cross Organization and $60,000 worth of relief supplies, though Beijing also refused Russia overflight rights for a military rescue team and pressured the UN to seek its permission before sending UN personnel to Taiwan. US military aircraft provide support. |
| Feb 2003 | Earthquake | Xinjiang, China | Taiwan Red Cross provided US$100,000 in relief aid |
| 12 May 2008 | Earthquake | Sichuan, China | Taiwan Red Cross and Taipei City medical teams served in quake-hit Sichuan; Taiwan's government offered China NT$800 million and Taiwan and China's Red Cross organizations are collaborating on three earthquake recovery projects in Sichuan, Gansu and Shaanxi Provinces, costing NT$1.375 billion. US military cargo aircraft deliver relief supplies to Chengdu. |