The Good, the Bad and the Ugly: Assessing the Russian Military Threat to Eastern Ukraine
Publication: Eurasia Daily Monitor Volume: 11 Issue: 61
By: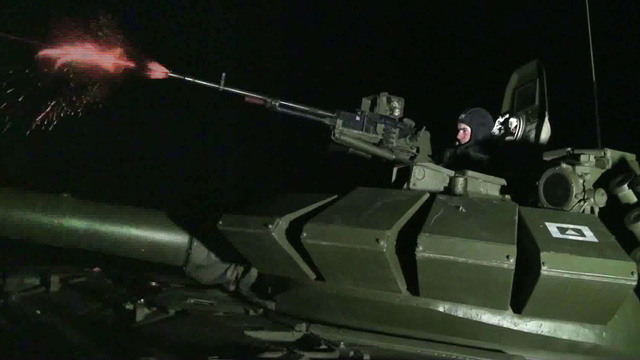 Since late February, Russia's Armed Forces have engaged in multiple military exercises, several snap inspections to test combat readiness, as well as an apparent "build-up" close to Ukraine's eastern border. While President Vladimir Putin has remained largely quiet concerning these developments, senior officials, including Foreign Minister Sergei Larvrov and Defense Minister Sergei Shoigu, offered public reassurances that Moscow has no intention of authorizing military operations in Eastern Ukraine. Yet, the nature of the forces involved, their proximity to the border as well as the Kremlin's emerging strategic goals in the Ukraine crisis indicate that the military option remains on the table, ostensibly serving as one of several tools at the disposal of Russian policymakers in pursuit of their goals (Kommersant, Interfax, April 1, March 31).
Assessing the nature of the potential Russian military threat to Eastern Ukraine involves both identifying the complex nature of the actors involved along with their possible intentions, as well as gleaning insights into some of the key elements of the forces conducting exercises. Since the onset of the crisis, which resulted in Russian military movements across Crimea and its annexation, some senior Russian officials, such as Lavrov or Shoigu, have appeared to present a more conciliatory face of Russian decision making, at least in terms of whether any incursion might transpire on Ukrainian territory. On the other hand, President Vladimir Putin has taken a tough public line across a range of issues related to the crisis: the commander-in-chief has fulfilled his typecasting as "the bad" character throughout the crisis, moving from silence to issuing strong public declarations after initial Russian troop movements in Crimea (Interfax, April 1).
Western, Russian and Ukrainian media estimates concerning the possible numbers of Russian troops engaged in exercises or moving from bases to intimidate Kyiv with the potential threat of military action within Ukraine vary from between 30,000 to 80,000; the higher end of these numbers may relate to forces further back from the border but placed on a higher level of alert. Moscow-based sources told Jamestown that this is simply part of the winter training cycle—not exceeding battalion-level training and lacking overall command and control for operations on an invasion scale. But a number of general points concerning these forces, combined with specific features of these troops movements and exercises may explain why Western governments and commanders in the North Atlantic Treaty Organization (NATO) have expressed anxiety about Moscow's intentions (Interfax, March 27).
The general issues revolve around the mixture of force elements and the intensifying of exercises, particularly in the aftermath of the operation in Crimea. Indeed, many of the units involved in such activities were drawn from the Western, Southern and Central Military Districts (MD); they have generated a large number of troops albeit at a distance from the border with Ukraine, which could easily transition from exercise to full operational mode. These units involve artillery, motorized rifle brigades, special operations forces, airborne forces (VDV), naval infantry, as well as air power and naval elements. According to Interfax, an exercise in Southern MD witnessed the testing of logistics units tasked with supplying water and other essentials to forward deployed units (https://top.rbc.ru/politics/06/03/2014/909718.shtml).
In short, the forces and various exercises of combined-arms and other formations indicate that if a decision were taken by the commander-in-chief to authorize the use of force, such a strike could occur relatively rapidly with a panoply of options at the disposal of Russian commanders. Although any operations in Eastern Ukraine would undoubtedly differ in force composition and scale to the operation in Crimea, it is worth noting that the airborne units, naval infantry and Spetsnaz special operations forces, which constituted the bulk of the movements in Crimea and together constitute the planned Russian rapid reaction forces announced last fall (though still not formalized), are part of these ongoing exercises. Such a force would spearhead the initial phase of combat operations (Interfax, March 15–19; https://lenta.ru/articles/2013/12/25/vdv/).
During the "snap inspection" in Western MD on March 15, officers reportedly said that "We have never seen anything like this before." Pskov VDV and Spetsnaz rehearsed operations characterized as "unprecedented for the Russian Army," moving troops, equipment and weapons to the Western border awaiting further orders: senior defense ministry officials denied any link to the Ukraine crisis, though the commander of the Airborne Forces, Colonel-General Vladimir Shamanov, stated that his troops rehearsed seizing "a large railway junction near Russia's western border, which had been taken by foreign saboteurs and a local bandit underground." Shamanov continued, "The events, including in the neighboring country, show that there are now many people who wish to use bandit elements and the fifth column in order to destabilize the situation in the society" (Rossiya TV 1, March 15). Despite official denials, therefore, there was clearly some link between the VDV exercises in Western MD and Ukraine.
On March 19 the VDV leadership confirmed the start of live fire exercises with up to 5,000 personnel training across eight administrative entities in the country. Lieutenant-Colonel Yevgeniy Meshkov stated that this training was scheduled mainly in Western, Southern and Central MDs, with only one exercises in East MD. The general explained that these field deployments would last between 45 to 60 days (Interfax, March 19). However, key senior military logistics personnel have been seen visiting Crimea, which hardly supports the idea that an invasion is being planned elsewhere (https://ww2.hdnux.com/photos/27/21/02/6099085/7/960×540.jpg).
Inherent in this force "build-up" and ongoing exercises is the risk that it might be used to prepare further incursions into Ukraine; the involvement of the already road-tested rapid reaction forces as well as a range of other conventional units, aviation and logistics elements suggest this could well present a viable option for Putin; but the ugly truth is that the lack of transparency about these troop movements and exercises during a period of heightened tension seems deliberate policy. Putin appears to have set out two key strategic goals: the federalization of Ukraine and a guarantee that the country will never pursue NATO membership. While the current force posture in Russia's West does not support the theory that action is imminent it is part of a wider message to NATO and the United States about the future of Ukraine; Putin is set to play hard ball with foreign leaders, whom he perceives as holding only limited prospects of resistance.