The Hunt for Rebels in Chechnya and Ingushetia Enters a Second Week
Publication: North Caucasus Weekly Volume: 10 Issue: 21
By: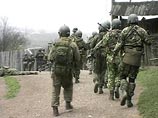 Military operations targeting rebel fighters in Chechnya and Ingushetia were conducted between May 17-24 near the villages of Bamut and Alkhasty in the Assa river valley, which serves as a boundary between the two republics. The operation involved up to several thousand Chechen policemen, among other troops.

According to Chechen Deputy Interior Minister Colonel Roman Edilov, over the last month, the number of casualties among the police exceeded those of rebel fighters. Edilov told Ekho Moskvy radio that "at least five rebels" were killed over the last month. The Voice of Russia radio, however, quoted Edilov as saying 19 rebels had been killed over the last month (https://www.ruvr.ru/main.php?&q=114878&cid=437&p=24.05.2009). According to Interfax, Edilov said nine policemen were killed and 12 were wounded during that period, while 26 rebel fighters and 33 rebel supporters were captured (www.novayagazeta.ru/news/544062.html). Those accused of being rebel accomplices usually have nothing to do with the militants and are arrested for the sole purpose of creating the appearance that the Chechen government's counter-insurgency efforts are working.
Against this backdrop of heavy losses among Chechnya's police forces, the head of the Investigative Committee of the Russian Prosecutor General's Office, Alexander Bastrykin, created an unexpected stir when he put the number of rebel fighters currently active in the North Caucasus at approximately 1,500 (lenta.ru/news/2009/05/20/boevicks). Intriguingly, Bastrykin recanted his words only a few hours later without offering an explanation of whether this turn was caused by misquoting on the part of the news agency or by the reporter's incompetence (RIA Novosti, May 20).
Bastrykin's numbers are important because last year, the commander of the Interior Ministry's forces, Nikolai Rogozhkin, claimed that the rebel forces in the North Caucasus numbered 400 to 500 men (https://www.chechnya.ru/view_date.php?part=news&dp=1242763200). Based on these two claims, it appears that after years of war in Chechnya, the rebels' ranks have grown rather than dwindled. This type of fuzzy math, which makes painfully obvious the groundless nature of these estimates of rebel strength, has been a fixture of the entire second military campaign in the North Caucasus since it started in the summer of 1999. In truth, it is doubtful that anyone today can provide even an approximate estimation of the true rebel numbers, given that the region in question includes as many as seven ethnically distinct republics (plus Stavropol and Krasnodar Krai) in which young people are joining the rebels in droves, and the FSB could hardly be expected to keep constant track of those who disappear from the public eye.
Looking at the casualty reports published by the Chechen government, it is easy to see the reason for the intense fighting in the mountainous part of Chechnya and Ingushetia. Chechen President Ramzan Kadyrov's two personal visits to the front lines of the fighting (in the Sunzha and Achkhoi-Martan districts of Chechnya and the Sunzha district of Ingushetia) in just one week, combined with the appointment of Musa Delimkhanov to lead the operation, which involves troops from various areas of Chechnya and is headed by Kadyrov's most trusted lieutenants, clearly point to the high priority given to this operation.
In a potentially sensational development, a news report out of Ingushetia on May 23 claimed that a group of 15 rebel fighters were detained near the village of Yandare (https://ingushetia.org/news/19446.html). The odd part was that this sizable group reportedly surrendered immediately without attempting to resist and, judging by the TV images, did not look like a group of rebels at all. The group of young men aged 18 to 33 appeared too well-groomed to have been living in the woods, and they were driving personal cars that no one reported stolen. A report by the separatist Kavkaz-Center website claiming that the detainees were members of the Sufi brotherhood of the Ingush Sheikh Batal-Hajji Belkharoev may very well turn out be true (https://kavkaz.tv/russ/content/2009/05/23/65808.shtml). Readers of the Ingushetia.org website certainly seemed to think so (https://ingushetia.org/forum_main/msg_424775_424554.html).
The putative rebels were arrested while leaving the village, where they were providing night security for gas stations that ensure a steady income for the owners. Members of this Ingush Sufi brotherhood always carry arms, and even the Soviet regime failed to disarm them completely. They lead a closed lifestyle, and handle all issues involving the government through negotiations and substantial bribe payments to assure the safety of brotherhood members. Therefore it is already quite clear that the matter will wind down quietly and the detainees will be released on probation.
Also on May 23, an armed clash between police and a 10-strong rebel unit broke out near the village of Bamut in Chechnya. After a brief exchange of fire, one rebel fighter was killed and one policeman was wounded (www.yuga.ru/news/155444). The slain rebel turned out to be one of the former policemen who joined the rebels last year.
Official government statements as well as news reports published by separatist sources indicate that anti-rebel operations are underway not only near the Chechnya-Ingushetia border areas but inside Chechnya as well (https://kavkaz.tv/russ/content/2009/05/23/65802.shtml). Armed combat was reported in the Urus-Martan, Vedeno and Achkhoi-Martan districts as well as the mountainous areas of Chechnya. These clashes were not special police actions but rather actual combat operations involving heavy artillery, tanks and military aviation, demonstrating that Kadyrov has secured support not only from Ingush President Yunus-Bek Yevkurov but from the Russian federal forces as well (https://www.svobodanews.ru/content/article/1735100.html).
That is, by publicizing its anti-rebel activities, the Chechen government is trying its best to keep the involvement of the Russian federal troops hidden from the populace. The significance of this is that the government appears to understand the public's sensitivity to the presence of the Russian army, and therefore prefers to highlight the involvement of Kadyrov's police forces.
As for President Kadyrov, he has been on national TV all week calling for harsh measures against those who left home to join the rebel armies, and against their families. He denied them any future amnesties and, moreover, drew other government and social leaders into his propaganda efforts (https://rusnovosti.ru/news/33714/). For instance, Mufti Sultan Mirzoev of Chechnya rushed to join Kadyrov and threatened to issue a fatwa (religious ruling) denouncing the rebels and their supporters as well as those responsible for acts of terror (primarily suicide bombers, also known as shaheeds).
Kadyrov made a surprising statement during a recent televised meeting with commanders leading special operations targeting the rebels near Bamut, alleging that his predecessor as Chechen president, Alu Alkhanov, was planning to assassinate him. In this startling and never-before heard revelation, Kadyrov said Alkhanov had been planning to assassinate him during the latter's presidency, and that the plan called for coordinated action on behalf of everyone who was dissatisfied with Kadyrov's influence. According to Kadyrov, a planning meeting for the assassination had taken place in Urus-Martan and included the Yamadaev brothers, Said-Magomed Kakiev, Movladi Baisarov, Beslan Gantamirov and others. One can only speculate about the reason Kadyrov chose to bring this up, but this author wrote about the potential establishment of an anti-Kadyrov block as early as during Alkhanov's presidency.
Whatever the case, there is little evidence that the Chechen government has reason to be holding victory celebrations. The intense propaganda efforts unleashed by Kadyrov suggest that the Chechen president himself may even believe that the rebel forces number only a few dozen men. Combing Chechnya's wooded areas in search of rebels, however, would hardly bring about the results he expects. Yet no one dares to explain to Kadyrov that it is not about the rebels. Rather, it is about the ideas that are finding support in the hearts of many more people than an actual headcount of the armed resistance's ranks would suggest.