The Influence of North Caucasus Islamic Radicals on the Situation in Central Asia
Publication: Eurasia Daily Monitor Volume: 9 Issue: 154
By: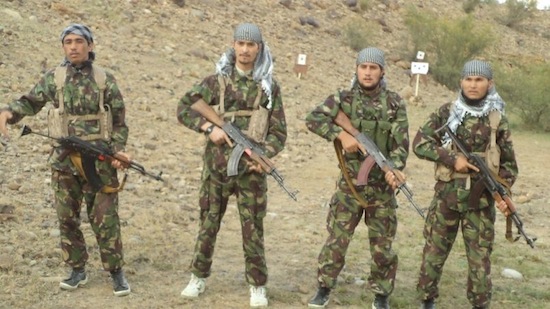 On July 20, five men suspected of terrorism-related activities were arrested in Atyrau (western Kazakhstan). The arrested men had contacts with the Az-Zahir Baibars Brigades of Jund al-Khilafah (Soldiers of the Caliphate), which was founded by three Kazakhs from Atyrau and ordered attacks in Kazakhstan from their base in the Afghan-Pakistani border region (see EDM, July 25). The Soldiers of the Caliphate are inspired by the ideas of international jihadists, including the well-known extremist Said Buryatsky (Aleksandr Tikhomirov), a Russian convert to Islam, who became one of the chief ideologues of the armed resistance in the North Caucasus. Buryatsky was killed by Russian security forces in Ingushetia in March 2010 (see EDM, November 11, 2011).
In 2002-2004, Said Buryatsky frequently visited Kazakhstan and preached in mosques in Almaty, Chimkent (southern Kazakhstan) and Atyrau. Buryatsky's propagandist materials were also translated into Kazakh. From 2008, dozens of young Kazakhs who were inspired by Buryatsky's ideas traveled to and were involved in jihad in the North Caucasus (Radio Azattyk, April 20, 2011). According to Kozy-Korpesh Djanburchin, deputy secretary of the National Security Council of Kazakhstan, "one can find a number of videos glorifying acts of terror, instructions on how to make a bomb, and various terrorist tactics." Djanburchin believes that Kazakhstan's young Islamic radicals are getting information from extremist internet websites based abroad (Kazakhstan Today, July 12). The Internet provides excellent opportunities for collaboration to Islamic extremists from different parts of the world, including like-minded radical groups from the North Caucasus and Kazakhstan. For example, in November 2011, the Caucasus Emirate's main webpage Kavkazcenter.com posted two videos that were called "Appeal of the Kazakh Mujahideen Participating in the Jihad to the Muslims of Kazakhstan" (see EDM, July 25).
However, Aleksey Malashenko from the Moscow-based Carnegie Centre does not think that the influence of North Caucasian Islamic radicals on the situation in Kazakhstan is as significant as media coverage would suggest. "There is much speculation about the impact of North Caucasian jihadists on the situation in Kazakhstan. Yes, some young Kazakhs are familiar with the ideas of Said Buryatsky, but he is not as popular in Kazakhstan as journalists write," Alexey Malashenko told Jamestown on August 6.
Islamic extremism from the North Caucasus has also affected the situation in Uzbekistan. In 1996, Chechen warlord Emir Khattab established in Chechnya a military training camp called the "Uzbek Front" for fighters from Uzbekistan. After a series of terrorist attacks in Tashkent in February 1999, Khattab ordered all Uzbek militants to return to Uzbekistan because, as he put it, "big things were underway" in their country (Terrorism Monitor, December 18, 2003).
Some of the Uzbek fighters in Chechnya followed Khatab's recommendations. For example, in 2003, Uzbekistan's security services arrested several terrorists who earlier planted and detonated bombs in a marketplace in Bishkek, Kyrgyzstan, and in a bank in Osh. One of the arrested, Azizbek Karimov, a former chief of the Islamic Movement of Uzbekistan's (IMU) security service, admitted to investigators that in 1998-1999 he received terrorist training in camps in Chechnya. Karimov stated he was instructed along with some sixty citizens of Uzbekistan who were also receiving "on the job training" during the same period. He testified that he had been ordered to commit the terrorist acts in Bishkek and Osh by the leaders of the IMU, which also funded the operation (Terrorism Monitor, December 18, 2003).
According to the late Sanobar Shermatova, one of most respected Russian experts on Central Asia and the North Caucasus and previously a political commentator with "Moscovskie Novosti," former Chechen rebel commander Shamil Basaev (killed in an explosion in 2006) maintained good ties to the United Tajik opposition during Tajikistan's Civil War (1992-1997). In 1992, Shamil Basaev visited military camps of the mountainous republic's opposition. Basaev personally knew Sayid Abdulloh Nuri, the leader of the United Tajik Opposition and the Islamic Renaissance party of Tajikistan. When Nuri and Tajikistani President Emomalii Rahmon ended the civil war by signing the Tajik National Peace Accord in 1997, Basaev specifically wrote to Nuri that he did not agree with this agreement. As Shermatova has noted, due to these direct connections between Shamil Basaev and Sayid Abdulloh Nuri, Khatab decided to move to Chechnya (Sanobar Shermatova, Chechnya and Russia: Society and State, The Sakharov Foundation, Moscow, 1999).
Some evidence also exists of North Caucasian militants having participated physically in the Civil War in Tajikistan. When the author, as a correspondent with Nezavisimaya Gazeta, visited Karategin Valley (southeast Tajikistan) in 2000, locals told him that the previous year the local influential field commander Shoh Iskandarov had had a Chechen bodyguard. This man reportedly had organized the defense of Karategin Valley against incursions from government troops. During the Civil War, Karategin Valley was the main stronghold of the opposition, and from 1996 to 1999, military camps of the Islamic Movement of Uzbekistan were also established there.
Furthermore, in 2010, more than two dozen prisoners, including organizers of an alleged coup plot, escaped from a detention center in the capital of Tajikistan after a bloody shootout. The escaped prisoners included four Afghan citizens and six Russian citizens from the Caucasian republics of Dagestan and Chechnya. All were originally arrested in July 2009 in eastern Tajikistan, the scene of fierce civil war battles in the 1990s. The Russian citizens came to Tajikistan from Afghanistan (Reuters, August 23, 2010; Novie Izvestya, August 24, 2010).
"The contacts between Islamic radicals from Central Asia and the North Caucasus are occurring in Afghanistan. Islamic radicals from both regions are coming to this country to help the Taliban," Aleksey Malashenko told Jamestown on July 30. When the author visited the border between Tajikistan and the Afghan province of Kunduz in 2009, many local people said that they had seen both Uzbek and Chechen militants participating in the fighting. Also, according to Abdul Karim, an officer of the Kunduz office of the National Security of Afghanistan, smugglers have very good contacts along the whole border between Afghanistan and the Central Asian countries. "After the establishment of Central Asian transit routes for the NATO forces to Afghanistan [Northern Distribution Network – NDN], destabilizing Central Asia became profitable for the Taliban. Of course, Uzbek and Tajik fighters of the IMU are optimal for this goal. But the Taliban can also use Chechens, who are known to be very brave soldiers. A few Chechens already came to Kunduz province," Karim told the author in December 2009.
However, according to Aleksey Malashenko fighters from the North Caucasus and Central Asia are situated in different military camps in Afghanistan. Therefore, the possibility of contacts between them is limited. Malashenko believes that although North Caucasus fighters from Afghanistan sometimes come to Central Asia, their number is not large. "They come to Central Asia not as ordinary fighters, but to carry out special missions or as military instructors. On the whole, Central Asia remains marginal in the minds of the North Caucasus insurgency," Malashenko argued to Jamestown on July 30.
But the impact of North Caucasus militants on the situation in Central Asia could increase after NATO's withdrawal from Afghanistan. At that point, Central Asian militants who fought in Afghanistan could move back home to continue the struggle. Whereas, "unemployed" North Caucasian militants from Afghanistan could follow their Central Asian comrades north as instructors.