The Islamic State Threat in Central Asia: Reality or Spin?
Publication: Terrorism Monitor Volume: 13 Issue: 6
By: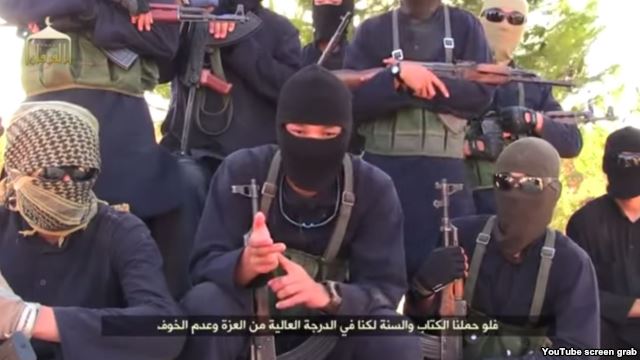 The threat of Islamist radicalism in the former Soviet republics of Central Asia has been a topic of debate among the analyst community for many years, especially following the 9/11 attacks in the United States. In recent months, interest in the topic has surged again, in part because Russia and Central Asian governments have publicly warned of the possible spillover from the ongoing instability from Afghanistan, combined with reports of Central Asians joining the Islamic State organization in Iraq and Syria (RFE/RL, December 11, 2014). Opinions over the extent of this threat vary, however; for instance, human rights organizations have cautioned that regional government's renewed focus on the Islamist threat comes as human rights in Central Asia deteriorate (Human Rights Watch, January 29). Others, however, have argued that the Islamic State organization represents a genuine "potential direct threat to Russia" and other regional states (al-Jazeera, December 1). The aim of this article is to assess the threat posed by Islamist militancy in the Central Asian region, with particular reference to the Islamic State.
Islamic State Fighters
The number of fighters from Central Asia who are taking part in the Syrian conflict are disputed. Some domestic analysts in Central Asia estimate that the total number of the Central Asian radicals in the ranks of the Islamic State is less than 1,200 (Radiotochka.kz, September 16, 2014). However, some international institutions suggest that the number of recruits from the region is higher, between 2,000-4,000, with every Central Asian state supplying fighters to the Islamic State's ranks (International Crisis Group, January 20). These numbers partly reflect differing estimates for the total number of Islamic State fighters. For instance, Russian military intelligence has reportedly estimated the overall number of Islamic State fighters at close to 70,000, while the U.S. intelligence community reportedly believes that 20,000-31,000 fighters is more accurate (Sputnik, December 10, 2014; NBC News, February 28). Underlining the potential allure of the group, however, a trio of Central Asian nationals were arrested in New York in 2014, reportedly attempting to join the organization (Wall Street Journal, February 28). In addition to Central Asian recruits, there are volunteers from Russia; in February, Russian Federal Security Service (Federal'naya sluzhba bezopasnosti—FSB) Director Alexander Bortnikov said that close to 1,700 Russian nationals are fighting in Iraq (RIA Novosti, February 20). Some reports have indicated that fighters from Turkmenistan, Uzbekistan and Tajikistan are the largest Central Asian ethnic groups in the Islamic State as opposed to recruits from Kyrgyzstan and Kazakhstan, with some observers also reporting that many Central Asian recruits join the Islamic State via North Caucasus based jihadist networks while working as a seasonal laborers in Russia (Afghan Analysts Network, October 8, 2014).
Like most other jihadists, Central Asian volunteers regard Turkey as the best way to reach Syria, largely due to its convenient geographical location and liberal visa policies. Kazakhstan's Ministry of Foreign Affairs has also said that the country's visa free regime with Turkey has allowed Kazakh nationals to reach Syria through refugee camps on the Turkish-Syrian border (Tenguiz News, October 22, 2013). Turkey's long border with Syria also makes the travelling process easier, which has led to much international criticism of the Turkish government in recent months (BuzzFeed, January 30). Ankara has responded by ratcheting up its international cooperation on multiple levels to better prevent foreign terrorist fighters (FTFs) from travelling through Turkish territory. Turkish security institutions have also created a "no-entry list" of potential FTFs, which includes possible Islamic State recruits from Russia and from the former Soviet states of Central Asia. Turkey has also established "Risk Analysis Groups" at the country's entry points to "identify potential FTFs at borders, ports and airports." [1] The Ankara-based Center for Middle Eastern Strategic Studies (ORSAM) reported that, as of February 2015, Turkey's no-entry list database contained 9,915 globally known names of potential Islamic State fighters. Out of this number, 21 percent are from Russia and Central Asia. ORSAM's comparative analysis of London-based International Centre for the Study of Radicalisation and Political Violence (ICSR) think tank's report on the total number of foreign fighters in Iraq and Syria concluded that Turkey's cooperation on security issues with Central Asian republics remains effective, particularly as compared to engagement on the same subjects between Central Asian states and the European Union (ICSR, January 26).
Exaggerated Threat?
Officials in both Russia and Central Asia sometimes describe the Islamic State's potential impact in the region in a way that goes far beyond the current likely direct threat. Russian officials and the Moscow-led Collective Security Treaty Organization (CSTO) repeatedly have made alarmist comments about Islamist and Islamic State infiltration into Central Asia. For instance, CSTO Secretary General Nikolai Bordyuzha has said that there is an "attempt to create some sort of underground extremist state" in the region (Trend, September 22, 2014). Meanwhile, Yevgeny Satanovsky, president of the Russian Institute for Middle East Studies, has claimed that Central Asian states will only stanch the flow of thousands of fighters to Syria when the governments enact "absolute control of religious life" (Registan, October 6, 2014). Some in the United State have also played up fears of Islamic State influence in the region. For example, when donating 300 Mine-Resistant Ambush Protected (MRAP) vehicles to Uzbekistan—the largest single military donation the United States has ever bestowed on a state in the region—Deputy Assistant Secretary of State for Central Asia Dan Rosenblum cited "counter-terrorism" efforts, while the CENTCOM-sponsored publication Central Asia Online claimed in February that 900 Uzbeks have already been killed while fighting for the Islamic State, a remarkably high number (New Republic, February 3; Central Asia Online, March 11).
Many claims that the Islamic State presents some form of existential threat to the region appear overblown. Professor Murat Çemrek, director of International Relations Department at Turkey's University of Necmettin Erbakan said:
'Moderate Islam' does not make sense for the young generations in Central Asia since they do want to show their religiosity in the public life. And the older generations, having survived long enough under the atheist and anti-theist Soviet period, are not interested in any kind of Islam, neither moderate nor radical. [2]
If correct, this potentially creates an environment that is not suitable to large scale Islamist radicalization. Indeed, a recent Chatham House research paper argues that claims of large scale radicalization in Central Asia are based on a "little or no evidence" (Chatham House, November 11, 2014). On the other hand, despite the uneven quality of Central Asian justice system, some convictions for Syrian-related militancy have taken place. For instance, Kazakhstan has already sentenced two people taking part in the Syrian conflict (RFL/RL, February 20; Time.kz, March 28).
In addition, the threat from the Islamic State has allowed regional authorities to restrict both civil, political and media rights further. For instance, after a video emerged detailing Kazakh citizens within Islamic State ranks, the Kyrgyz government in December restricted access to a local news outlet, the Kloop.kg website, which had reported on the story (RFE/RL, December 16, 2014). Kazakhstan recently followed suit, blocking Radio Free Europe websites in response to a separate Islamic State video (RFE/RL, March 5). Media and civil rights in Turkmenistan and Uzbekistan are already among the most restricted in the world, and government repression has continued apace in response to the Islamic State threat. Tajikistan, meanwhile, has managed to conflate the purported Islamic State threat to the region with the Islamic Renaissance Party of Tajikistan (IRPT), the primary opposition party. This conflation helped eliminate IRPT's electoral chances in a recent parliamentary election, allowing the government further leverage to further undermine the IRPT, leaving it without a single seat for the first time in 15 years (RFE/RL, March 4). In the context of the ongoing broader economic downturn in Russia and Central Asia, caused by Western sanctions and falling oil prices—which is set to most heavily impact Kazakhstan, Kyrgyzstan and Tajikistan—the Islamic State threat has given regimes the excuse to tighten their domestic security provisions, at a time when they have growing reason to fear economic-related unrest.
Conclusion
At present, the threat from Islamist extremism in Central Asia appears significantly more modest than is painted by both regional governments and the Russian authorities. In addition, the Afghan Taliban seems disinclined to ally in any significant way with the Islamic State, which seems likely to limit the group's influence there. Thomas Ruttig, co-director and senior analyst of the Afghanistan Analysts Network (AAN), explained:
So far, there have been only fringe Afghan groups that have declared allegiance with the Islamic State. The battlefield is still controlled by the Taliban, who are not interested in competition there and have moved, in a number of incidents, against such groups. In this context, the danger of a destabilization of Central Asia by the Islamic State from Afghanistan is overstated in the current situation, even alarmist and very likely serves domestic agendas. [3]
Therefore, despite the significant number of Central Asians active in the Islamic State, Russian and Central Asian government claims that the Taliban and Islamic State-linked radicals will soon overrun the republics of Central Asia appear largely unfounded.
Ryskeldi Satke is a contributing writer and analyst with various research institutions and news organizations in Central Asia, Turkey and the United States. Casey Michel is a graduate student at Columbia University's Harriman Institute. Sertaç Canalp Korkmaz is Ph.D. candidate with the Turkish National Police Academy and an analyst on failed states, Afghanistan and terrorism affairs.
Notes
1. "International Cooperation against Foreign Terrorist Fighters: The Experience of Turkey," ORSAM, February 2015, https://www.orsam.org.tr/en/enUploads/Article/Files/2015219_policybrief22ing.pdf.
2. Interview with Professor Murat Çemrek via email, March 9, 2015.
3. Thomas Ruttig commentary via e-mail, February 26, 2015.