The Kremlin Antagonizes Obama Administration with Impunity
Publication: Eurasia Daily Monitor Volume: 10 Issue: 93
By: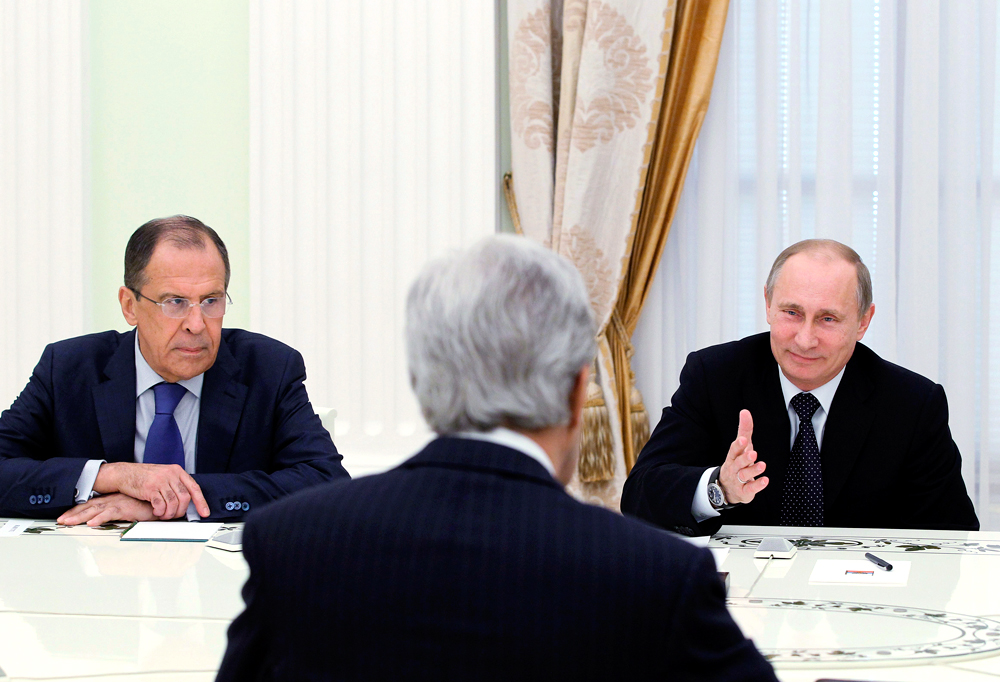 Last-minute efforts during recent meetings with President Vladimir Putin by British Prime Minister David Cameron, his Israeli counterpart Benjamin Netanyahu and United States Secretary of State John Kerry to dissuade Russia from shipping modern, long-range anti-aircraft S-300 missiles to Syria have all dismally failed. A top-level diplomat told Jamestown the Israeli delegation led by Netanyahu, which met Putin this week in Sochi, presented facts and figures describing the terrible threats emanating from Syria and its increasingly loose stockpile of long-range and chemical weapons to the entire region. Putin rebuffed the pressure and pleas from Netanyahu, Cameron, Kerry and other Western statesmen, repeating the mantra that the S-300s are "defensive weapons" and their deployment in Syria will help stabilize the region (Kommersant, May 15). The media in Moscow has reported that four divisions of S-300s with 100 to 150 simultaneously deployable, guided anti-aircraft missiles have been already shipped to Syria and are being deployed for action by Russian military "advisor" crews, since the Syrians are not fully ready to effectively use these advanced and complicated weapons (Nezavisimaya Gazeta, May 16).
Adding insult to injury, the Kremlin chose this week to publicly promote a Cold War–style spy scandal. Accredited diplomat Ryan Fogle, a third secretary in the political department at the US embassy in Moscow, who enjoys full diplomatic immunity under the Vienna convention, was forcefully apprehended by Federal Security Service (FSB) agents for allegedly attempting to recruit an officer from one of Russia's special services. Russian state news channels repeatedly showed footage of Fogle being pinned to the ground. He was alleged to have been in possession of "special technical devices, written instructions for the Russian citizen being recruited, a large sum of cash and means of changing his appearance," according to the FSB. The Russian foreign ministry referred to Fogle as a "cadre CIA agent" and ordered his deportation (RIA Novosti, May 14).
If the official Russian reports are taken at face value, Fogle either did not receive or was in the process of receiving classified or sensitive information; allegedly, he was only seeking a meeting with a Russian citizen, which is not in itself a felony. Tit-for-tat expulsions of diplomats for alleged spying activities or other irregularities have continued since the end of the Cold War, but in most instances they have happened behind the scenes without any public scandals. According to FSB sources, Fogle was under surveillance for some two years after he was posted to Moscow, before the decision to use his arrest as a propaganda show was made (Interfax, May 16).
Sources in the FSB further note that Fogle could have been seeking information about North Caucasian Islamist militants in connection with the Boston marathon bombing, which makes his public arrest seem even more ludicrous (Kommersant, May 15). The Russian authorities have been running an internally-aimed anti-American public relations campaign to mobilize public opinion in Russia behind Putin and to paint the pro-democracy opposition as US agents, so a highly public arrest of an alleged "US spy" was deemed necessary (Vedomosti, May 15). The Kremlin and the FSB seem to aim to restore the Cold War practice of keeping foreign diplomats in a glass ball, fully separated from Russian society by mutual fear. The Fogle incident means that any diplomat meeting any Russian who did not receive official approval to meet potentially risks expulsion, while his Russian contact—possible FSB repressions. At the same time Fogle was arrested, an hour-long propaganda film, "Boloto" ("Swamp"), was aired on the state television channel Rossiya TV about the US State Department financing opposition figures in Russia in an attempt to destroy the proud nation (https://www.vesti.ru/videos?vid=507646&cid=1).
In Russia, a decision to go public with Fogle could have been made only at the highest level of political authority. Apparently, Putin gave the go-ahead after his first meeting with Kerry last week in the Kremlin. He evidently decided the Barack Obama administration is an easy pushover, which needs Russian cooperation on Syria and other issues so badly, it will swallow with hardly a whimper the use of a US diplomat as PR fodder together with the deployment of S-300 missiles with Russian crews to Syria. In Moscow, Secretary Kerry, among other things, agreed to sponsor together with Russia an international conference on Syria that would bring together the Syrian rebels and President Bashar al-Assad's regime. After a meeting in the Kremlin, Kerry told journalists: "A good new relationship with Russia is beginning" (Interfax, May 8). After the Fogle scandal erupted, Russian journalists triumphantly reported on State Department spokesman Patrick Ventrell meekly insisting the affair would not spoil relations: "We have a very broad and deep relationship with the Russians across a whole host of issues and we will continue to work on our diplomacy with them directly" (RIA Novosti, May 14).
Putin is insistent on keeping the Assad regime in power at any cost. The mainstream opinion in Moscow is that Assad needs some more time to use his firepower superiority and additional support from Iran and Hezbollah fighters to decisively win the civil war. Russia's main goal is to buy Assad more time, preventing a foreign intervention in the form of a no-fly zone or arms supplies to the rebels. The deployment of additional Russian military advisors, together with the S-300 missiles as a trip-wire force, was allegedly reported to the Netanyahu delegation—and seen as a way to dissuade possible further punishing Israeli strikes deeper into Syria or an establishment of a US-led no-fly zone, since this could involve killing Russians (Nezavisimaya Gazeta, May 16).

Kerry's visit to Moscow made it abundantly clear the Obama administration's main political goal on Syria is to have a pretext not to get involved, even if this pretext is as questionable as co-hosting with Russia an international conference to persuade the rebels and Assad to turn into agreeable bedfellows. It was announced in Moscow the Syrian conference may happen somewhere after June 10 (Interfax, May 16). That allows for at least another month of unmitigated carnage in Syria—a price both Obama and Putin seem ready to shoulder as part of a flourishing "new relationship."