The Limits of Indian Military's Role in Tajikistan
Publication: Eurasia Daily Monitor Volume: 9 Issue: 21
By: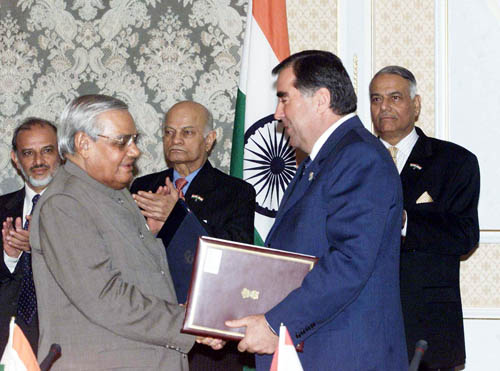 Speaking at a government meeting on January 18, Tajikistan's Defense Minister Sherali Khayrulloyev said India has become one of his ministry's key international partners. This statement reflects deepening defense cooperation between India and Tajikistan. The strong ties between the two militaries date back to the early 2000s, when New Delhi and Dushanbe jointly provided support to the anti-Taliban resistance forces, the Northern Alliance, in Afghanistan. Tajikistan is India's closest neighbor in Central Asia, the region, which strategists in New Delhi view as part of their "extended neighborhood." India's growing engagement with the country has been interpreted by some analysts as signifying New Delhi's intention to use Tajikistan as a potential springboard for its military in the region.
Yet India's role in Tajikistan is more limited than many journalists and experts have suggested. A great deal of speculation about the allegedly growing presence of the Indian military in the country has been fuelled by India's renovation of the Ayni airfield, 25 kilometers west of Dushanbe. The $70 million overhaul was completed in 2010, and included an extension of the runway and the construction of hangars, air traffic control tower, and administrative buildings (www.khovar.tj, September 3, 2010).
The Indian military's role in renovating the airfield provoked speculation that New Delhi intended to establish a military foothold in Tajikistan. Responding to such claims, Tajik authorities have insisted that they do not intend to grant New Delhi basing rights, and that the only country with which they hold talks on the use of the Ayni base is Russia. Indian officials, however, have not explicitly denied their interest in the airfield, suggesting instead that it was up to Dushanbe to decide who would receive permission to use the facility (www.news.tj, November 11, 2010).
It appears very likely that India had indeed sought to establish an airbase in Tajikistan. The costly renovation of the Ayni airfield, which had been built for Soviet military needs, is unlikely to have been devoid of any political interests. Tajikistan does not have much of an air force, except for a dozen decrepit Soviet helicopters and four old jet trainer aircraft. Hence, the upgraded airbase was not aimed for Tajikistan's use. It is logical to assume that India sought to deploy elements of its air force at the Tajik base in order to improve its own response capability to potential crises in Afghanistan and Pakistan.
On the other hand, New Delhi certainly understood that the limits of its role in Tajikistan were set by Russia, which retains considerable influence over the country. Russia itself has been eying the renovated airfield (EDM, February 9, 2011). India reportedly proposed to use the facility jointly with Russia. Consequently, Moscow, New Delhi and Dushanbe discussed a potential arrangement along these lines. However, Moscow has apparently decided not to have another foreign airbase on its "southern perimeter," particularly given New Delhi's growing cooperation with the US. Moscow's decision might have also been influenced by Beijing, which views a possibility of the Indian military presence on its volatile western border as a threat.
Although it is increasingly clear that India would not gain access to Ayni airfield, journalists continue to speculate about New Delhi's interest in the facility. On December 13, 2011, an Indian journalist claimed that New Delhi has already deployed aircraft at the airbase and is using the facility jointly with Moscow. The claim has not been substantiated by any evidence. Meanwhile, there are suggestions that rumors about India's use of the airfield might have been deliberately circulated by Tajik and Indian officials. In an August 2007 cable, which has been recently released by WikiLeaks, US diplomats in New Delhi opined that the Indian government might have started the rumor to keep Pakistan and China nervous. In another cable, the US embassy in Dushanbe suggested that Tajik authorities might have misinformed the media about India's use of the Ayni airfield, hoping that the rumors would cause Moscow to agree to pay rent for the facility (www.wikileaks.org, US embassy cables, New Delhi: August 3, 2007; Dushanbe: July 13, 2009).
All the speculation notwithstanding, India appears to have accepted Russia's dominant role in Tajikistan and has limited its own ambitions in the country. In August 2011, Dushanbe and New Delhi agreed that the Indian defense ministry would set up a field hospital for the Tajik military. Reportedly, some 70 Indian military doctors and support personnel will work at the facility (www.news.tj, August 11, 2011; Indian Express, December 31, 2011). India operated a military hospital at the Farkhor airbase in southern Tajikistan in 2001, treating injured Afghan anti-Taliban resistance fighters and supplying them with military equipment and intelligence. The ousting of the Taliban by the US-led military coalition in Afghanistan led India to close the hospital in early 2002 (EDM, February 22, 2011).