The Park-Xi Friendship and South Korea's New Focus on China
Publication: China Brief Volume: 15 Issue: 18
By: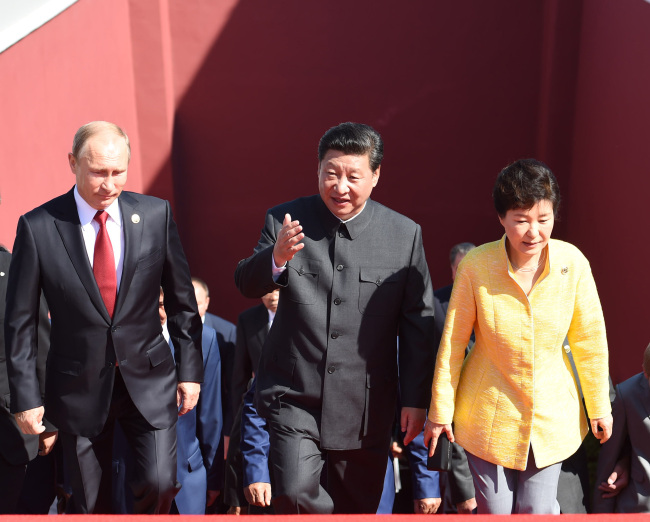 While the 12,000-troop parade at China's September 3 ceremony commemorating the 70th anniversary of the end of WWII was a striking sight in Beijing, those who closely follow China's relationship with the Korean Peninsula may have watched the guests of President Xi Jinping just as closely. Most noticeably, Xi was flanked on his right by Russian President Vladimir Putin, and—dressed in a vibrant yellow jacket—South Korean President Park Geun-hye.
In such a lineup—which included other high-level representatives from nearly three dozen countries and international organizations, including UN Secretary General Ban Ki-moon (a former foreign minister of the Republic of Korea)—noticeably absent was North Korean Supreme Leader Kim Jong-un. Choe Ryong-hae (member of the Politburo and Korean Workers' Party Secretariat and central Kim Jong-un advisor) did attend, but the young leader's absence reiterated some Northeast Asia–watchers' concerns: that China continues to tilt toward the southern Korea and is showing signs of restricting its special relationship with the Democratic People's Republic of Korea (DPRK).
The China-South Korea relationship is, however, much more complicated than that. In some respects, it is tempting to view Beijing's tilt to Seoul as an either/or choice at the expense of Pyongyang. And certainly, with Kim Jong-un taking over leadership following his father's death in December 2011 and Presidents Xi and Park taking office in their respective countries in 2013, the warming of relations between Seoul and Beijing and a seeming decline in the China-North Korea relationship (at least at the highest state levels) has become all the more noticeable. But the relationship remains fundamentally the same. Trade between the two continues at stable levels—meaning China in many ways essentially props up the North Korean economy—and Beijing also maintains its staunch insistence on limiting the Republic of Korea's (ROK) or the United States' reactions to North Korea's military provocations. But Chinese government officials have repeatedly expressed concerns over the direction of North Korean policies under Kim Jong-un, especially its decision to elevate nuclear weapons development policy to a level commensurate with policies that seek to promote economic growth.
Moreover, Kim Jong-un has further isolated his country with poorly explained limits on his diplomacy with foreign leaders. The supreme leader has yet to make any state visits since ascending to leadership in Pyongyang, and moreover President Xi has not yet called upon Kim in Pyongyang. This is unprecedented, as newly elected Chinese presidents traditionally visit Pyongyang before Seoul. Other high-level emissaries from the DPRK and China continue visits, but representatives from both countries are conspicuously absent at important events—such as in October 2014, when South Korean media reported that Chinese officials were not sent to Pyongyang to commemorate the 65th anniversary of PRC-DPRK diplomatic relations (Yonhap, October 6, 2014).
Leadership changes in the past few years have seen a shift in not only North Korea's but also China's head-of-state diplomacy. Presidents Xi and Park have pursued an unusual degree of closeness for PRC-ROK relations. Their diplomatic path can been marked by not only the number of summit meetings between Xi and Park—six total, three of which were in China—but also the content. Park and Xi have publicly asserted the need to rein in Pyongyang's nuclear program. The two have also secured advances in their own bilateral relationship, notably with the signing this past June of the China-South Korea Free Trade Agreement (FTA) after a three-year negotiation process, which finance ministers Gao Hucheng and Yoon Sangjik claimed will serve as a bilateral platform for new growth (CCTV, June 1).
Certainly the congenial relationship between Xi and Park can be largely credited for increased attention to the PRC-ROK relationship, and similar outlooks for regional stability, particularly vis-à-vis North Korea, play into that. During their first summit meeting in Beijing in June 2013, Xi and Park discussed deepening cooperation between China and South Korea, including economic issues as well as the denuclearization of the Korean Peninsula. The JoongAng Daily reported that the 2013 joint statement was the first time the presidents of China and South Korea had committed to working together toward North Korea's denuclearization (JoongAng Daily, June 2013).
Most recently, Xi and Park met on September 2, one day in advance of the parade, and their discussion addressed North Korea's nuclear problem as well as economic issues, including the FTA and regional cooperation via the Asian Infrastructure Investment Bank (Xinhua, September 2). Shortly thereafter, the goal of cooperation toward North Korea was reaffirmed on September 7, when Chinese Deputy Chief for Nuclear Issues Xiao Qian followed up in Seoul with South Korean counterpart Kim Gunn to each seek dialogue with Pyongyang on denuclearization (Yonhap, September 7).
The reasons behind South Korea's openness to greater engagement with China are three-fold, and they connect to the ROK's perennial fear of being caught amid regional uncertainty as great powers shift strategic goals for the Asia-Pacific.
First, South Korea's supreme national goal—unification—can only be achieved with assistance from China (as well as the United States, South Korea's treaty ally and security guarantor). The salience of this point cannot be understated; South Korea has long operated on the premise that increased diplomacy toward China in both public and private sectors would increase the likelihood of Beijing backing a Seoul-led unified Korea. [1] In fact, China's pivot from Pyongyang toward Seoul is not new; beginning in the early 2000s, the PRC-ROK relationship markedly improved, beginning with senior military visits starting in 1999, increases in tourism and study exchanges and converging ideas about reunification as an extended process following the German model. [2]
Second, South Korea's economy is deeply integrated with and dependent on China. In 2014, South Korea's exports to China outnumbered its next three largest trading partners (United States, Japan and Hong Kong), combined (ROK Customs Service). While South Korea's security partnership with the United States and U.S. political leadership on the global scale both enjoy widespread public support, there is an understanding that China's economic rise will continue, even in the face of recent slowed growth.
This latter point–that the ROK's economic and security is powerfully linked to both China and the United States–is related to the third reason Seoul seeks to take a higher profile in China's foreign policy. Not only is China essential to South Korea's national goal of unification, China is moreover a key component to regional peace and stability and Korea is seeking to play the role of a "balancer" or "bridge" between regional powers to such an end. Despite uncertainty and contentious handling of China's territorial disputes elsewhere in East Asia, China and South Korea are handling their bilateral disputes regarding their exclusive economic zones (EEZs) in the Yellow Sea with institutionalized meetings. Further afield, South Korea is careful to support the need to ensure stability, in the South China Sea within the existing framework between China and ASEAN, such as when Vice Foreign Minister Cho Tae-yong expressed his country's "hopes that the code of conduct that is being discussed between China and ASEAN countries can be concluded as soon as possible" (U.S. Department of State, April 16).
With Xi and Parks' governments shifting toward greater engagement and bilateral cooperation—especially vis-à-vis North Korea—China takes on a greater profile in the minds of South Koreans. Indeed, the South Korean public sees China increasing in importance. According to a South Korean poll released earlier this year, 52 percent of South Korean respondents approved of China's leadership on the global scale in 2015, compared to a mere 29 percent in the same poll two years prior (Asan Institute, 2015). In terms of economic importance, South Koreans on the whole see China's economic importance as increasing even further in the future (Asan Institute, July 2014). But the public is reticent to accept Chinese growth as purely a positive trend at home: in a 2014 Asan Institute poll, 72 percent of South Koreans reported China's economic rise as a threat—nearly a 20-point increase from 2012. Also in 2014, 47 percent of South Koreans supported the China-Korea FTA (compared to 53 percent supporting the U.S.-Korea FTA).
However, this shift in projected global leadership should not be construed as a shift in favorability from one great power to another. An extraordinarily high number of South Koreans still support the U.S.-ROK alliance; in 2014, the Asan Institute for Policy Studies in Seoul showed over 90 percent of poll respondents believed the alliance was a necessity (Asan Institute, 2014).
Instead, the public opinion data, much like the actions of the South Korean leadership, might be explained by a sense of pragmatism on the part of South Koreans. The Korean Peninsula has endured centuries of being a "shrimp among whales," (고래 싸움에 새우등 터진다 [鯨戰鰕死], "During a fight among whales, shrimp explode") and this legacy is imprinted on engagement with large regional powers.
Now, South Korea finds itself dependent on and in-between two major global powers. While China and the United States are growing into their new relationship, South Korea must employ deft diplomacy to ensure positive relations with the United States, its security guarantor, and China, its major trading partner. The relationship between Xi and Park as well as well as Park's reportedly positive meetings with U.S. President Barack Obama seem to indicate that the groundwork for South Korea as bridge and interlocutor between the two great powers has been laid, but the real test of South Korea's position vis-à-vis and the U.S. China will occur in 2016 and 2017, when all three countries will face leadership changes.
Darcie Draudt is a Ph.D. student in political science at Johns Hopkins University and non-resident James A. Kelly fellow at Pacific Forum CSIS. She previously served as research associate for Korea Studies at the Council on Foreign Relations in Washington, DC. Ms. Draudt holds a Master's in Korean Studies from the Yonsei University Graduate School of International Studies in Seoul.
Notes
1. Pak, Kiejoon, "China's Cost-Benefit Analysis of a Unified Korea: South Korea's Strategic Approaches," In The Journal of East Asian Affairs, 26, no. 2 (2012): pp. 25-55.
2. See also Phillip C. Saunders, "Korea as Viewed from China," in Korea: The East Asian Pivot, Jonathan D. Pollack, ed. Newport, RI: Naval War College Press (2006): pp. 233-252.