The Political Situation in Ukraine on Eve of Nation-Wide Local Elections
Publication: Eurasia Daily Monitor Volume: 12 Issue: 186
By: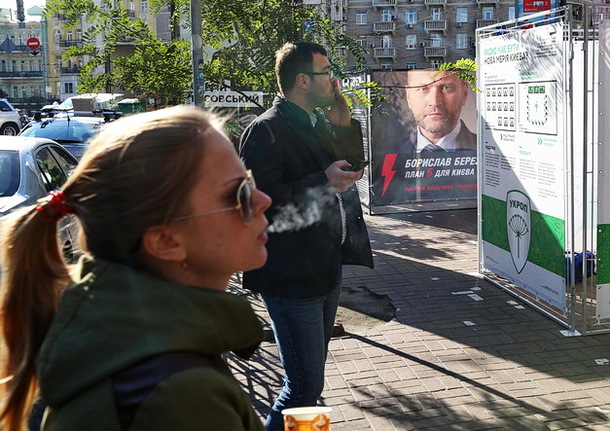 Ukraine is nearing its third nation-wide election campaign since the fall of Viktor Yanukovych's kleptocratic regime early last year. The ballot marathon commenced with presidential and parliamentary votes in 2014, and is now being followed by local elections, slated for October 25, 2015 (Kyiv Post, October 14).
Many observers, analysts and even top-ranking insiders, such as Oleksandr Bondar, a former chairman of Ukraine's State Property Fund, used to believe that the popular EuroMaidan revolution and the following Russian aggression would lead to a total "rebooting" of the Ukrainian political system, which had been based on strong and omnipresent oligarchic rule for decades (see EDM, October 22, 2014).
However, neither the presidential, nor the parliamentary elections have resulted in anything of the kind. The former was marked by an electoral triumph of one of the country's most politically vocal industrialists, Petro Poroshenko, who won the May 2014 presidential election in a single round. And the victories of his political allies in the latter parliamentary election allowed him to assume a level of control over the legislature. Yet, Poroshenko's dominance of the parliament came at the price of having to achieve shaky bargains with other political and economic clans, including former high-level members of Yanukovych's Party of Regions (PoR). Ahead of the October 2014 parliamentary vote, Poroshenko proclaimed: "The upcoming election will sweep the Party of Regions out of the Ukrainian political scene" (UNIAN, October 3, 2014). But ironically, he was one of the PoR's co-founders in 2000 (File.liga.net, November 20, 2014) and the engine that brought the largest number of former PoR members into the new parliament last year (see EDM, October 22, 2014).
Now, the president seems to be playing a more sophisticated political game. Thus, Our Land (Nash Kray—NK), a new political party allegedly intending to consolidate "unaffiliated regional leaders and experienced managers" (Nashkray.org, accessed October 15), was launched on July 29, 2015. Unofficially dubbed the "Party of Mayors," NK has indeed united more than 60 mayors and 500 other local administrators who had represented PoR until its virtual dissolution last year.
Many Ukrainian experts tend to see this newly formed organization as a home-grown project of the presidential administration, conceived to contest the Opposition Bloc (OB). Until now, the OB has been the main political faction attracting former PoR members from Ukraine's eastern and southern regions (Gordonua.com, August 12; Pravda.dn.ua, September 29; Inshe.tv, September 6).
According to Volodymyr Fesenko, who heads the Kyiv-based political analysis center Penta, the OB is seeking to use victories in the local elections as a future springboard for its members' planned return to power (Pravda.com.ua, September 7). Many in Ukraine would consider such an electoral outcome to be a gloomy prospect for the country. Therefore, Vidrodzhennya (Renaissance) (Vidrodzhennya.org.ua, accessed October 15), a new political party closely associated with Dnipropetrovsk tycoon Ihor Kolomoysky, is considered to be another project aimed to counterbalance the OB on its traditional stronghold. Nonetheless, both Poroshenko and Kolomoysky formally support other political parties—Solidarnist (Solidarity) and the Ukrainian Union of Patriots (UKROP), respectively, which have been active mainly in the country's western and central parts (Cvu.org.ua, accessed October 15).
Generally, none of the 142 parties taking part in the elections (out of the 294 registered totally) has been engaged in a true nation-wide campaign with relevant ideologies and programs. Instead, each of them has preferred to appeal to its target audiences in niche regions. "The majority of the parties exploit neutral slogans. They just look through opinion surveys and build up their campaign [platforms] based on natural human priorities, such as health, security or peace. So, unfortunately, these elections may become the least meaningful of any campaign in many years of Ukrainian election history," says Oleksiy Koshel, director general of Ukraine's Voters Committee (Radiosvoboda.org, September 29).
Recent polls predict a close nation-wide election, with a slim victory for Poroshenko's Solidarnist party (Ukraine-elections.com.ua, October 5; Interfax, August 11). However, public disappointment with all domestic political forces is so high that Kyiv's mayor, Vitali Klitschko has decided to merge his UDAR party with Solidarnist, while Prime Minster Arseniy Yatsenyuk declared that his Narodny Front (People's Front) would not run this year at all. Yatsenyuk's faction, which won the highest percentage of ballots cast in the 2014 parliamentary election, today attracts almost no voter support at all (24tv.ua, August 28).
The current election campaign has already elicited a series of backroom deals and seemingly strange tactical alliances among Ukraine's various competing oligarchic groups. This past March, President Poroshenko dismissed Kolomoysky from the Dnipropetrovsk governor's office amid heated accusations of conflicts of interest. But now, to all appearances, they seem to be pooling their electoral efforts (Sockraina.com), September 24). Furthermore, last year, Kolomoysky's Dnipropetrovsk team was instrumental in blocking pro-Russian separatism in Ukraine's eastern regions, while Kharkiv mayor Gennadiy Kernes was seen as one of its local promoters. And yet, both Kolomoysky and Kernes now appear to be political allies of Poroshenko (Rian.com.ua, September 20).
"It is a pity, but elections as a [competitive] political process are over under the present circumstances. No matter the [political] orientation of this or that party, the oligarchy will retain power," thinks Oles Doniy, a former member of parliament and a veteran of the Ukrainian independence movement. In his opinion, Ukrainian society has a high demand for a patriotic position that is more radical than that of the parliamentary parties, but it has not yet articulated this desire clearly enough. "If the population is de facto deprived of its right to elect [radical political forces], there will emerge a need to [communicate such political preferences] to the authorities in a non-parliamentary way," he warns (Gordonua.com, September 5).
Despite a history of strong protest movements (for example, in 2000–2002) and two revolutions (2004–2005 and 2013–2014) during its nearly quarter century of independence, Ukraine has yet to entirely break with its Soviet past and overcome the oligarch-dominated political system of the present. The upcoming elections look unlikely to change this situation radically or replace the country's elite. However, they could provide a chance for non-parliamentary forces to enter local councils or strengthen their presence and influence, thus once again upending the country's volatile party system.