The Potash War and the Receding Breed of a Red Man
Publication: Eurasia Daily Monitor Volume: 10 Issue: 170
By: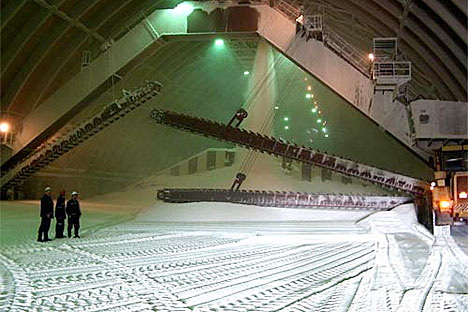 At the September 19 government "skull session" on current economic and foreign policy issues, President Alyaksandr Lukashenka made several statements devoted to the Belarusian-Russian potash war. "No rogues and scoundrels will be able to drive a wedge between the two presidents and the two peoples [of Belarus and Russia]," declared Lukashenka. It is those same "rogues and scoundrels" who took away Uralkalii, a Russian potash producer and a former partner of Soligorsk-based Belaruskalii, from Uralkalii's former owner Dmitry Rybolovlev through a hostile takeover. They subsequently drove the Russian company to bankruptcy, concealed by fraudulent Enron-like accounting, and wanted to push potash prices down to obtain the controlling shares of Belaruskalii, an enterprise that used to deliver up to $3.5 billion in revenues. Earlier, they reportedly offered a huge bribe to Lukashenka to cheaply obtain the Belarusian potash company, but that did not work.
Lukashenka pledged to inform the London and Moscow stock exchanges about Uralkalii's fraudulent accounting. According to Lukashenka, the financial damage of those machinations sustained by Russia exceeds that sustained by Belarus. Lukashenka did not rule out the extradition of the jailed Uralkalii CEO Vladislav Baumgaertner to Russia, particularly given that Russia's Office of the Federal Prosecutor has called on its Belarusian counterpart to cooperate on an inquiry into the potash affair. "What did Lukashenka want to demonstrate [by arresting Baumgaertner]?" asked Belarus's president rhetorically. "That nobody will be allowed to wipe the floor with Belarus. We are a sovereign and independent state… This is the only thing I wanted to demonstrate" (https://news.tut.by/politics/366894.html).
According to Lukashenka, there are two ways to resolve the conflict. One is a civilized divorce between Uralkalii and Belaruskalii with the emphasis on "civilized," which implies not throwing a monkey wrench into Belaruskalii's activities. The second way is to resume the cartel agreement between the two companies under Uralkalii's new owners (https://news.tut.by/politics/366894.html).
Meanwhile the media continues to designate the winners and losers of the potash conflict. Reportedly, Belaruskalii's employees are now receiving two-thirds of their regular wages. Furthermore, Potash exports by Belaruskalii came to a standstill in late August, whereas during the first six months of 2013, the company's export revenues had amounted to $1.27 billion (https://news.tut.by/economics/367088.html). The New York Times declared that "farmers from Idaho to India […] have already benefited from lower fertilizer prices" (https://www.nytimes.com/2013/09/17/business/global/potash-dispute-heightens-tension-between-russia-and-belarus.html?_r=0).
The Belarusian Service of Radio Liberty also devoted a talk show to the potash conflict, but its guests drew opposite conclusions from the ongoing potash saga. According to Evgeny Preigerman of the Minsk-based Liberal Club, the Belarusian side wanted the transfer of Uralkalii to new owners and succeeded in that without a doubt. Lukashenka, as usual, skillfully hit the most vulnerable spots of the Russian political and business elite. The Russian pundit Leonid Radzikhovsky opined that in Belarusian-Russian conflicts, the tail always wags the dog, that is, Russia always retreats. There are four reasons behind that. First, in contrast to any Russian scandals with the United States, which tend to increase Vladimir Putin's popularity, a scandal with Belarus diminishes Putin's rating. Second, Putin gains prestige when he squabbles with the US in part because he is more in control in Moscow than his counterparts are in Washington. However, Radzikhovsky argues, Lukashenka gains from his spats with Putin because the Belarusian president is even more in control in Minsk than Putin is in Moscow. Third, Russia needs Belarus as it has become Moscow's only European ally. Fourth, if it were not for Lukashenka, it is Putin who would be considered "Europe's last dictator," so Lukashenka is indispensable to preserve the Russian president's reputation among his European peers (www.inosmi.ru/sngbaltia/20130919/213092775.html).
Certain aspects of the potash war are difficult to grasp without one's immersion in the post-Soviet cultural context. For example, Baumgaertner was arrested when visiting Belarus on the invitation of its prime minister, whose reputation was thus compromised. And yet, many people in Russia and Belarus applauded the arrest. Why? The Belarusian author, Svetlana Alexievich who has just published the last book in her cycle titled, "Time of Second Hand. The End of the Red Man," helps explain that. Alexievich who received several prestigious international book awards has crisscrossed the former Soviet Union while gathering research. In her interview with the Russian magazine Ogonyok, Alexievich confessed to an unsettling feeling that many people are offended by the dishonest distribution of property (https://www.kommersant.ru/pda/ogoniok.html?id=2264009).
"There are too many losers," she noted. "And those who have gained from that distribution live behind tall fences… There is a lot of pent-up tension and hate in society. The revolution of the 1990s was done by [Mikhail] Gorbachev and a handful of the intellectuals. But 90 percent of people woke up in a country unknown to them, and they did not see how to live in that country. They still do not know how, and they long for socialism." Alexievich continued, "By and large, capitalism, even apart from its ruthless Russian variety, is a fairly tough system. Yes, you can possess something, but you have to work hard… Very few people were ready for that. During one of my trips, near the city of Vladimir [Russia], I saw men lining up next to a grocery store. They do not care about liberty and rallies in Moscow… They do not have anything to do. The store would soon open, and that would be their liberty. Five brands of vodka, bananas—that is what they need. I asked them if this indeed matched their notion of liberty. They answered in the affirmative… There is one private family farmer whose property they repeatedly set on fire and whom they call a fascist. Why a fascist? Because you cannot steal from him and you have to work hard on his farm." "The 'red' man is dying out and some new phase is beginning. It is still unclear what it is going to be," she concluded (https://www.kommersant.ru/pda/ogoniok.html?id=2264009).
The cultural setting described by Alexievich ought to be invoked if one wants to make sense of sundry developments in Belarus, Russia and other parts of the former Soviet Union, including as it all relates to the potash war.