The Rationale Behind Putin's Visit to Mongolia Amid the Ukrainian Crisis
Publication: Eurasia Daily Monitor Volume: 11 Issue: 160
By: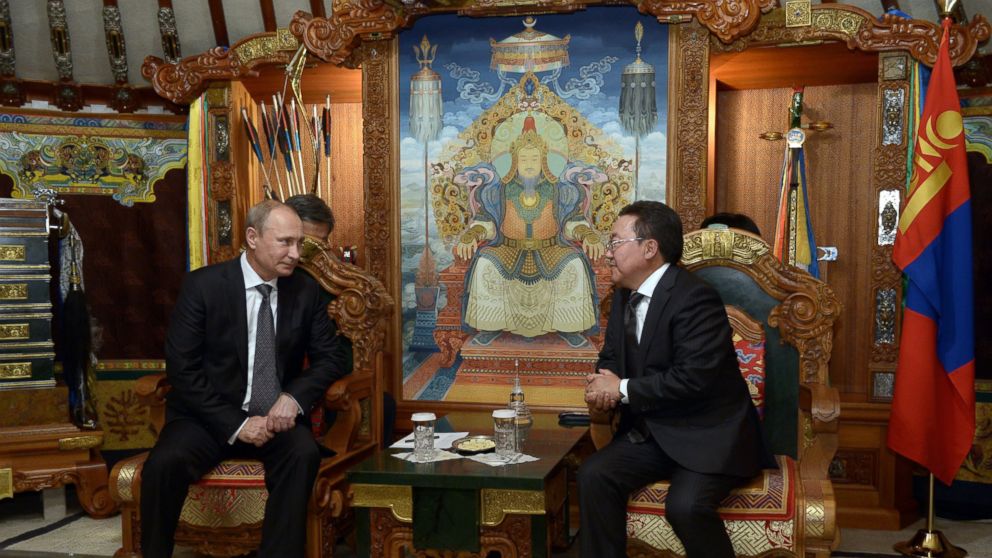 While on a several-day visit to the Russian Far East (see Jamestown Blog on Russia and Eurasia, September 9), Russian President Vladimir Putin spent less than six hours in Ulaanbaatar, Mongolia, on September 3. He took this trip amidst the ongoing crisis in Ukraine and just one day before the 2014 North Atlantic Treaty Organization (NATO) summit in Wales. While Western media outlets commented on the incongruity of this act, Mongolian officials privately alleged that the Russian leader's trip was the second act in a drama worked out by Putin and Chinese President Xi Jinping at their meeting in Shanghai on May 20 (Author's interviews, August 8). Although the Mongolian government was pleased to see Putin in hopes that his visit would usher in a new era in Russian economic investment in Mongolia, details of the fourteen agreements signed revealed that the majority of these were little more than rhetoric at this stage; of greater importance was the political message Putin sent.
Ostensibly, Putin's trip to Ulaanbaatar was to attend the 75th anniversary of the joint Soviet-Mongolian victory over Japanese invasion forces in 1939 at Khalkhin Gol (a.k.a. Nomonhan). During the visit, Putin proclaimed: "It is a great honor and pleasure for me to be in Mongolia, among our friends. We have very long-standing and strong ties. They are bonded by numerous joint achievements and events" (RIA Novosti, September 3). Despite rumors of rocky personal relations between Putin and Mongolian President Tsakhia Elbegdorj, at the joint press conference Elbegdorj praised the warm historical ties between the two countries and asserted: "I am sure that your visit will open a new page in the history of our relations" (The Mongol Messenger, September 5). The two sides signed seven memoranda of understanding (MOU) on aviation, construction, economic development, financial cooperation, and the media. But a separate seven inter-governmental agreements were the most significant ones for bilateral relations. In particular, the Mongolians were especially pleased with the finalization of mutual visa-free travel (in 2013, 600,000 Mongolians visited Russia and about 100,000 Russians journeyed to Mongolia). Another crucial deal was the agreement to modernize the key north-south rail link, Ulaanbaatar Railway (UBTZ), which is a state-owned joint stock company (51 percent owned by Russia, and 49 percent by Mongolia) that accounted for 60 percent of Mongolia's freight traffic in 2013.
For Mongolia, reforming the sole existing Russian-gauge passenger/freight line connecting Mongolia to Russia in the north and to China in the south is essential to increasing bilateral trade with its two neighbors. According to Mongolian-Russian government-provided analysis, the rail agreement includes creating a strategic development plan by March 1, 2015, to agree on terms of reference. The joint strategic development plan will also select specialized engineering companies for construction as well as prepare feasibility studies on financial and legal investment using internal and borrowed funds for modernizing UBTZ's railway transport and logistics system (en.montsame.mn, September 5; Mongolia Brief, Part I, September 6; eng.rzd.ru, September 3). The main projects to be studied are: 1) the electrification and/or construction of a second track for the 1,100-kilometer rail line from Sukhbaatar, near the Russian border, through the Gobi Desert's Sainshand, where a new minerals processing industrial zone is planned, and on to Zamyn Uud on the Chinese border; 2) northbound construction of a 545-km Erdenet-Ovoot railway to develop mining in northwestern Mongolia; and 3) construction of the Ovoot-Arz 215-km spur route to Russia that will be connected to Kyzyl-Kuragino in the Tuvan Republic. Additionally, the agreement covers exploring a western railway line joining Russia and China that passes through Mongolia for Russian exports to China, India and Pakistan; in the east, the two governments are weighing the possibility of using the 230-km Choibalsan-Erentsav railway section to transit to Khut-Bichigt. Both sides agreed to continue discussions on transit tariffs and quotas, Mongolian access to Russian seaports, and a Mongolian proposal for a trilateral agreement among Mongolia, Russia and China on railway transit. Putin noted that "Modernizing and developing the railway network will open opportunities to exploit extensive mining deposits that are difficult to reach" (The Mongol Messenger, September 5).
The other agreements signed represented wishes more than concrete plans. To address the large, bilateral trade turnover gap, which favors Russia, Mongolia proposed increasing bilateral trade to $10 billion by 2020, and exempting Mongolian goods from Russian customs duties and quotas for 20 years. Presently, mutual trade totals $1.6 billion, with Mongolian exports to Russia reaching only $70 million (representing 1.4 percent of total exports). This compares to $6 billion in Mongolia's total trade with China. Putin only promised to lift some restrictions on Mongolian meat exports, while seeking to increase exports of Russian vehicles and the expansion of Rosneft gas stations in the Mongolian market. It remains to be seen if the Russian Development Bank actually provides the promised $74 million for the extension of Mongolia's Thermal Power Plant-4. Equally vague were the results of the two countries' discussions on bilateral cooperation in regional, United Nations and Shanghai Cooperation Organization (SCO) forums, expanding military cooperation, and Mongolia's proposal for a high-level trilateral meeting with China on regional security.
Although a pro-Russian blog falsely claimed Putin was greeted by enthusiastic Mongolian crowds along his travel route from the airport (kauilapele.wordpress.com, September 4), local observers such as Sumati Luvsandendev, director of Mongolia's Sant Maral polling foundation, indicated that Mongolians were disappointed when they saw nothing substantive coming from the visit (Bloomberg TV, September 4). Some Mongolian parliamentarians, off-the-record, postulated that Putin's trip, coming in the middle of the Ukrainian crisis, was more about fulfilling a promise to Chinese President Xi to allow the Mongolians to build Chinese narrow-gauge rail spurs and modernize the jointly owned Ulaanbaatar Railway, than to celebrate Russo-Mongolian friendship (Author's interviews, August 8). When compared to the trip of the Chinese President only ten days prior, Putin's visit to Mongolia may not have produced the same scope of economic investment agreements and domestic press coverage, but, nevertheless, it clearly indicated to the Mongolians, the Chinese and the world that Russia intends to remain a player in the development of the landlocked Asian country's mineral-rich economy.