The Russian-Ukrainian Gas Truce: Far from a European Energy Peace
Publication: Eurasia Daily Monitor Volume: 7 Issue: 6
By: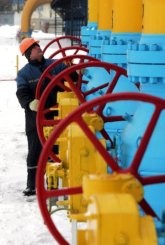 Europe is experiencing an exceptionally cold and snowy winter, but at least Russian gas is flowing at full volume through Ukraine and Belarus with no interruptions. Several times in the last few months Moscow has sent warnings on probable complications to European customers, but each time monthly payments for imported gas arrived from Kyiv without delay, as in the first week of January (RIA Novosti, January 7). Russia is thus denied an opportunity to make good political use of the "pay-or-freeze" weather and it is also showing uncharacteristic patience in the talks on oil prices with Belarus, which is eager to take full advantage of the newly-established Customs Union (Vedomosti, January 4). The perfect balance of demand and supply does not mean, however, that the period of "gas wars" and oil cuts is over, and Europe has found a way towards a sustainable energy peace.
The heart of self-reproducing conflict is in Ukraine, where gas matters are temporarily –and fortunately– overtaken by the bitterly contested presidential elections. They are certain to usher in major changes to the disorderly Ukrainian political arena, and the next leader will hardly feel obliged to respect the conditions of the gas deal reached by Prime Ministers Vladimir Putin and Yulia Tymoshenko on November 19, even if the latter wins her long-coveted job (Ekspert, December 22). Ukraine can cover its gas bills only by external borrowing, which the IMF has provided so far, but this cannot continue indefinitely (www.lenta.ru, December 30). The EU has to prioritize its own disaster zones, from Latvia to Greece, so Ukraine cannot simply muddle through its extra-deep recession, without resorting to some desperate measures aimed at focusing attention on its plight. Facing the menace of sovereign default, Kyiv will probably remain reluctant to compromise on the modernization of its gas infrastructure that might require sharing operational control with some European energy "champions" and, inevitably, Gazprom.
Russia scored several victories on its various "gas fronts" in late 2009, finalizing import contracts with Azerbaijan and Turkmenistan, and clearing the final obstacles for constructing the Nord Stream pipeline across the Baltic Sea. The scope of these achievements remains questionable, since Baku has committed itself to delivering only symbolic volumes, and Ashgabat opened a new export link to Iran, which could become its second most important market after China (www.newsru.com, January 6). As for Nord Stream, which has long been Putin's pet project, its rationale appears shaky as the key investment decision on developing the giant off-shore Shtokman field, which is planned as the main supply source for this pipeline, was postponed again until the end of 2010 (RIA Novosti, December 25). The pronounced emphasis on building hugely expensive pipelines in Russia's energy policy has seriously affected the development of production base and created a "no-win" dilemma for European energy security (Vedomosti, December 29). If the EU demand for Russian gas remains as sluggish as it was in 2009, Gazprom will be unable to cover its colossal production and administrative costs (cutting them is not an option); but if demand recovers, Gazprom's supply will fall short, so it will have to squeeze either domestic consumers or Ukraine.
The performance of Russia's energy sector makes a strong impact on the movement of its macro-economic indicators that are closely watched by experts of various persuasions for signs of economic recovery –or the lack thereof. Official statistics show much month-to-month vacillation, since the aggregate trends remained mostly flat in the last three quarters of 2009, but Andrei Illarionov's hypothesis about an unnoticed industrial "boom" is not entirely groundless (Ekho Moskvy, January10). Skeptics point to two pronounced features of the statistical rather than real growth: the rise in oil prices to the plateau of $70-80 per barrel (which increases the value of export and the volume of taxes), and the normalization of gas exports to Europe after the sharp drop at the start of 2009 (Ekho Moskvy, January 5). Both features are unlikely to make further positive contributions, while the net outflow of foreign capital (which resumed in the last months of 2009, pushing the net annual figure close to minus $50 billion) and the significant decline of investments in fixed assets determine a deeper than usual "seasonal" contraction in the first quarter of 2010 (RIA Novosti, December 23). Influential experts such as Evgeny Gontmakher state that 30-40 percent of economic activity is not reflected in such statistics, but this is inevitably affected by the continuing shrinking of real income (Ekho Moskvy, January 8).
The outlook for 2010 is thus hidden by the "fog of crisis" but the message from the Kremlin is about a slow and steady improvement that will be driven by the state-sponsored blossoming of "innovations." Yevgeny Yasin, the doyen of Russian economists, disagrees, arguing that the recession has not cleared the deadwood of excessive bureaucratic control over business and consequently even a feeble recovery cannot be taken for granted (Ezhednevny Zhurnal, January 4). The strategic guideline towards modernization drawn with much fanfare by President Dmitry Medvedev remains not only detached from the economic reality of low demand for creative innovations (amounting for barely 0.5 percent of GDP), but also incompatible with the political institutions of "Putinism."
Medvedev and Putin went skiing together in the first week of January, demonstrating yet again the "indestructible unity" of their duumvirate, but this kind of political stability, which in fact reduces politics to petty intrigues and PR campaigns, is entirely unhelpful for climbing out of the recession. Unlike the inflow of "petro-rent" in the 2000's, which increasingly looks like a wasted decade, this recovery will not happen by itself: it requires a mobilization of entrepreneurial energy and political effort. Medvedev aspires to lead such a mobilization, yet he must prove his credibility by taking control over the bureaucracy, while Putin has to stop the "modernization" discourse, which compromises his "father-of-the-nation" role. The two-headed leadership reluctantly proceeds along the path to self-destruction, and 2010 quite possibly will be remembered for the answer to the currently pivotal "which of the two?" question: "neither."