The Sangorian: Weakening the Taliban from Within
Publication: Terrorism Monitor Volume: 17 Issue: 1
By: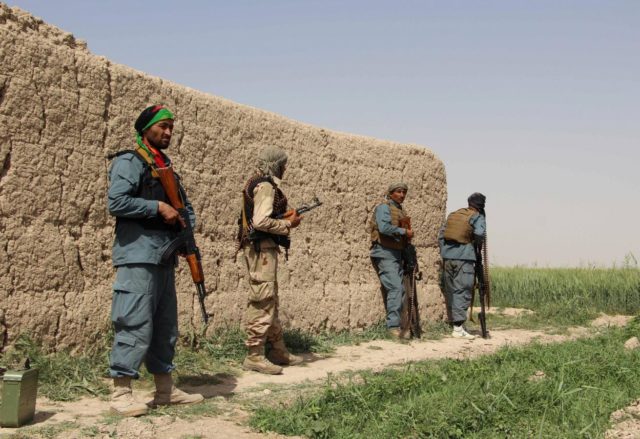 On October 17, Abdul Jabar Qahraman, a former member of the Afghan parliament, was killed when a bomb placed in his office at Lashkar Gah in Helmand went off.  Qahraman was among ten candidates who were killed in the run-up to the October 21 parliamentary elections (Tolo News, October 17, 2018). The Taliban and Islamic State-Khorasan (IS-K) had called for a boycott of the election and threatened to "disrupt" it (Salaam Times, September 28, 2018). So, was Qahraman killed for defying their diktats and contesting the election?
More factors than his contesting of the election were at play. An "honest politician" who was vocally anti-Pakistan and staunchly anti-Taliban, Qahraman had many enemies, several of whom wanted him dead. In January 2016, he set up an anti-Taliban militia called Sangorian to infiltrate and weaken the Taliban from within. The Sangorian has been "a great threat to the Taliban." [1] This would have put him in the Taliban's crosshairs, culminating in his death.
Situation in Helmand
Qahraman set up Sangorian when Afghan President Ashraf Ghani appointed him in January 2016 as operational commander of all Afghan forces in Helmand. He remained at this post until 2017. Located in southwest Afghanistan, Helmand is Afghanistan's most fertile province. It is near Iran and shares a border with Pakistan's Baluchistan province, where several of the Taliban's top leaders are based. The province is also the center of poppy cultivation and opium production that finances the Taliban's insurgency. Understandably, the government is keen to control Helmand to deny the Taliban these advantages.
The situation in Helmand in early 2016 was precarious. Following the withdrawal of most foreign troops from Afghanistan in late 2014, the Taliban focused attention on wresting back control over Helmand; in 2015, it carried out more attacks in Helmand than any other province in Afghanistan (Afghanistan Analysts Network, December 28, 2015). During this period, it adopted the quet'a strategy, which involves the deployment of small and mobile commando forces. This strategy was successful and the Afghan National Security Forces (ANSF), Afghan National Police (ANP), Afghan Local Police (ALP), and militia commanders—who managed to consolidate control over large parts of Helmand following the 2010 surge—crumbled in the face of the Taliban advance in 2015. By the end of that year, the Taliban was in control of ten of Helmand's 14 districts while the government was in control of only three districts, including the provincial capital, Lashkar Gah. Control over Nad Ali district was split between the government and the Taliban (Afghan Analysts Network, March 11, 2016).
With the Taliban advancing towards Lashkar Gah, the possibility of it overrunning the entire province loomed. It was in the context of this grave situation in Helmand that Ghani dispatched Qahraman to oversee security in Helmand.
Kabul's plan was to counter the Taliban's advance by arming local communities to defend themselves. This has been tried before. In 2010, for instance, the Afghan government armed local groups called ALPs to defend their communities. Only now these were called 'patsunian' (uprising forces) (Afghan Analysts Network, March 11, 2016).  Locals were recruited to these groups to hold areas recaptured from the Taliban, freeing the army for offensive operations. Simultaneously, the government set up Sangorian.
Enter Sangorian
Sangorian, a pro-government militia, draws its name from a Turkish television soap opera about covert operatives. It comprises local residents, Taliban dissidents, and those who were previously part of the Taliban regime. Its activities are rarely reported in the Afghan or foreign media. [2] Afghan government officials deny its existence and claim that it is a creation of Pakistani propaganda. [3]
Most government-affiliated militias like the ALP, for instance, are defensive formations that come under the Afghan Ministry of Interior. Sangorian, however, is deployed in offensive operations and its fighters are recruited and trained by the National Directorate of Security (NDS), Afghanistan's intelligence agency and falls under the ambit of the Ministry of Defense. Sangorian fighters are in touch with their handlers in the NDS during operations. [4] Since they are sent on offensive operations, they need intelligence, transportation, and directives, which the NDS likely provides. [5] Sangorian fighters also live in NDS facilities—a suicide attack on an NDS facility in July 2017 resulted in the death of fighters identified as being Sangorian.
Sangorian reportedly has 500-1,000 fighters. Fighters sport flowing beards, dress like the Taliban and are equipped with weapons similar to the ones used by the Taliban (Gandhara, February 15, 2018).  This enables Sangorian fighters to blend in easily with the Taliban and fight it from within by triggering divisions within the insurgent group.
Unlike ANSF personnel who suffer from low motivation and morale, Sangorian "have an incentive to fight." They are convinced that they are doing the right thing in fighting the Taliban. They have local sympathy and support. [6] However, there is concern among Helmand's residents that, like other government-affiliated covert militias, they will engage in future widespread abuse of civilians (Gandhara, February 15, 2018).
Rattling the Taliban
Listing Sangorian's achievements in terms of attacks "is hard as its operations are quiet and rarely reported in the media." [7] However, it is credited with having played "a major role" in preventing the fall of Helmand to the Taliban in 2016 and, more recently, helping recapture  the Babaji area of Lashkar Gah and portions of Nad Ali (Pajhwok, December 11, 2018; Salaam Times, June 6, 2018). In mid-2016, Lashkar Gah was under a virtual siege by the Taliban for over four months.  According to Qahraman, it was Sangorian's operations behind Taliban lines in their strongholds of Sangin and Musa Qala districts that prevented the insurgent group from capturing Lashkar Gah (Gandhara, February 15, 2018).  The Sangorian has also been more successful than the ALP in taking on the Taliban. [8] Sangorian's infiltration of the Taliban is said to have triggered suspicions and mistrust among its members, prompting Taliban commanders to surround themselves with bodyguards (Gandhara, February 15, 2018).
The Taliban has never mentioned the Sangorian by name or issued statements on its attacks on the insurgent group. Soon after the killing of Qahraman, for instance, the Taliban claimed responsibility for killing him (Khaama Press, October 17, 2018). It was silent on the reason for doing so, only describing him as "a prominent communist commander" (Voice of Jihad, October 17, 2018). [9] There was no mention of his founding of the Sangorian. It is possible that the Taliban was reluctant to link its killing of Qahraman to his founding of Sangorian, as that would be perceived as an admission of its concerns over the group.
That the Taliban takes the threat posed by the Sangorian seriously is evident from the fact that the son of Taliban chief Haibatullah Akhundzada was sent to carry out a suicide attack on the NDS headquarters at Gerishk district in Helmand in July 2017. [10] The target of that attack was the Sangorian fighters being housed in the NDS facility.
Fights between the Taliban and defectors are known to be, "vicious with no quarter given." [11] Consequently, the Taliban uses extreme violence to deal with Sangorian members. Captured Sangorian fighters are tortured brutally and killed by the Taliban. [12] The Taliban also uses heavy weapons in its attacks on Sangorian units (Gandhara, February 15, 2018). Since many Sangorian fighters are former Taliban members and working within the Taliban to weaken it, they are an intimate enemy and thus not only seen to be more dangerous but also, in the perception of the Taliban, deserving the worst punishment.
Conclusion
Sangorian's success will depend on how focused it remains in its activities. It was set up to undermine the Taliban from within. Should it become yet another militia that unleashes violence on civilians or acts as a private army for NDS officials, it will lose public support, which the Taliban will be quick to exploit.
Although the government has poured in resources and set up a variety of militias, including the Sangorian, to weaken the Taliban in Helmand, it has achieved only limited success. The Sangorian have inflicted losses on the Taliban and kept it at bay, but three years after it came into being, the Taliban continues to control a large portion of Helmand. In early 2018, the Taliban was said to be in control of seven of Helmand's 14 districts and contesting government control in the rest.
Militias like the Sangorian have a small and specific role in fighting an insurgent group like the Taliban. They can, at best, be useful in deepening divisions and perhaps eliminating some fighters. Qahraman himself came to believe that military operations alone could not defeat the Taliban. Indeed, it was this conviction that prompted him to step aside as overall security chief of Helmand in 2017.
Notes
[1] Author Interview with Hekmatullah Azamy, Acting Head of the Kabul-based Centre for Conflict and Peace Studies, December 5, 2018.
[2] Azamy, n.1.
[3] Author Interview with an Afghan government official, November 29.
[4] Azamy, n.1.
[5] Former Indian intelligence official, November 26.
[6] Azamy, n.1.
[7] Azamy, n.1.
[8] Azamy, n.1.
[9] A former general in the Afghan National Army, Qahraman was known for his counterinsurgency operations against the mujahideen in the 1982-92 period.
[10] Azamy, n.1.
[11] Former Indian intelligence official, n. 5.
[12] Azamy, n.1.