The South-Bound Russian Landing Ship Flotilla: Possible Intentions and Implications
Publication: Eurasia Daily Monitor Volume: 19 Issue: 5
By: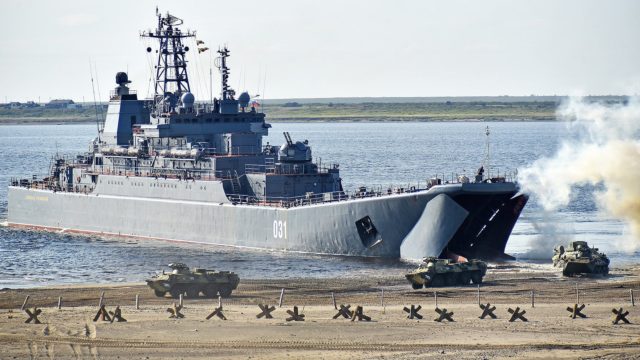 A group of Russian landing ships, three of which left the Baltic Sea region on January 18, preceded by another three the day before, have passed the English Channel and entered to the Atlantic Ocean. The half dozen warships comprise the large Ropucha-class (Project 775) landing ships Olenegorskiy Gornyak and Georgiy Pobedonosets as well as the Ivan Gren–class (Project 11711) landing ship Pyotr Morgunov from the Northern Fleet, plus three other Ropucha-class vessels, Korolev, Minsk and Kaliningrad, from the Baltic Fleet (Blackseanews, January 19).
The group includes the newest Russian landing ship Pyotr Morgunov, which was built "to project military force into far territories" and solve "tasks of capturing bridgeheads." It can carry on board 13 tanks or 36 armored vehicles, and it is also capable of transporting a marine battalion (RT, December 24, 2020). Crucially, the Ivan Gren class is additionally designed to be able to take a large number of sea mines on board, thus becoming a multi-ton mine layer. That number of mines is high enough to not only block any strait zone but even vast sea spaces (Lenta.ru, October 25, 2021). Finally, this warship carries two assault helicopters Ka-29 and is equipped with special pontoons for unloading troops and equipment offshore (RIA Novosti, January 30, 2021).
All six of these south-bound ships are fully loaded, with their waterlines observed to be below the water level. Against the background of statements by Russian Deputy Foreign Minister Sergei Ryabkov (Izvestia, January 13), some Russian experts suggest that the vessels may be involved in transferring Russian missile systems somewhere abroad (Moskovsky Komsomolets, January 19). But if Moscow wants to transport weapons to, for example, Cuba or Venezuela, it has other vessels and means to do this (Marineschepen.nl, January 20). Landing ships are not designed to act like strategic maritime transportation. They are specifically intended for amphibious assault operations in which the use of a friendly port is impossible. Thus, a number of experts believe this ad hoc flotilla's journey will eventually take it to the Black Sea to participate in potentially a new invasion of Ukraine by Russian forces (Maritimebusinessnews.com.ua, January 19; Armyinform.com.ua, Rueconomics.ru, Focus.ua, January 20).
Apparently, as of January 24, the vessels are moving toward Gibraltar (Avia.pro, January 24), but the Kremlin has not commented on this deployment at all. Moscow has, however, announced large-scale coordinated naval drills during January–February, in all maritime theaters—in the Atlantic, Arctic, Pacific and Mediterranean—that will involve some 140 warships and auxiliary vessels, more than 60 aircrafts and about 10,000 service members (RIA Novosti, January 20). The above-discussed landing ship deployment could be part of these massive naval exercises, which themselves might be happening to hide possible Russian plans to carry out amphibious and other attacks against Ukraine. Traveling at a speed of 12–14 knots, and assuming time to refuel by tanker or potentially stop for fuel and provisions at the Russian base in Tartus, Syria, these vessels may be estimated to reach the Dardanelles by early February. If they do, in fact, enter the Black Sea basin, then Russia will have 14 large landing ships concentrated there, including aging, Alligator- and Ropucha-class, assets of the Black Sea fleet (Saratov, Orsk, Nikolai Filchinkov, Caesar Kunikov, Novocherkassk, Yamal and Azov). Together, such a large landing ship grouping could take aboard about 4,500–5,000 marines, 160 main battle tanks, or up to 280 armored vehicles for an amphibious assault operation. Regional Russian forces taking part in such an amphibious landing might include the 810th Marines Infantry Brigade (Sevastopol, Crimea) and the 382nd Marines Infantry Battalion (Temryuk, Krasnodar region), reinforced by Russian airborne units and marines from the Baltic and the Northern fleets potentially arriving to the theater onboard the above-mentioned six landing ships (Armyinform.com.ua, January 20).
It is worth recalling that Russia has already deployed to the adjoining Sea of Azov a number of landing and gun boats as well as marines from the Caspian Flotilla. This was done in spring 2021, when Russia sent them to the Sea of Azov "to participate in drills to protect Crimea"—although, in reality these, military exercises were not aimed to work out any defensive but only offensive amphibious actions. In any case, those landing boats all have a small draft and are, thus, best-suited to carrying out an amphibious operation on Ukraine's Azov coast (Racurs.ua, April 13, 2021; Armyinform.com.ua, April 15, 2021).
History certainly shows that amphibious assault operations are tricky to implement, require coordinated action by various armed forces units, precise fire support, and so on. They can be quite risky and exceedingly bloody in some conditions. But if the Kremlin has decided to undertake one, Russian forces will rely on their experience of past amphibious operations in the Black Sea: the Soviet Black Sea fleet carried out at least 13 amphibious operations in World War II, including Kerch-Theodosia, Kerch-Eltigen and Novorossiysk (Cyberleninka.ru, accessed January 24, 2022), as well as a number of large-scale, Cold War–era amphibious drills, such as South-71 (Alternathistory.com, February 12, 2017). In recent years, Moscow pointedly spent extensive resources and time on training Russian marines and paratroopers. At least 85 amphibious assault exercises were held in the Crimean training range Opuk since 2014 (Black Sea News, accessed January 24, 2022). The last such military drills took place earlier this month (Black Sea News, January 21).
The above-mentioned estimated number of arrayed Russian forces in the Black Sea theater would be sufficient for assault-offensive amphibious operations not only against Ukraine but also against other littoral states. This is due to not only the already-achieved Russian dominance in the Sea of Azov (Washington Post, December 25, 2021) and some strategically important areas of the Black Sea but also because of the physical and geographical conditions of the region as well as the existing landing-accessible places on the coast. So, if the Northern and Baltic fleet landing ship grouping is, indeed, headed for the Black Sea, it signals a clear Russian intention to escalate the security situation in the region. In this regard, it is important to carefully track relevant diplomatic notifications from Moscow about the passage of these landing ships through the Turkish Straits (Ankara should be notified of this intent no less than eight days prior to passage; but no notification has yet been sent). Understanding the serious danger of such a deployment and guided by a desire for peace in the region, Turkey might limit or even block such a request from Russia. At least, such measures are provided for in the provisions of the 1936 Montreux Convention (Treaties.un.org, accessed January 24).