The Three Russian Attitudes Toward Belarus
Publication: Eurasia Daily Monitor Volume: 16 Issue: 79
By: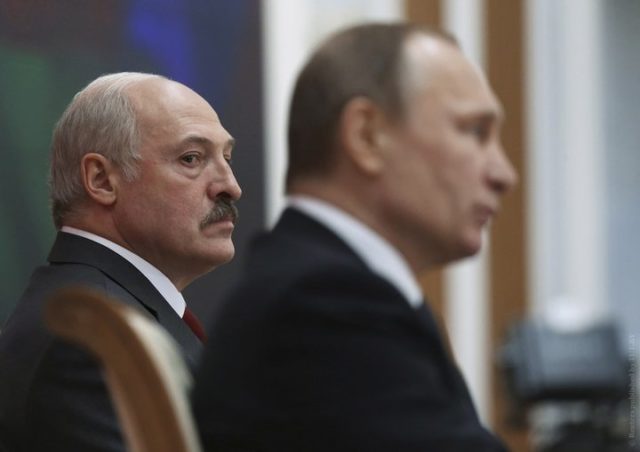 Russians are not unanimous in their attitude toward Belarus. According to popular Belarusian online portal Tut.by's Artyom Shraibman, politically influential Russians fall into three camps: Technocrats-Monetarists (e.g., Prime Minister Dmitry Medvedev or former deputy prime ministers Arkady Dvorkovich and Anatoly Chubais), Imperialists (many "siloviki"—representatives of the military and security apparatus), and Friendly Autonomists (like former mayor of Moscow Yury Luzhkov and former Russian ambassador to Belarus Alexander Sourikov). The first camp sees the relationship between the two countries in purely fiscal terms and insists on cutting back on what its members consider unjustified subsidizing of Belarus. The second camp underscores Russia and Belarus's common heritage; the mouthpieces of this grouping (e.g., the online "patriotic" news agency Regnum) tend to worry about Belarus following in the footsteps of Ukraine and insist on interference in Belarus's cultural politics to steer it away from the West. The third camp does not endorse this interference but sees the monetarist approach to Russian-Belarusian ties as narrow-minded. Instead, it wants to facilitate consensus between the two countries by all means (Author's interview, May 23).
The problem for Belarus is that, lately, the third camp has markedly weakened—a trend emphasized by the replacement of Sourikov as ambassador to Minsk with the now-also-replaced Mikhail Babich. As a matter of fact, in an interview with an opposition newspaper, Sourikov, who currently lives in retirement in his native Altai, did not hesitate to slam Babich. "The point is," observed Sourikov, "that in Russia Babich was a big boss, supervising the entire Federal District, whereas Belarus is a sovereign independent state… This is the main thing Babich failed to understand… He did not quite understand who the boss is in Belarus" (Narodnaya Volya, May 24).
According to Minsk-based independent entrepreneur Mikhail Malash, ordinary Russians revere Belarus. A descendant of Belarusian Stolypin-era migrants, born and raised near the Siberian city of Tomsk, Malash moved to Belarus in 1998 and claims to understand the nuances of both Russian and Belarusian perceptions. And because Malash is active in the hotel industry, he is regularly able to communicate with many Russian guests himself. Speaking with this author, he suggested that the two political regimes—i.e., the oligarchic one in Moscow and the populist one in Minsk—sharply differ on matters of policy outlook because the latter is truly acting on behalf of the people (Author's interview, May 25).
But even those Russians with a friendly attitude toward Belarus do not necessarily all share a common understanding of what is currently going on between the two countries. Thus, Victor Erofeyev, a Russian author and an avowed liberal, revealed in his talk at the Minsk-based literature festival Preface, that "the annexation of Crimea and the war in Donbas resulted in alienation of [Russia's] closest neighbors and allies, an outcome Russia did not expect." According to Erofeyev, Belarus woke up; and while it did not shake off what he calls dictatorship, its regime assumed a more nationalist tone. A threat from Russia, Erofeyev believes, is rooted in Russia's superiority complex and the traditional image of a Belarusian as a peasant obediently growing potatoes. The Poles, too, have a nobility complex with regard to Belarusians. And none of those attitudes is to the liking of Belarusians themselves. Meanwhile, the Belarusian intellectuals' growing fears of potential annexation by Russia, observes Erofeyev, transformed their attitudes toward President Alyaksandr Lukashenka. In their eyes, he changed from a dictator to the strongest guarantor of Belarus's independence. "Belarus does not want [to emulate] the fate of Ukraine, but it also rejects the Anschluss prospect" (Tut.by, May 10).
Alexander Nosovich, a political commentator from Kaliningrad, Russia, and a person with Belarusian roots, shared a different perspective in his May 22 presentation at the press-center of Sputnik-Belarus, the Belarusian arm of this Russian outlet. Nosevich presented the report "Agents of Neutrality: Destruction Technology of Belarus's Sovereignty," compiled under the auspices of RuBaltic.ru (Rubaltic.ru, April 11). Nosovich suggested that the very same pundits and agencies who allegedly earlier tried hard but failed to spark a color revolution in Minsk are now treading more carefully. Specifically, he said, they insist on the idea of Belarus's neutrality but remain committed to the geopolitical reorientation of Belarus from Russia to the West. One of the most vociferous proponents of Belarus's neutrality, according to Nosevich, is Glen Howard, the president of The Jamestown Foundation, whose picture is included in the report along with those of Ben Hodges, Michael Carpenter, and Balazs Jarabik from the Carnegie Endowment. Nosevich pointed out that Howard's rhetoric with regard to Ukraine (such as on the subject of Ukraine's contacts with Russia about fishing in the Sea of Azov) is much more confrontational—along the lines of "you should not conduct talks with Russia but rather face it with accomplished facts"—than with regard to Belarus. In the latter case, Howard sounds like a peacemaker, though he is rather a wolf in sheep's clothing, Nosevich claimed. The Kaliningrad-based commentator believes that the roots of current Western approaches to Belarus lie in ties that the United States' intelligence community established, in the 1950s, with Belarusian Nazi collaborators, as narrated by John Loftus in his 1983 book The Belarus Secret: The Nazi Connection in America.
Responding to Nosevich's presentation, Andrei Dmitriev, a co-chair of the Speak the Truth civic action campaign, suggested that one should not paint all Westerners with the same brush. Meanwhile, a concomitant and potentially even stronger criticism of Nosevich's thesis can be found in two other sources that actually uphold the idea of neutrality for Belarus. One is the official government document "Conception of Information Security of the Republic of Belarus," which insists on the country's "information neutrality" (President.gov, March 18; see EDM, May 8). The second source is a national survey conducted in November 2018 by the sociological firm Novak. According to the latter, a combined 60 percent of Belarusians favor a foreign policy that either stresses "equally close relations to everybody" or "non-alignment with any bloc whatsoever" (Carnegie.ru, January 15).
Perhaps instead of focusing on unmasking enemies and provocateurs, one might acknowledge that Belarusians themselves are in favor of neutrality. In contrast, the simmering tug-of-war between the major centers of power over the countries "in-between" (see EDM, May 23) is an organic, reciprocal, and never-ending phenomenon that ought to be recognized as such.