Three Controversial Articles by Top Officials Distort Russia's Past, Present and Future
Publication: Eurasia Daily Monitor Volume: 17 Issue: 89
By: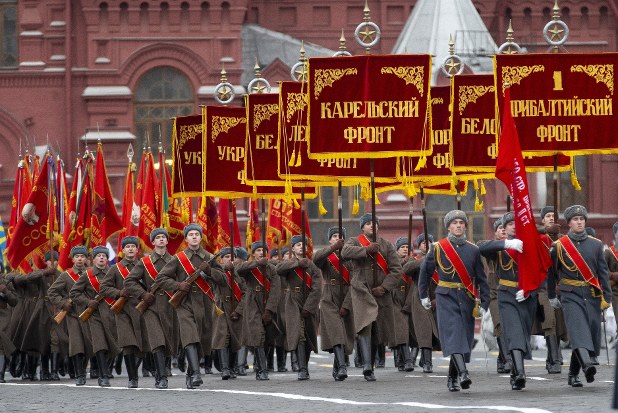 Russian authorities rarely resort to such old-fashioned means of communication as written articles. Yet, last week, three key figures in the top leadership—President Vladimir Putin, Security Council Secretary Nikolai Patrushev, and former prime minister Dmitry Medvedev, who now holds the newly established position of deputy head of the Security Council—published lengthy essays, presumably to give shape and direction to the domestic political discourse. Patrushev's article, in the official daily, Rossiiskaya Gazeta, came first, expounding on the alleged unsuitability of universal values for Russia (Rossiiskaya Gazeta, June 17). Medvedev's quickly followed, running in a Russian foreign policy–oriented journal and arguing for greater international cooperation amidst the COVID-19 pandemic (Globalaffairs.ru, June 17). The article by Putin—his long-promised think-piece on the causes of World War II—curiously ran on the website of the Washington, DC–based media platform The National Interest—and the Russian translation of the text appeared the next day in several Russian dailies (Rossiiskaya Gazeta, June 19).
This propaganda offensive is certainly tightly coordinated, but the inescapable first impression from perusing these articles is that top Russian politicians have remarkably little to say on the topics of their choice and employ ghostwriters of poor quality (Ezhednevny Zhurnal, June 18). All three narratives featured a wholly congruent set of opinions but a clear division of labor, with Putin examining the lessons of history, Patrushev focusing on current affairs, and Medvedev attempting to outline a desirable future. All three, however, paint blatantly false perspectives.
The main point Patrushev sought to establish about present-day Russia is that its confrontation with the "decadent" West is underpinned by a conflict over values, exemplified by Russian devotion to the traditional family (New Times, June 18). He presents the commitment to upholding state sovereignty as Russia's core principle and maintains that the West (portrayed in his narrative as a unitary hostile entity) is firmly set on undermining it (Republic.ru, June 19). In an earlier interview with a popular daily, he went into more detail on how purported Western attempts at compromising the forthcoming public vote on a set of constitutional amendments fit into the strategy of instigating a "color revolution" in Russia (Argumenty i Fakty, June 10).
This spin on a classic Russian conspiracy theory may appear to contradict Medvedev's more sophisticated narrative on the need to improve international cooperation in order to withstand together the shock of the unfolding global crises (RBC, June 17). In fact, however, the former prime minister's argument aims at exploiting the divisions between the United States and Europe and boils down to the far-from-original proposition that the West should lift its sanctions against Russia (Fontanka, June 18). His quasi-modern language amounts to merely rephrasing old slogans about the deepening contradictions within the "imperialist camp" and can hardly make him an attractive partner for those in Europe disappointed in the US's leadership. Medvedev tries to be more nuanced than the rigidly conservative Patrushev but finds it quite impossible to rekindle the expectations pinned on his unprepossessing persona some ten years ago.
In his own authored article, Putin also argues for an upgrade in international cooperation, insisting that the best format should be a new concert of the five permanent members of the United Nations Security Council. These powers, he asserted, should follow the example of the 1945 Yalta conference, which granted the Soviet Union the right to dominate Eastern Europe as it saw fit (The Insider, June 20). Putin almost certainly understands that this geopolitical dream will not come to pass. And his article is, in fact, much less emotionally charged in trying to absolve the Soviet state from any guilt for unleashing the Second World War than many of his previous reexaminations of history (Svoboda.org, June 19). Perhaps the most contentious point in last week's piece is the description of the Soviet occupation of Estonia, Latvia and Lithuania in June 1940: as a legitimate act performed with the consent of their leadership. But he provides no references to the alleged archival sources that supposedly support this incomprehensible claim (Grani.ru, June 19). Putin clearly wanted to hit a dignified and triumphant note ahead of the military parade, scheduled for June 24. However, the article is highly unlikely to provide the desired impulse for reconsolidating his fast-eroding domestic support base (Forbes.ru, June 18).
These three narratives have quite unexpectedly come together in neighboring Belarus, where, instead of the tightly managed presidential election (scheduled for August 9) that everyone expected, President Alyaksandr Lukashenka is facing a sharp political crisis (Nezavisimaya Gazeta, June 18). In perfect accord with Patrushev's narrative, Lukashenka has accused the opposition of preparing a "color revolution" and ordered the arrest of alternative candidates (Rosbalt, June 19). The public's discontent with his autocratic regime has, however, spread enough that the usual methods of police repressions cannot fully contain street protests and prevent elite defections (Novaya Gazeta, June 16). It makes perfect sense for Moscow to put pressure on the maverick Lukashenka to release some political prisoners and, thus, ensure that a pro-Russian candidate stands in the election and presents an option for a smooth transition to a slightly more modern government, as envisaged by Medvedev (Newsru.com, June 19). The Belarusian incumbent, however, seeks to preempt such a development and has confirmed his willingness to be present as a guest of honor at Putin's parade, demonstrating full agreement not only with the Kremlin's interpretation of history but also with its global ambitions (Kommersant, June 20).
The Belarus case reveals the futility of the Kremlin's attempts to dress up the corrupt autocratic regimes in quasi-modernist or pseudo-historical political discourses. No love lost exists between Putin and Lukashenka, but fears of populations determined to express their will for a future free of oppression has again brought the two aging autocrats together. The pretenses of Russian interest in international cooperation and wider European security instantly fade away, while self-serving panic about the "hostile West" sponsoring chaos and disorder are amplified. Belarusian history teaches that "brotherly" help from Russia inevitably comes with the demand for full submission; whereas, Russia's historical experience includes repeat instances of aggressive expansion precipitating domestic troubles. Nonetheless, arrogance and fear at the top is drowning out those historical lessons, with easily predictable consequences.