TIDE SHIFTS IN PRESIDENT'S FAVOR IN UKRAINE CRISIS
Publication: Eurasia Daily Monitor Volume: 4 Issue: 88
By: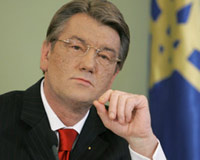 Once seen as a lame duck, Ukrainian President Viktor Yushchenko now is out-maneuvering the Anti-Crisis coalition (ACC) and the government of Prime Minister Viktor Yanukovych. During the last week the president has reappointed Syatoslav Piskun as prosecutor, removed the deputy head of the Constitutional Court and a second member of the Court by presidential decree, and appointed a loyalist, Stepan Havrysh, to the Court. He also issued a decree rescheduling early parliamentary elections from May 27 to June 24 (see EDM, May 3).
Piskun and Havrysh had been allies of former president Leonid Kuchma before joining Yushchenko's steam. Piskun was prosecutor for the first ten months of 2005 and was elected to parliament in 2006 as part of Yanukovych's Party of Regions. His defection to Yushchenko and appointment as prosecutor is a defeat for Yanukovych. The defections will be widely seen among Ukraine's elites as a power shift in Yushchenko's favor.
Havrysh is a senior representative of the Kharkiv clan, the intellectual center of eastern Ukraine. On the eve of his appointment he had ridiculed the parliamentary resolution in support of simultaneous parliamentary and presidential elections as "political hysterics." Simultaneous elections would be legally impossible to undertake, he argued, as this would leave a vacuum as to who was running the country.
The defections increase Yushchenko's ability to negotiate from a position of strength with the Party of Regions and to compete with them in elections in eastern Ukraine. Yushchenko already has the support of former Kuchma loyalist and pro-Western national security expert Volodymyr Horbulin. Former presidential secretariat head Oleksandr Zinchenko has been reappointed as his adviser.
Similar shifts in Yushchenko's favor are also emerging in the business sector. Dnipropetrovsk oligarchs Viktor Pinchuk (Interpipe) and Igor Kolomoyskiy (Pryvat), who until 2005 were mortal enemies, have now created a joint venture to manage the Nikopol ferro-alloy plant over which they were in severe dispute in 2005. Both are now pro-Yushchenko loyalists.
The ACC had banked on encouraging divisions to widen between the radical and moderate wings of the Orange camp. But instead, the revived orange coalition, which signed an opposition agreement on February 24, has remained solid.
The ACC had also mistakenly assumed that Yushchenko would retreat from his demand for early elections. His second presidential decree on early elections, which was legally prepared in a more professional manner, has convinced them that this step is also unlikely.
The ACC are concerned about the tough tone Yushchenko took in a speech on April 29, in which he promised to punish anyone who fails to fulfill his second decree. Prosecutor Piskun has pledged to ensure that this decree is implemented.
The ACC, or the two left parties in it (Socialists, Communists), could still call for a boycott of the elections. However, this would open up the possibility of a complete Orange takeover of the new parliament. In Ukraine's full proportional system any boycott would mean that the parties that took part and crossed the 3% threshold would obtain a larger proportion of the final seat distribution.
A complete Orange takeover of parliament would have two consequences. First, the Orange camp could annul recent constitutional reforms on the division of power and adopt legislation in support of NATO membership. Second, it could lead to greater regional divisions in Ukraine, with eastern Ukrainians feeling excluded from the political process.
The Yushchenko camp clearly hopes that any boycott would only be undertaken by parties on the left end of the political spectrum, which have everything to lose in an early election. Opinion polls show that the Socialists — with 1% support — would be wiped out as a political force and fail to enter parliament for the first time since they were established in 1991. The Communists might still scrape through.
Polls show that the Party of Regions will again come in first with about one-third of the vote. In a proportional system this does not signify that they would automatically create the coalition and government, as they could be still out-flanked by Orange parties.
Yanukovych is likely to personally lose, as he would only be prime minister if the ACC prevailed. The Tymoshenko bloc's first preference is an Orange coalition, but it is unofficially willing to enter a grand coalition that would create a government of national unity. The stumbling block would be who would receive the post of prime minister, which neither Yushchenko nor Tymoshenko would return to Yanukovych.
The Tymoshenko bloc is banking on increasing its support to the 30% mark by attracting Socialist voters and increasing its support in eastern and southern Ukraine. Our Ukraine is likely to improve its support beyond that of 2006 (14%) but will be unlikely to regain its 2002 support of 24%. This is because of three factors.
First, Yushchenko's ratings have doubled in the last month, putting him for the first time ahead of Tymoshenko in the polls. Yushchenko will use a successful outcome to the crisis to re-launch his bid for a second presidential term in the 2009 elections. Prior to the crisis all observers had written off his chances of winning a second term.
Second, Our Ukraine is establishing a mega-bloc consisting of itself, the Ukrainian Rightists, and the Yuriy Lutsenko bloc.
Third, Our Ukraine has been reinvigorated as a national democratic party now that it has returned it to its more successful 2002 composition.
The ACC had pinned hopes on international organizations and foreign governments pressuring Yushchenko to back down, but this never happened. International organizations and Western governments remain distrustful of Yanukovych's authoritarian instincts, blame both sides equally for the crisis, and accept that it is up to Ukrainians to peacefully resolve the crisis.
Only Russia has tried come to "rescue Ukrainian democracy," by one-sidedly condemning Yushchenko. But on a visit to Washington this week, Ukrainian Foreign Minister Arseniy Yatseniuk stated that Ukraine was able to resolve its crisis without outside intermediaries.
Despite Moscow's efforts, the elections seem likely to happen. Central Election Commission chairman Yaroslav Davydovych has publicly stated his readiness to organize the vote. Minister of Finance Mykola Azarov, a high-ranking Party of Regions loyalist, has agreed to increase the allocation in this year's budget to finance the elections.
Recent events and a sense of defeatism in the ACC suggest that the tide of events is shifting in Yushchenko's favor. Early parliamentary elections are likely to take place on June 24, but before the voting booths open both sides are likely to reach some form of political compromise.
(Ukrayinska pravda, April 29-31, May 1-3, Zerkalo Nedeli, April 21-27, www.president.gov.ua)