TM Interview with Chairman of the Kazakhstan Council on International Relations' Erlan Karin
Publication: Terrorism Monitor Volume: 19 Issue: 19
By: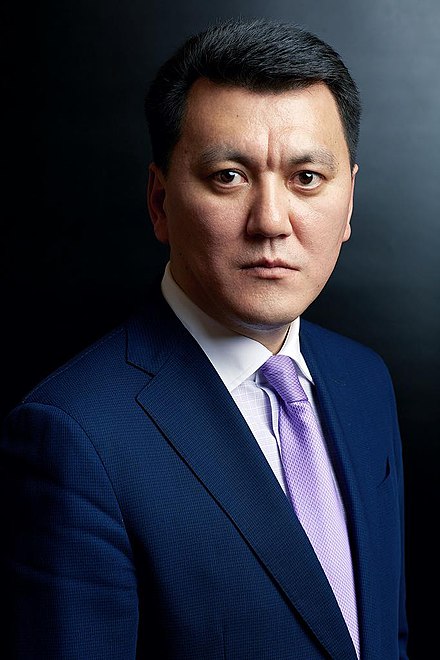 Terrorism Monitor sat down with Erlan Karin, Chairman of the Kazakhstan Council on International Relations, visiting professor at American University (2013), Honorary Professor at the Shanghai Institute of International Relations (2018), and expert on terrorism. Karin is the author of the books, "Soldiers of the Caliphate: Myth and Reality" (2014) and "Operation Jusan: A Story of Rescue and Repatriation from Islamic State" (2020). The following has been lightly edited for grammar and clarity.
TM: Several years ago, you visited Mazar-e-Sharif, Kabul, and other areas of Afghanistan. Can you share the purpose and reflections of that visit and whether recent events in Afghanistan were foreseeable based on that experience?
EK: I have visited Afghanistan several times. I met with the heads of the Afghan special services, local experts and employees of some international organizations working in Afghanistan. The main purpose of my trips was to collect data on the activities of Central Asian radicals in Afghanistan. Of course, I have always been interested in the general situation in the region.
During my trip to Afghanistan in 2014, for example, the main topics of discussion were issues related to the withdrawal of the international coalition forces. It was just that year that it was announced. In 2016, experts were worried about another question: is the Islamic State (IS) capable of gaining a foothold in Afghanistan and creating the Khorasan province? In 2019-2020, experts were also busy monitoring the movement of militants from Syria to Afghanistan. As we can see, the situation was constantly changing.
Could the latest events have been foreseen? Now, probably, everyone will already say "yes." It was clear to everyone that the position of the Afghan government was fragile. The influence of the former field commanders, including Abdul Rashid Dostum [former Vice President of Afghanistan] and Atta Muhammed Nur [former governor of Balkh], was weakening. Some of them were squeezed out of the current configuration of power, while others lost their former influence and authority, and did not have the time to replace or compensate for their roles with new institutions. The resources channeled by the United States and its allies to support the Afghan army and intelligence services were ineffective due to widespread corruption by the elites.
There are many reasons. It's just that everything became mixed up and complicated, so no one could accurately predict the speed of events. As a result, as soon as American troops began to withdraw from Afghanistan, the destructive processes accelerated. During one of my trips to Kabul in the summer of 2016, I even wrote down in my diary my personal feeling that everyone seems to be satisfied with all of this instability, and therefore no one feels the approaching catastrophe.
TM: You previously researched the Kazakh jihadist group, Jund al-Khilafah (Soldiers of the Caliphate), in Afghanistan and Kazakh foreign fighters in Syria. How do you see Kazakh jihadists reacting to the Afghan Taliban's victory and will the Taliban's success reduce the appeal of IS, which, in contrast, lost its "state"?
EK: Despite the difference in the concepts of IS and the Taliban, the common ideology of jihadism is of primary importance for ordinary radicals, whether they are from Europe or Central Asia. In this regard, ordinary radicals will not especially feel the difference or delve into the essence of the differences and disputes between the preachers of IS and the Taliban. Therefore, for jihadists from different countries, a Taliban victory can have an inspiring effect.
When I talked with one of the radicals in prison several years ago and asked what he thinks about the forthcoming withdrawal of the international coalition forces from Afghanistan, he said without hesitation, "this means that we won!" At the same time, he did not fight on the side of the Taliban, and had already been in prison for a sufficiently long time that he had become less sensitive to the events taking place. That is to say, jihadists perceive all of these events in such a way that the wheel of history spins in their direction. Therefore, in Europe and Central Asia, as well as in any other region, you need to be vigilant now.
TM: Is it conceivable that Central Asian countries will recognize the Taliban government and, if so, what factors would be considered? For example, could the Taliban ever set up an embassy in Nur-Sultan and would their representatives initially speak directly with the Kazakh government or use Qatari or other entities as intermediaries?
EK: The countries of the region are actively consulting among themselves regarding the events in Afghanistan. In this regard, the Afghanistan events provided a new impetus for intra-regional cooperation. However, the tactics of action may be different. This is influenced by the different level of involvement of the countries of the region in the processes in Afghanistan. The Taliban victory and the "U.S. flight" force the Central Asian republics to be even more pragmatic and not rely too much on the help of the major powers. Therefore, any scenario is possible. At the same time, the countries of Central Asia will not be in a hurry. Eastern diplomacy allows for flexibility without creating a dilemma regarding whether or not to recognize the Taliban government.
And for Kazakhstan, the issue is very acute, and it is not worth it.
TM: Kazakhstan's President, Kassym-Jomart Tokayev, stated in August that the Taliban's victory poses "certain risks" for Kazakhstan. Is one risk that there are Kazakhs in IS Khorasan Province and, if so, what attracts them to that group? Is there concern about Uzbeks in southern Kazakhstan having pro-IS sympathies?
EK: The Kazakh leader literally stated the following—the events in Afghanistan do not pose a direct threat, but create certain risks for us. Thus, he meant that one should not exaggerate the threat of a direct Taliban invasion, but at the same time he urged that we remain vigilant and monitor emerging new risks, such as the flow of refugees, drug trafficking, and so on. We know that inside IS in Afghanistan, as well as various other groups affiliated with al-Qaeda, such as the detachment of Jamaat Imam al-Bukhari, the Islamic Jihad Union, and Jamaat Ansarulah, have natives of some Central Asian countries.
As for the Kazakh radicals in Afghanistan, even during the peak periods (2009-2012), there were comparatively fewer of them than citizens from other Central Asian countries. Then most of them, at one time, moved to Syria and many died there, while others were detained and convicted. Therefore, such an active and large group no longer exists either in Syria or in Afghanistan. Also, there is no ideological influence of Islamic State or al-Qaeda on any ethnic groups in Kazakhstan. In this regard, Kazakhstani society is an integrated, not fragmented, community.
TM: It has been around two years since Kazakhstan implemented Operation Jusan to repatriate hundreds of Kazakh men, women, and children from Syria. What are the results and lessons learned from this experience? Were such lessons related to Kazakhstan's decision to repatriate ethnic Kazakh Afghans after the Taliban victory?
EK: Within the framework of Operation Jusan and through other channels, 742 people have been repatriated to Kazakhstan since 2018. Among these includes 189 women and 516 children. Moreover, 78% of children were under seven years old. This gives us a chance to get these children involved in a normal life as soon as possible.
Operation Jusan was carried out after a comprehensive rehabilitation program was developed by the Government of Kazakhstan. It was tested on citizens who independently returned from Syria. After this program was tested and adjusted on the basis of practical experience, it was decided by Kazakhstan officials to organize the removal of our citizens from the camps in Syria.
This program includes several components, including the work of theologians and psychologists. Also, the repatriated citizens are provided assistance to master new professions and obtain jobs. Thanks to this work, 90% of women switched to traditional religion or a secular lifestyle and adopted the values of Kazakhstani society. Separate work was carried out with regard to children. Tutors were assigned to them to prepare for school. As a result, all children went to schools and kindergartens.
It is impossible to compare the mission of Operation Jusan and the evacuation of ethnic Kazakhs from Afghanistan. In the first case, it was about former IS fighters and members of their families. In the second case, we are talking about the return of ordinary people, but who still lived through a war. The identity of many of them and their ethnicity was established even earlier, and they were in contact with our diplomats and asked our authorities.
The only thing that was similar was the algorithm of actions of our services. Thanks to Operation Jusan, our military, diplomats, and special services have gained valuable organizational experience in carrying out evacuation operations from conflict zones. Our experience of interaction with American partners acquired during Operation Jusan also helped. Both operations are also united by a humanitarian motive to provide assistance to people in trouble.