Tough Talks Produce New Russia-West Face-Off
Publication: Eurasia Daily Monitor Volume: 19 Issue: 1
By: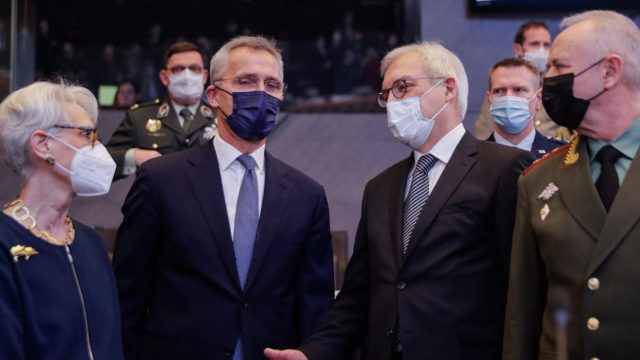 Diplomats naturally value dialogue; but when it comes to current relations with Moscow, the wisdom of such an approach looks dubious—particularly following the week of consecutive rounds of tough talks between Russia on the one hand and the United States, the North Atlantic Treaty Organization (NATO) and finally the Organization for Security and Cooperation in Europe (OSCE) on the other hand. Discussions of Russian demands for "security guarantees" were doomed to failure from the outset, which is unlikely to change going forward. Moscow's position remains unreasonably demanding and deliberately rude, so the message from the Kremlin—that President Vladimir Putin might be open to a conditional future summit after he examines the forthcoming written US response to his proposals—is merely a preemptive acknowledgement that there is nothing to discuss (Rossiiskaya Gazeta, January 14, 2022). The question about what to expect in such a situation looms large, and the answers depend upon the interpretation of what Putin's intentions behind the "ultimatum," delivered ten days after his video-conference with US President Joseph Biden on December 7, really were.
Undercutting Washington and exacerbating disagreements between European states are traditionally high on the list of Russia's probable intentions, but crude pressure has turned out to be counterproductive in this regard (Moscow Echo, January 14, 2022). Moscow has not found useful cracks in NATO's unity. And if Putin had hopes for German ambivalence, assuming that the new Chancellor Olav Scholtz is no match for Angela Merkel, who recently departed her post, he is left with disappointment (Nezavisimaya Gazeta, January 13, 2022). Many Europeans are certainly worried about the threat of war. But the proposition to recreate a continental "security architecture" that would include Russia rather than confront it is undercut by Moscow's demonstrative disdain toward the OSCE, which inherently embodies such an idea (Kommersant, January 13, 2022). Russian diplomats appeal to the principle of "indivisibility of security" established in the Helsinki accords (1975), but they omit the fact that these documents also contain commitments to respect human rights and basic freedoms. Russia breaks those promises habitually, as illustrated recently by the state's suppression of the humanitarian work performed by the non-governmental organization Memorial (Novaya Gazeta, January 11, 2022).
On the international stage, Ukraine is currently the main target of Russian pressure. Isolating this troubled country from the rest of Europe is one of Putin's most persistent intentions; although this has not come any closer to fruition since the start of the Russian military buildup on Ukraine's borders last autumn (Svoboda.org, January 10, 2022). New battalions have been moved to forward positions in order to make the arguments of Russian diplomats more persuasive (Meduza, January 12, 2022). Members of the Ukrainian leadership may be upset that their case is being discussed between Russia and the US without them (see EDM, December 14, 16, 2021); but NATO has communicated clearly that the door into the Alliance remains open and that no curtailing of military ties with Ukraine is in the cards (Izvestia, January 13, 2022). Foreign Minister Sergei Lavrov announced that Russian patience with Ukraine's behavior had run out; but Kyiv demonstrates remarkable resolve in rejecting these provocations, even of such scale as the cyberattack last Friday, January 14 (TASS, January 14, 2022; RBC, January 15, 2022).
Lavrov's explanation of Russia's decision to escalate the crisis in European security by issuing ultimatums actually points to acute impatience driving Putin's behavior, which for all intents and purposes is the main variable in the complex formula of the current confrontation. Since the start of the COVID-19 pandemic, Putin's worries about his own health have become all-prevalent, and he opted to celebrate Orthodox Christmas this year in solitude (Znak.com, January 7, 2022). That self-obsession is on par with the Kremlin leader's pervasive concerns about the short flight time of hypothetical NATO missiles stationed in Ukraine or about US combat ships operating in the Black Sea near his Sochi residence (Svoboda.org, January 2, 2022). The Russian markets are reacting nervously to the Kremlin's assertive course, confirming that the country's business elites are aware of the president's neglect of their interests (Kommersant, January 14, 2022). Putin tends to discount the damage of new Western sanctions much the same way as he disregards the deep reluctance among Russians to proceed from habitual quarrels with Ukraine into a real hot war (Rosbalt, January 14, 2022).
Further intensifying Putin's worries about the firmness of his grasp on power was the sudden explosion of unrest in Kazakhstan earlier this month. Until then, Kazakhstan seemed to proceed along the track of authoritarian modernization charted by Nursultan Nazarbayev, who carefully controlled his chosen successor—President Kassym-Jomart Tokayev (Republic.ru, January 13). This control was broken when Tokayev responded to the economic protests in the oil-producing Zhanaozen as well as riots in the former capital of Almaty by replacing the government, removing Nazarbayev from his lifetime position on the Security Council, and then appealing to Russia for help (Novaya Gazeta, January 8). The swift arrival of some 2,000 Russian paratroopers convinced all groupings of Kazakhstani elites that Tokayev is backed by Putin, so order was easily restored. Yet the hard task of rebuilding stability by executing difficult reforms lies ahead (Forbes.ru, January 10).
In order to consolidate his support base and reassure Western investors as well as China, Tokayev will need to prove he is a leader in his own right and not merely a Russian pawn (Nezavisimaya Gazeta, January 13). Tokayev took a step in that direction when he publicly asserted that the "coup attempt" ostensibly supported by thousands of foreign-trained terrorists had been defeated and that, therefore, the Russian troops could return home (Carnegie.ru, January 14). Putin consented to this withdrawal but declared that Russia would move forcefully against all "color revolutions" in its neighborhood (New Times, January 16). It is far more comfortable for the Kremlin head, as for any despotic ruler, to believe that all popular uprisings are organized by the hostile West rather than caused by public outrage against lawlessness and corruption (The Insider, January 15). His self-declared role of guarantor of autocratic stability in the post-Soviet space will, however, hardly be accepted in new rounds of conversations with the US and NATO, if indeed those happen.
Kazakhstan has added an extra twist to the intrigue of interactions between Russia and the US/NATO; nonetheless, the eye of the gathering storm is still on Ukraine, and diplomacy can only do so much to try to talk it away. It is nigh impossible to apply the rationale of Realpolitik to managing this crisis, however, because on the Russian side, Putin's fears and idiosyncrasies prevail over pragmatism. War is certain to be a tough test for his increasingly aloof leadership, and Russia's top brass have notably kept a low profile in the propaganda offensive so far. Yet by turning threats of war into his favorite instrument of policy, Putin has delivered himself into a tight strategic corner. The US-led coalition of containment will need to keep him there at least until he travels to Beijing for the Olympic ceremony.