Turkey and Azerbaijan: "One Nation-Two States?"
Publication: Eurasia Daily Monitor Volume: 6 Issue: 193
By: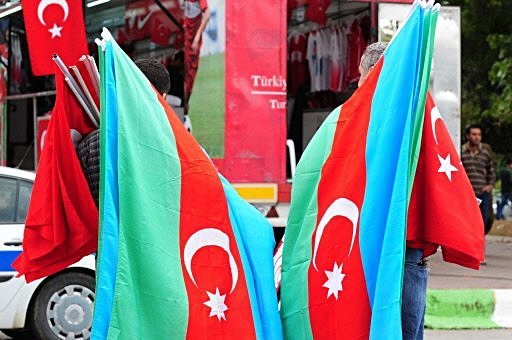 The strains in Turkish-Azeri relations caused by Turkey's energy policies and its attemps to resolve its diplomatic problems with Armenia are beginning to dominate the agenda in Ankara's relations with Baku.
On October 15, in a district of Baku, Turkish flags decorating monuments commemorating the Turkish soldiers who died while fighting for Azerbaijan's independence in 1918 were removed. Azerbaijani authorities maintained that the decision had no political significance and was implemented to comply with a law regarding the display of foreign flags. However, the Turkish media publicized this incident, stressing that it was meant as a protest against Ankara's decision to disallow Turkish spectators to wave Azeri flags during the soccer game between the Turkish and Armenian national teams on October 14 (Milliyet, October 18). To prevent any negative public reaction in Turkey, subsequent press reports stressed that the Azeri press had reacted to this decision by the authorities in Baku (Hurriyet, October 20).
Foreign Minister Ahmet Davutoglu reiterated that Turkey's policy of supporting Azerbaijan's position on Karabakh remained intact and that Ankara would honor its commitment to this policy. He emphasized that Azeri soil was as precious to Turkey as its own. Regarding the Turkish flag incident, Davutoglu said that Ankara was informed that it was a temporary arrangement as part of restoration work (Cihan, October 19).
However, recent statements by Azerbaijan's President Ilham Aliyev have further fueled concern over the deterioration of the Turkish-Azeri ties. Aliyev expressed openly his dissatisfaction with the stalled negotiations between Ankara and Baku over the adjustment of the price for Turkey's natural gas imports from Azerbaijan, and the conditions governing the export of its gas through Turkey en route to the European market (EDM, August 10). While meeting with cabinet members, Aliyev maintained that for several years, Baku had sold cheap gas to Turkey (Anadolu Ajansi, October 17). He asked the question: "Which country would sell their natural resources at 30 percent of international prices?"
After reaffirming his eagerness to export its gas to Europe, Aliyev stressed that the unresolved status of the transit regime through Turkey over the last two years was a major setback to his country's interests. He said that Ankara should lower the transit price for gas flowing through Turkish territory and that the current offer is unacceptable. He added that Azerbaijan will continue to look for alternative routes to carry its gas. Additional reports in the Turkish media claimed that Aliyev was seriously considering alternative routes to the Nabucco project through Georgia and the Black Sea, including either through Romania or Bulgaria (Hurriyet, October 19).
This occurred in the aftermath of an agreement between Azerbaijan's State Oil Company President Rovnag Abdullayev and Gazprom CEO Aleksei Miller regarding Azerbaijani gas exports to Russia –which was signed on October 14 in Baku (EDM, October 15). These steps appear to signify Baku's efforts to reduce its export dependencey on Turkey, as its production capacity increases in the coming years.
Although the Turkish public was alarmed by these statements, due to the prospect of higher energy prices, government officials reacted with relative indifference, while denying any responsibility for the stalled negotiations with Azerbaijan. Turkish Energy Minister Taner Yildiz responded to Aliyev's remarks, claiming that they were most probably based on faulty information given to Aliyev. Noting that the Turkish-Azeri gas trade started only in 2007, Yildiz maintained that "it is not the case that Turkey has purchased cheap gas for years. We only purchased gas at the discounted prices for ten months. In April 2008, we submitted our price revision offer. We do not want to damage Azeri interests. There was a deadlock in the negotiations over price revisions. We increased our offer, and the talks are still in progress" (Anadolu Ajansi, October 19).
It is true that Ankara's efforts to use its geographic location as an asset and assert itself as an energy hub for the transportation of Caspian basin resources to world markets puts it at odds with producers, including Azerbaijan, which view such policies as exacting undue profits. Nonetheless, it is revealing that these developments took place against the background of the Turkish government's efforts to normalize the relations with Armenia. Despite such initiatives to resolve its long standing problems with Armenia, Baku's objections to Turkish-Armenian normalization without first resolving Azeri-Armenian issues have been well documented. In order to express his dissatisfaction with Ankara's rapid rapprochement with Yerevan, Aliyev has reduced his contact with Turkish statesmen, and refrained from visiting the country in many critical international or bilateral gatherings, such as the Alliance of Civilizations platform or the signing of the inter-governmental agreement on the Nabucco project. Turkish Prime Minister Recep Tayyip Erdogan's speech in the Azeri parliament in May sought to reassure Baku, yet Turkey forged ahead with its talks with Armenia. On October 10 Turkey and Armenia signed protocols to establish diplomatic relations and reopen their border (EDM, October 14).
The Turkish public fear that by pushing for the normalization with Armenia under pressure from the United States and the E.U. Turkey has unnecessarily damaged its ties with Azerbaijan. The Turkish press continues to highlight the fragility of the "one-nation two-state" motto, which once described the brotherly relations between the two capitals. Reflecting this new atmosphere, one Turkish daily ran a story entitled, "One nation tearing apart" (Hurriyet, October 19). However, as the energy-related developments reveal, the Turkish-Armenian normalization threatens not only the emotional ties between the two nations, but also commercial ties. An Azeri folk song, which is also very popular in Turkey, speaks about the "sorrowful separation" between the two countries in the past. With the current developments, the Turks and Azeris are facing a new test to avoid yet another separation.