Turkey and Russia Renew Bilateral Confidence
Publication: Eurasia Daily Monitor Volume: 6 Issue: 156
By: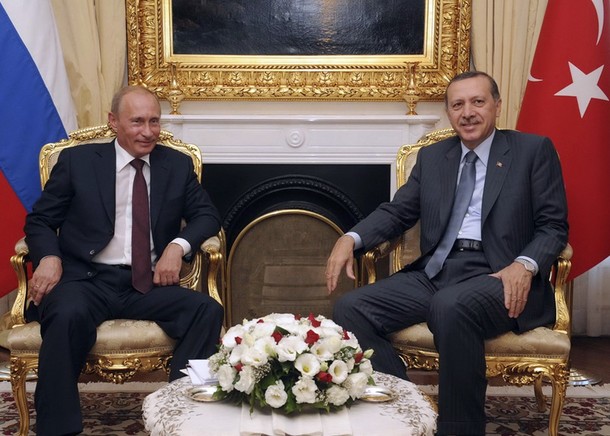 One retired Turkish ambassador told Jamestown that the latest energy deals signed between Turkey and Russia are as promising as the 1970 agreement on establishing an iron and steel plant in Iskenderun in southern Turkey, with the assistance of Soviet technology. Turkey and Russia, despite contentious issues ranging from competition in Central Asia and the South Caucasus, have forged closer economic and political ties in recent years while gradually establishing mutual trust on military cooperation mainly in the strategic Black Sea region.
On August 7 during Russian Prime Minister Vladimir Putin's one-day visit to Ankara, 20 protocols were signed, which included cooperation in the Russian-initiated South Stream gas pipeline project as well as Moscow's pledge to back the Samsun-Ceyhan pipeline with additional oil. Turkey will allow Russia to carry out feasibility studies in its exclusive economic zone in the Black Sea for the construction of South Stream.
Moscow promised to support a proposed oil pipeline that travels from the Black Sea city of Samsun to the Mediterranean port of Ceyhan. Ankara hopes that gas will then be shipped to Cyprus, Lebanon and Israel, making Ceyhan a key energy hub. Turkish officials estimate that when the planned Samsun-Ceyhan pipeline becomes operational, 10 percent of the world's oil will transit Ceyhan. The proposed Samsun-Ceyhan pipeline will also provide an alternative route that bypasses the already busy and strategically important Turkish straits of Dardanelles and Istanbul.
However, the South Stream agreement comes just weeks after Turkey and four European Union countries signed an inter-governmental agreement on July 13, allowing the planned Nabucco pipeline to deliver gas from Central Asia and the South Caucasus to Europe, and is intended to ease Europe's dependence on Russian hydrocarbons. In response to concerns raised in various European capitals, Prime Minister Recep Tayyip Erdogan said after the signing ceremony that South Stream and Nabucco were not alternatives to one another, but rather reflected the diversification of energy supplies. His comments were shared by Putin, who said at a joint news conference: "The construction of South Stream does not block Nabucco. Depending on demand from consumers, both projects can be realized" (Today's Zaman, August 8). Italian Prime Minister Silvio Berlusconi has joined the talks to emphasize Italy's support for South Stream, which is to be built by a joint venture between Russia's Gazprom and the Italian company ENI.
Turkey is more than 80 percent dependent on imported oil and gas, with Russia and Iran being its main suppliers. Ankara wants to exploit its geographical location by becoming an energy hub and a transit country, between Central Asia, the South Caucusus, Russia as well as the Middle East and the West. The 900-kilometer South Stream pipeline is set to eventually run from Russia to Bulgaria under the Black Sea, before delivering gas to consumers in Europe -bypassing Ukraine. The pipeline, with an annual capacity of 63 billion cubic meters, is planned to be operational in 2016, costing $11.6 billion.
Putin and Erdogan also signed additional energy deals, including nuclear cooperation. Only hours before Putin's arrival, around 20 Greenpeace members protested against the plant and hundreds of riot police stood guard. A joint venture between AtomStroyExport, Inter Rao UES JSC and the Turkish Ciner Group's Park Teknik was the sole bidder in a tender held in September 2008 for the construction and operation of Turkey's first nuclear plant.
The Turkish government asked the consortium to lower the price it would charge for electricity from the nuclear plant. The consortium submitted a new price of 15.35 cents per kilowatt hour (kwh) in early February -much lower than its unexpectedly high bid of 21.16 cents on January 20- in an attempt to prevent its bid from collapsing; however, state officials say that this figure is still too high. Turkish Energy Minster Taner Yildiz stressed that the Turkish nuclear energy tender process is independent from the protocols signed with Russia on nuclear energy cooperation (Ntvmsnbc.com.tr, August 10). The protocols envisage cooperation on early warning systems concerning nuclear energy as well as on the use of nuclear energy for peaceful purposes – Ankara has signed a similar protocol that with South Africa, the U.S. and Canada, Yildiz noted.
Ankara plans to conclude a tender for the construction of its nuclear energy power plant in September, he added. "We have to finish an important part of the tender process in August," he told reporters. "This project will be put into effect if we agree on a reasonable price," the minister said. Noting that Turkey could take a stake of up to 25 percent in the project if a reasonable price is set, he explained that Ankara has offered guarantees to buy electricity for 15 years. He added that the plant would remain in operation for almost 60 years. "That is why we have to scrutinize the tender process very carefully," he said (Today's Zaman, August 11).
In addition, Ankara and Moscow agreed to enhance bilateral defense cooperation. These ties have been overshadowed by the malfunctions occurring on Russian Mi-17 helicopters which Turkey procured together with BTR armored vehicles in the early 1990's. In 2008 Ankara awarded Moscow an $80 million project that involves the purchase of 800 medium range anti-tank missiles. Russia is among the candidates for Turkey's long range missile defense acquisition project worth about $4 billion. Moscow has declined to respond to a Turkish request for a proposal (RfP) insisting that Russia should be chosen as the sole source, which Ankara has rejected.
Meanwhile, Turkish experts are warning of the danger of a growing imbalance in bilateral economic relations. The Turkish-Russian trade volume is estimated to have reached $38 billion per year. Turkish exports to Russia are around $6.5 billion, while its imports from Russia are $31.5 billion, which is mainly due to energy imports. "This gap has been growing against Turkey's interest," warned Hasan Kanbolat, the Director of the Ankara-based Middle East Strategic Research Center. There needs to be a redesigning of Turkish-Russian economic relations that should include Moscow introducing measures facilitating Turkish exports, he added (TRT 2, August 10).