Turkey Chooses Russian Missile Defense System
Publication: Eurasia Daily Monitor Volume: 14 Issue: 110
By: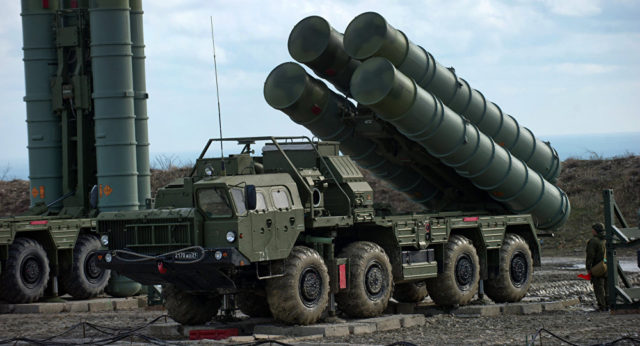 Recent reports confirm that Turkey has agreed to purchase the S-400 Triumph Russian air and missile defense system (TRT World, August 23). Under the deal, worth $2.5 billion, Turkey will receive two S-400 batteries (Hurriyet Daily News, July 17). The system is advertised as being capable of detecting, tracking and destroying aircraft, drones and missiles—including cruise and ballistic missiles. A major selling point of the S-400 system was Russia's agreement to jointly produce the second of the two batteries purchased by Turkey.
Until late 2015, Turkey was considering purchasing a Chinese air and missile defense system—the FD-2000 (Daily Sabah, May 5, 2014). This air defense complex was developed by China Precision Machinery Import and Export Corp., a company once sanctioned by the United States for selling missile-related technologies to Iran. However, Ankara canceled that $3.4 billion deal in November 2015.
Turkey's moves have made the North Atlantic Treaty Organization (NATO) apprehensive of a non-NATO missile defense system being deployed in a NATO country. The Alliance's concerns are that a non-NATO country that sells Turkey its missile defense system—especially China or Russia—could then remotely use that complex to gather information on NATO's alliance-integrated missile defense system and develop ways to either disrupt the system or develop countermeasures to evade it.
Ankara argues that many NATO countries already employ various Russian weapons. And indeed, this is not for the first time that an Alliance member state has sought a Russian-made missile defense system. Notably, Greece operates the S-300, and the bilateral Greek-Russian partnership in the military sphere has been growing (Strategic-culture.org, November 5, 2016). This is worth mentioning as Greece and Turkey are at loggerheads with each other over a territorial dispute in the Aegean Sea. As a March 2017 article by Colonel (ret.) Andrei Akulov, a Moscow-based international security expert, suggests, Russia could try to insert itself as a mediator between the two countries to resolve the issue. And Russia might then try to use that momentum to create some kind of alliance with Turkey and Greece—two NATO countries (Strategic-culture.org, March 10).
Meanwhile, missile defense remains a contentious issue in Turkey. The country has been badly affected by spillover from the Syrian civil war and needs a sophisticated missile defense system to protect its territory. In recent years, NATO allies including Germany, the United States, the Netherlands and Spain stationed their Patriot air and missile defense systems in Turkey. However, the United States, Germany and the Netherlands removed or rotated out their Patriot systems since then. At present, only Spain and Italy have their missile defense systems stationed in Turkey (Daily Sabah, July 7, 2017), which has upset Ankara.
In fact, the NATO Patriot batteries stationed in Turkey aroused Iranian suspicions of Turkish intentions, and Tehran openly criticized Ankara over this issue in the past (The Jerusalem Post, December 15, 2012). However, a missile defense system from Russia, a country with whom Iran shares good relations and one that has played a crucial role in the Iranian nuclear negotiations process, is least likely to be viewed as a threat by Tehran. This aspect takes on even more notable importance considering that Iran and Turkey are currently also working to improve their bilateral relations (see EDM, November 14, 2014).
Beyond arms sales, Turkey's relations with Russia have been strengthening since mid-2016, and Moscow is leaving no stone unturned to strike lucrative defense, energy and trade deals with Turkey to benefit the Russian economy, which continues to suffer under Western sanctions and chronically low oil prices. During his October 2016 trip to Turkey, Russian President Vladimir Putin agreed to revive a suspended natural gas project—Turkish Stream (see EDM, October 21, 2016). Indeed, Russian energy giant Gazprom has already commenced construction of this pipeline. In addition, Moscow has also ended the sanctions it had levied on Turkey after Turkish F-16s downed a Russian Su-24 bomber as it crossed into Turkish airspace from Syria (Hurriyet Daily, June 2).
Russia also agreed to build the Ayukku nuclear power plant for Turkey, a deal worth $20 billion (Rosatom, October 17, 2016). Turkey has for decades aspired to join the European Union, but so far its efforts have been in vain. Ankara, therefore, sees hope in the Chinese and Russian–led Shanghai Cooperation Organization (SCO). In fact, Turkey—currently an SCO Dialogue Partner—chairs the Energy Club of the SCO this year (Anadolu Agency, November 23, 2016).
Growing Turkish-Russian relations have also been expanding into the military sphere. In March 2017, Turkish President Recep Tayyip Erdoğan requested Putin's cooperation on military operations in Syria, to enable Turkey to create a border "safe zone" free of the Islamic State and the Kurdish People's Protection Units (YPG) militia, which Turkey views as a terrorist group (Sputnik News, May 3). In contrast, the United States has supported Kurdish forces in Syria. Also this year, Russia and Turkey conducted joint naval drills in the Black Sea (Sputnik News, April 5). Furthermore, Russia and Turkey are collaborating on bringing together the Syrian government and the rebels to the negotiating table (see EDM, February 15)—even though Turkey and Syria were previously on opposite sides in the conflict.
Turkey is increasingly surrounded by neighbors whose relations with Russia have been growing closer. As such, strengthened ties with Moscow are becoming an ever more important goal for Ankara, especially as Turkey no longer expects as much support from the United States. This has been particularly true following the attempted coup in Turkey last year. Conspiracy theories swirling around in Ankara allege that the US was involved in trying to overthrow Erdoğan. And according to Michael Rubin of the American Enterprise Institute, "to have served in the NATO commands is now seen by Turkish officers as a ticket to prison, not promotion" (National Review, April 25). Hence, Turkey is looking for new friends in the international system.
Russian-Turkish relations are burgeoning. And with US lawmakers seeking to withhold the sale of F-35 Joint Strike Fighters to Turkey (House.gov, July 5), Russian fighter jets may also find new openings on the Turkish market. However, following the passage by the US Congress of a new sanction bill that imposes restrictions on US allies that buy Russian weapons, it remains to be seen whether Ankara will abide by such pressure from Washington.