Turkey Considers Procuring American or Russian Attack Helicopters
Publication: Eurasia Daily Monitor Volume: 6 Issue: 116
By: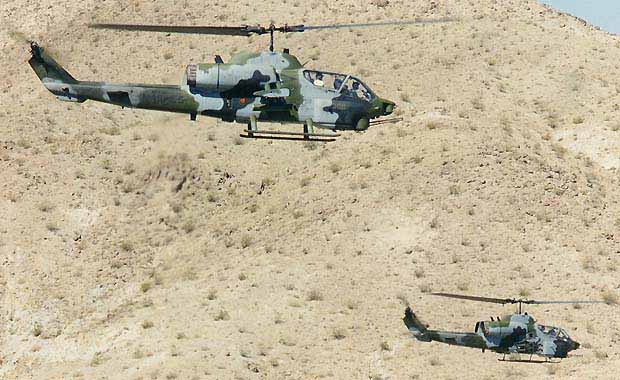 Undersecretary of Defense Industries Murad Bayar told reporters that he is optimistic about the purchase of Super Cobra helicopters from the U.S. Navy, amidst reports that a Turkish delegation is visiting Moscow to discuss the procurement of Russian MI-28 helicopters. In a stalled bid, the Turkish military has been eyeing additional strike helicopters as a stop-gap measure to meet its needs until its own national attack helicopter project becomes operational.
Attack helicopters have been on Turkey's defense procurement agenda since the 1990's. In order to increase the army's effectiveness in combating the PKK, Ankara designated attack helicopters as an urgent requirement, and developed multi-million dollar programs to meet the army's needs. Following the purchase of several Cobra class platforms, the subsequent tenders Turkey opened were cancelled due to price disputes, licenses and technology transfers and the changing political climate. Consistent with Turkish military procurement policy after 2004, it initiated a national helicopter gunship program.
However, due to the stringent regulations on local participation and technology transfers, American firms could not participate in tenders, and Turkey eventually awarded the contract for the production of its national attack/tactical-reconnaissance helicopters to the Italian AgustaWestland. Under the $3 billion project, the Turkish army will acquire 50 T129 helicopters, a modified version of the Italian Mangusta-A129. The deliveries were expected to start in 2013, but some sources claim that this date be pushed back to 2015 (EDM, June 27, 2008).
Criticism surrounding Turkey's military modernization program has continued unabated. According to its critics, Turkey's handling of the helicopter project since the outset reveals poor planning and the lack of direction within the defense industry. Many ambitious weapons systems including main battle tanks, assault helicopters and UAV's are to be produced domestically, but their design and prototypes will not be ready before 2012. Critics claim that "if the development of those projects was not followed closely, the Turkish defense industry might face a serious crisis in 2012 after falling short of meeting the real needs of the Turkish armed forces" (EDM, January 6).
Meanwhile, the Turkish army reported deficiencies in combating the PKK caused by the delays in the helicopter program, especially after the escalation of the PKK's terrorist campaign in recent years. The helicopters within the Turkish military inventory, mostly Cobra class, are aging and fall short of the army's operational meets. This situation lends credibility to the critics' arguments, since although an attack helicopter project was considered as urgent in the 1990's, it remains unfinished -and it will take several years before the army will acquire the quantities it needs.
Realizing that even under the most optimistic estimates national attack helicopters will not be delivered before 2013-2015, as a short term measure Turkey approached the United States in late 2007 to purchase up to 12 Cobra class helicopters already in use by the U.S. navy. U.S. sources said that they were in short supply. Since operations in Iraq and Afghanistan have overstretched U.S. military resources, Washington declined the Turkish requests (Turkish Daily News, March 28, 2008). Instead it offered Turkey AH-64 Apaches, but Ankara did not want them since having operated Cobras for almost two decades, the Turkish army lacked the infrastructure and personnel to operate Apaches. The Italian AgustaWestland offered its Mangusta-A129 helicopters, but the Turkish armed forces declined, arguing that the A129's engine was insufficient to meet its needs (Aksam, March 28, 2008).
The issue resurfaced several times, but the American side did not change their stance. Diplomatic observers maintained that although shortages were cited as the official justification, Washington refused to sell used Cobras to Turkey to punish Ankara's inflexibility over the attack helicopter tender. It was also claimed that Turkey's refusal to send additional troops to Afghanistan was behind Washington's reluctance to sell the Cobras to Ankara (Today's Zaman, April 14, 2008; Aksam, March 28, 2008).
Turkey then reportedly turned to Russia in late 2008. Turkish and Russian media reports claimed that, after being turned down by the United States, Ankara planned to procure 32 MI-28 Night Hunters, an all-weather day-night attack helicopter, in a deal worth $1 billion. However, Russian defense officials denied these claims and said that Turkey did not officially submit such a request (Cihan Haber Ajansi, December 22, 2008).
Nonetheless, Turkish interest in pursuing the Russian option has continued, reportedly negotiating the purchase of at least 12 MI-28 choppers (Taraf, June 10). Russian defense industry officials attending the IDEF 2009 arms fair in Istanbul in late April maintained that Turkey showed interest in buying Russian air defense systems and combat helicopters (RIA Novosti, April 27). According to recent reports, a delegation from the Turkish defense ministry traveled to Moscow in order to explore the possible acquisition of between 12 and 32 helicopters within the next two or three years (RIA Novosti, June 15).
In response to a question about the visit of a Turkish delegation to Moscow, Bayar told reporters "I am very hopeful about the purchase of Cobra W class [AH-1W-Supercobra] helicopters… I believe we will acquire them. The U.S. navy is considering the acquisition of the Z series, and they will not need the Cobra W class." He added that during his visit to the United States, the Turkish Chief of the General Staff General Ilker Basbug also raised this issue with his American counterparts (Radikal, June 14).
Given the feasibility concerns, the Turkish government is likely to reach a decision after comparing the Russian and American platforms. In addition to technical and economic factors, political considerations will also play a key role in Ankara's decision. Given the recent rapprochement between Turkey and the United States, it might indeed acquire the Cobras as a temporary measure. Turkish plans to make a greater contribution to Afghanistan following Basbug and Foreign Minister Ahmet Davutoglu's contacts (EDM, June 16) might help remove the objections of the U.S. army to Turkey's requests.
Nonetheless, these developments demonstrate how Ankara treads carefully between Moscow and Washington to maximize its leverage. In line with its recent foreign policy orientation, Turkey also appears equally determined to keep its options open in its defense procurement policies.