Turkey in Game of Chicken with Syria
Publication: Eurasia Daily Monitor Volume: 9 Issue: 124
By: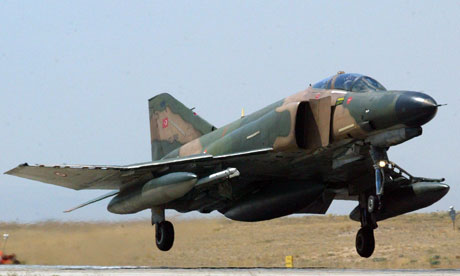 Turkey-Syria relations have entered a new stage after Syrian forces shot down a Turkish F-4 fighter jet on June 22 in international waters over the Mediterranean Sea. Syria claimed that the Turkish jet violated Syrian airspace, but Turkey protested that its aircraft was in Syrian airspace for only a brief time and left after just two minutes. Thirteen minutes after the Turkish plane exited Syrian airspace, Syria's air defense forces shot down the jet. Its two pilots are still missing (TRT, June 24). Turkey considered the Syrian aggression to be an attack against Turkey and claimed that Syria has become a security risk for the region. In response to the incident, Ankara requested a meeting of the North Atlantic Alliance's ambassadors in Brussels after invoking Article 4 of NATO's founding treaty, which entitles any member state to ask for consultations if it believes its security is threatened. At the consultation meeting, which was held on Tuesday, June 26, NATO members extended their support to Turkey and warned Syria not to ever again engage in such aggression. NATO Secretary General Anders Fogh Rasmussen said: "It is another example of the Syrian authorities' disregard for international norms. NATO allies will remain seized of developments" (hurriyetdailynews.com, June 26).
Turkey has outlined its action plan against Syria. Turkish Prime Minister Recep Tayyip Erdogan stated that Turkey considers Syria a regional security risk and that, in response, Turkey was changing its military rules of engagement. Prime Minister Erdogan declared: "Every military element approaching Turkey from the Syrian border and representing a security risk and danger will be assessed as a military threat and will be treated as a military target" (hurriyet.com.tr, June 26).
Turkish experts believe that Erdogan's statement suggests Ankara aims to build a de facto free zone inside Syria to protect Syrian oppositionists (Radikal, June 27). However it is unlikely that the Bashar al-Assad regime will allow Turkey to build such zone without military engagement with the Syrian Army.
Syrian President Assad told Iranian state television on Thursday that there is a difference between the policies Ankara endorses and the Turkish people's view of Syria. Assad criticized Turkey: "What we see now shows the stance of some Turkish officials but not all." He further said, "The policies of the Turkish officials lead to the killing and bloodshed of the Syrian people." Assad noted he does not believe the crisis will result in military action in Syria, saying that what took place in Libya was "not a solution to be copied because it took Libya from one situation into a much worse one." He added, "We all now see how the Libyan people are paying the price" (Today's Zman, June 29).
Meanwhile Turkish diplomats have been working hard to bring the international community together against Syria. A Turkish diplomat told Jamestown on June 27 that Turkey will respond to Syria on its own timetable. However, Ankara will definitely take some action against Damascus, within the limits of international law. Syrian aggression against Turkey will not be tolerated, the diplomat said.
Iranian diplomats, on the other hand, have urged Ankara and Damascus to show "restraint." Iranian Foreign Minister Ali Akbar Salehi openly asked "both sides to show calm and restraint and hopes that, with tact and tolerance and dialogue, this issue will be evaluated; and through a peaceful resolution, tranquility and stability will be preserved in the region" (ANKA News Agency, June 24). Russia took a similar approach toward Turkey. The office of the Turkish Prime Minister revealed Erdogan had called Russian President Vladimir Putin to discuss the incident. According to Erdogan's office, "Putin expressed his deep sorrow over the incident during the talk." However, as Hurriyet Daily News pointed out, "Moscow described the attack as 'unintentional and not provocative,' obviously challenging Ankara's technical findings on the incident" (hurriyetdailynews.com, June 28).
Meanwhile, according to Turkish press reports, the Turkish military has been deploying armed units on the Turkish-Syrian border. For instance, in Gaizantep province, Turkey has deployed units armed with Stinger surface-to-air missiles aimed toward Syria (milliyet.com.tr, June 29).
In response, Syria has also been positioning its military units on the Turkish border. According to a general from the Free Syrian Army, Assad deployed 170 tanks close to Turkish territory. It could be a challenge to Turkey as well as a signal of a planned operation inside Syria, the general said (milliyet.com.tr, June 29). As expected, the Syrian regime has been deploying its military on the border to avoid the creation of a free zone inside its territory by outside forces; such a zone would be a safe haven for the Syrian opposition.
As late as today (June 29), Prime Minister Erdogan once more highlighted Ankara's position on Syria: "When it comes to protecting our border, we will turn into a flood to wash over our enemy" (hurriyet.com.tr, June 29).
Despite Erdogan's warmongering rhetoric, Turks do not want to engage in a war. According to an opinion poll carried out by ANAR, only five percent of Turks want to initiate a war with any other country, including Israel (Sabah, June 27).
As Turkish expert Sami Kohen argues, Turkey's strategy is based on a "controlled tension to mount pressure on the Assad regime." Syria, on the other hand, expects mediators such as Russia and Iran to extend an apology and perhaps even some compensation to Ankara on behalf of Damascus. However, such an offer would not satisfy Turkey (Milliyet, June 29).
Thus, in the coming days, we should expect a game of chicken to play out on the Turkish-Syrian border. Whichever party loses its nerve first will also lose the game.