Turkey Looks Forward, Talks SCO
Publication: Eurasia Daily Monitor Volume: 10 Issue: 27
By: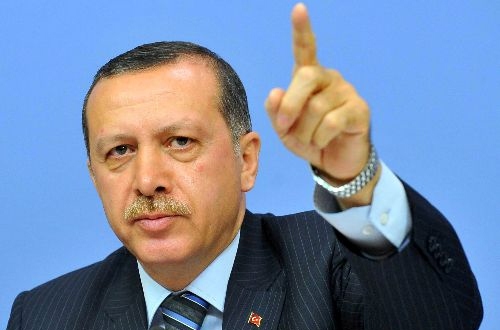 In his TV interview on February 1, Turkish Prime Minster Recep Tayyip Erdogan suggested that Turkey is ready to drop its European Union membership bid and become a member of the Shanghai Cooperation Organization (SCO), comprising Russia, China and four Central Asian states—three of them Turkic.
"The EU wants to forget about us, but hesitates, and cannot really forget. But if it said what it truly feels, we would be only relieved. Instead of wasting our time, it should be open and explain, so that we can go about our business. You sit and talk with them, but they cannot really speak convincingly. When things go so poorly, you inevitably, as the prime minister of 75 million people, seek other paths. That is why I recently said to Mr. [Vladimir] Putin: 'Take us into the Shanghai Five [former name for the SCO]; do it, and we will say farewell to the EU, leave it altogether. Why all this stalling?'" Asked to elaborate, Erdogan stated: "The Shanghai Five is better and more powerful and we have common values with them" (Today's Zaman, February 1).
"The SCO member states will meet and decide together on the applications proposed by states that are interested in joining," a Chinese official said on February 1 (Today's Zaman, February 1). There was no immediate comment from Russia. Turkey now reportedly has a "dialogue partner" status with the SCO.
If the statement was intended to accelerate Turkey's EU accession, the timing was poor because Brussels is certainly not ready at this juncture of its economic and identity crisis. Yet, it does pose a question whether recent global, regional and domestic shifts have turned Turkey's drift toward the East into a break with the West.

Large portion of Turkish society, including many in leadership circles and opposition groups, are frustrated with the delayed, allegedly politicized accession process that could make Turkey the EU's seventh largest economy. A study by a Turkish think tank finds that Turkish popular support for accession has declined from 70 percent a decade ago to just 30 percent today (Hurriyet Daily News, February 2). According to another study, 92 percent of the population thinks the EU has pursued a double-standard policy toward Turkey (Today's Zaman, February 3).
Erdogan's comment has drawn criticism from opposition groups who charge that the country's economic ties to Europe as well as Turkey's democratic development will suffer if Ankara turns away from the EU. Turkey's trade with Europe has already declined from 55 percent in 2003 to 40 percent today. Furthermore, a recent Freedom House report argues Turkey has seen a decline in democratic standards since 2012 and points out risk to civil liberties amid "the pretrial detention of thousands of individuals—including Kurdish activists, journalists, union leaders, students and military officers—in campaigns that many believe to be politically motivated" (Trend.az, January 30; Today's Zaman, February 3).
Several factors have facilitated Turkey's rapid drift to the East and SCO membership in particular. Under the Erdogan-led Islamic Justice and Development Party (AKP)-dominated government since 2002, Turkey's economy has become the world's 15th largest amid relative power shifts from the West to the "Rest." The stalled EU accession, the relative decline of the West in global politics, the war in Iraq and other regional crises have prompted the economically empowered Turkey to pursue stronger ties with neighbors and emerging powers worldwide, with Ankara emphasizing the country's Islamic civilization, engagement in its own neighborhood and eastern orientation. The leadership has markedly relied on the country's multiple identities to position Turkey as a pivot state seeking "strategic depth." It has pursued a "zero problems with neighbors" policy and used the country's growing "soft power" to promote trade and economic integration with its old and new partners.
Erdogan's comment should, therefore, not come as a surprise. Turkey's ties with Central Asia, Russia and China have grown significantly. Ankara is one of the six largest trading partners for Central Asia. Russia has become Turkey's top trading partner, with bilateral trade projected to triple and hit $100 billion in the next several years. Russia is also Turkey's third-largest oil supplier and the largest gas provider. Moreover, hundreds of thousands of Russian tourists visit Turkey, a boon for the country's tourism industry. China is Turkey's third largest trading partner, with Ankara and Beijing planning to expand their trade from $24 billion to $100 billion before 2020 (Turkish Weekly, January 13, 2011; The Economist, December 8, 2012; www.eia.gov, February 1; www.dw.de, February 19, 2012; Today's Zaman, February 22, 2012).
But Ankara's potential SCO membership presents its own challenges. The SCO is younger than the EU. Its members are still developing common values and interests. Moscow, Beijing and Ankara are as much strategic rivals as they are partners. They compete globally and in the energy-rich Caspian and Central Asia. The possible SCO membership is also seen as an obstacle for Turkey's democratic future.

Importantly, the EU may perceive Ankara's embrace of the SCO as a farewell to the West and act to Ankara's disadvantage, despite their deep shared values and interests. A large portion of Turkish society wants to see Turkey develop as a democratic state and remain engaged with Europe. In 2011, trade with the EU was still significant, reaching around 120 billion euros ($162 billion). In 2012, Turkey's exports to the EU were dropped from approximately 46 percent to 39 percent, but the EU still provides most of the foreign direct investment in Turkey, which in 2010 reached 76 percent. A growing hub for energy supplies to Europe, Turkey supports the EU's and its own drive for energy diversification, welcoming pipelines from the Caspian and Central Asia that both bypass and traverse Russia (https://trade.ec.europa.eu/doclib/docs/2006/september/tradoc_113456.pdf; https://www.ukti.gov.uk/export/howwehelp/overseasbusinessrisk/item/print/446140.html; Today's Zaman, September 18, 2011).
Turkey also has the second largest army within the North Atlantic Treaty Organization (NATO). Ankara works with the United States and European NATO members to counter Iran's influence and mitigate the conflict in Syria where Bashar al-Assad's regime finds strong backing from Russia and China, both SCO members. Turkey also views Russia's military support for Armenia with suspicion and is concerned about Beijing's tight grip on Xinjiang, which is home to Muslim Uigurs of Turkic origin.
Erdogan's statement does not, therefore, mean that Turkey has turned its back on the West. With its growing clout, Turkey wants to look forward. The East in general and SCO in particular offer that possibility, although differences in values and interests remain noteworthy.