Turkey Seeks Cheap Energy and Peaceful Nuclear Technology to Sustain Economic Growth
Publication: Eurasia Daily Monitor Volume: 8 Issue: 8
By: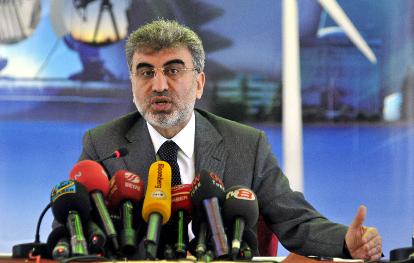 Energy policy continues to dominate Turkey's political agenda, as the Turkish Energy Minister, Taner Yildiz, has outlined various projects to address the country's energy needs. Yildiz found the performance of the Turkish energy sector in 2010 satisfactory, in many respects; the increasing energy generating capacity; growing role of the private sector in electricity generation and distribution, hence the emergence of a more competitive market; improvement in the efficient use of electricity; and the developments regarding Turkey's integration into the European electricity distribution grid (Anadolu Ajansi, January 7). In addition to tackling the domestic energy market, Yildiz, who was one of the most active members of the cabinet, seems determined to maintain his dynamic energy diplomacy this year, as he also traveled to Iran.
One dimension of this energy policy concerns the legacy of the global financial crisis. The crisis hit the Turkish economy badly, leading to a substantial decline in industrial production in 2008 and 2009. One legacy of the crisis was, thus, the penalties Turkey had to incur due to "buy-or-pay" conditions in natural gas contracts with Russia, Iran and Azerbaijan. Turkey has sought to revise the conditions of these contracts, so that it might ease their terms and possibly reduce prices: thus far, it has achieved only limited success. Yildiz said that Turkey will make payments to Russia and to a lesser extent Azerbaijan. Yildiz's trip to Tehran, though seeking to develop overall energy relations, was largely focused on improving the conditions of Turkey's natural gas imports from Iran. Following Yildiz's trip, the two sides decided to form technical committees to further discuss this issue (www.enerji.gov.tr, January 8).
Turkey's quest for cheap energy continues, especially against the background of its recent economic growth. The country's financial system weathered the global crisis and in 2010 Turkey's domestic consumption and growing exports helped revitalize the production sector. Notwithstanding the criticisms of its economic policy, the Turkish government has prided itself on its recent economic success and attributed this to the government's wise management of the economy. Though the rapid economic recovery in 2010 lends partial support to the government's arguments, it also prompted the resurfacing of a related challenge: the need for cheap energy resources to sustain economic growth. Since Turkey heavily relies on imported fossil fuels, the improvement in Turkey's industrial production has resulted in hikes in imports, widening the foreign trade deficit. Ankara, thus, increasingly feels the pressure to diversify its energy supplies to counteract this vulnerability.
Despite this import-dependent economic growth pattern, Turkish leaders are keen to boost economic development in the future, which is closely related to the new foreign policy vision. In order to complement the country's rising political influence in regional and international affairs, the government wants Turkey to become one of the top tier economies worldwide. The government usually refers to the year 2023, the centennial of the Turkish Republic, as a benchmark. Prime Minister, Recep Tayyip Erdogan, announced recently that in the upcoming parliamentary elections this summer, his party will run on a platform that will aim to make Turkey the tenth largest economy in the world (Star, January 1; Anadolu Ajansi, January 8). Foreign Minister, Ahmet Davutoglu has been advancing a similar argument for some time (Zaman, November 30, 2009). Recently, Davutoglu reiterated the same headline goal, yet also pointed to the need for addressing energy supply security.
It is in this context that Turkish leaders make frequent references to their determination to realize ongoing energy projects, especially the construction of nuclear power plants. Davutoglu, thus, acknowledged openly Turkey's determination to use nuclear power, in his evaluation of the future of Turkish foreign policy (EDM, January 6): "We do not accept limitation of countries' quest for nuclear technology, just because they might try to develop nuclear weapons. Because, the Turkish economy is growing, we aim at our GDP reaching $2.5 billion, so that we reach the list of top ten economies. Since we have neither natural gas nor oil, we are left with two options: renewable and nuclear energy. There are limits to renewables. Nuclear power is the cheapest, if you have the necessary technology" (Anadolu Ajansi, December 26, 2010).
In his assessment of Turkey's energy sector in 2010 and the future prospects, Yildiz also emphasized nuclear energy. Interestingly, Yildiz referred to French interest in the Turkish energy sector. Specifically, Yildiz said that his ministry had recently reviewed an offer from France for the construction of a nuclear power plant and that talks with French authorities were underway. Though he did not comment on the details of the project, Yildiz said that leading French energy companies, Ariva, GDF and EDF, had expressed interest in the project. Yildiz noted that the energy ministry set up three teams to handle the talks with Russia, Japan and France (Today's Zaman, Hurriyet Daily News, January 8).
This statement indicates that Turkey is slowly abandoning its earlier position on energy cooperation with France. To protest against the French position on the Turkish-Armenian dispute regarding the alleged genocide claims and objections by Paris to Turkey's EU membership aspiration, Ankara had sought to exclude France from its energy sector. Turkey has recently sent signals that it might revise this policy (EDM, March 16, 2010). Moreover, Yildiz's remarks provide further evidence that the government is willing to explore all avenues to pursue nuclear technology. After concluding a deal with Russia for the construction of the first nuclear plant, Turkey engaged in talks with South Korea. Even before the negotiations with South Korea came to an inconclusive end, Turkey started talks with Japan (EDM, November 30, 2010), and according to Yildiz currently the discussions with Tokyo are proceeding positively. By adding France to the list of its potential partners, Turkey is signaling that it approaches this matter pragmatically and is ready to pit the bidders against each other when necessary.
It remains to be seen if the government's target of making Turkey the tenth largest economy is realistic. In any case, several projections show that emerging countries like China, Brazil and Turkey are likely to grow faster than many industrialized nations and overtake some G7 countries in the coming decades. Thus, Turkey's demand for cheap and reliable energy and its quest for peaceful nuclear technology will remain as a major factor shaping its foreign and domestic policies.