Turkey-Turkmenistan Ties Flourish in Economic Realm
Publication: Eurasia Daily Monitor Volume: 9 Issue: 50
By: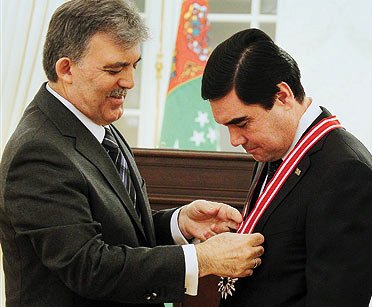 Turkmen President Gurbanguly Berdimuhammedov's visit to Turkey on February 28-March 1, highlighted the evolving nature of the two countries' bilateral relations, built around flourishing economic ties. Berdimuhammedov's first foreign trip since his reelection on February 12 also provided an opportunity to mark the 20th anniversary of the establishment of Turkish-Turkmen diplomatic ties since Turkmenistan's gaining independence. With many cabinet members, officials and businessmen in his entourage, the visit also provided an opportunity to deepen the relations.
Ankara's official relations with Ashgabat have been largely carried out by President Abdullah Gul, who has paid four visits to Turkmenistan so far. His last official trip was in May 2011, during which he discussed ways to improve cooperation in energy, construction, transportation and communication. Berdimuhammedov also expressed his satisfaction with the accelerating pace of the bilateral ties and underscored that his country viewed Turkey as a strategic partner. For his part, Gul has been particularly interested in improving energy cooperation between the two countries (Anadolu Ajansi, May 31, 2011).
During Berdimuhammedov's visit, Gul showed the highest level of hospitality, underscoring the importance attached to developing bilateral ties. He decorated Berdimuhammedov with a state medal of honor, which crowned many agreements penned to bolster cooperation in trade, tourism, the fight against terrorism, training of diplomats, etc., in addition to various other business deals. Berdimuhammedov again reiterated that Ashgabat views its relationship with Ankara as strategically important, and Turkmenistan would welcome even a larger involvement of Turkish companies as his country works to rebuild its cities through numerous infrastructure investments. The Turkish-Turkmen Business Forum attended, by both leaders in Istanbul, allowed the parties to discuss specific projects (Anadolu Ajansi, February 29, March 1).
Reflecting the high premium placed by Ankara on mutual economic relations, Turkey's Economy Minister Zafer Caglayan has also frequented Ashgabat lately. Caglayan's last visit was in January where he also attended the bilateral business forum and was received by Berdimuhammedov. During that visit, a protocol was signed within the context of the Turkish-Turkmen Intergovernmental Economic Committee, and the parties agreed to instruct their Central Banks to make necessary arrangements so that they could use their national currencies in bilateral commercial deals. Caglayan especially expressed his satisfaction with Turkmen officials' welcoming attitude toward Turkish construction companies, adding that the latter won up to 90 percent of government construction tenders in Turkmenistan (www.haberturk.com, January 30, 2012).
Nonetheless, although Turkey became a major trading partner for Turkmenistan, relations have yet to live up to the ambitious rhetoric. Turkey's trade with Turkmenistan and Turkish-speaking countries, despite a two-fold increase in the last five years, still makes up only a small fraction of its overall trade. While the trade volume between these countries was $8.6 billion in 2011, it only accounted for three percent of Turkey's overall trade volume. Turkmenistan ranked third after Azerbaijan and Kazakhstan in Turkey's overall trade with Turkic-speaking countries. While Turkey's imports from Turkmenistan were worth $392.7 million, its exports totaled $1.5 billion (Anadolu Ajansi February 6).
Turkey's main economic activity with Turkmenistan and partly other Turkic-speaking countries has been in construction projects. Many of these countries have been working to rebuild, using the wealth generated by their energy riches. Turkmenistan has stood atop that list in recent years. For instance, in a development that marked the growing importance of Turkmenistan for Turkish contractors' international operations, in 2010, Turkmenistan ranked number one on the list of tenders assumed by Turkish companies in around 50 countries. Of the total $20.3 billion in projects that Turkish firms undertook globally in 2010, they contracted on tenders worth $4.3 billion in Turkmenistan, followed by Libya, Iraq and Russia. To date, the total volume of projects undertaken by Turkish companies in Turkmenistan exceeded $23 billion, corresponding to about 10 percent of the Turkish firms' operations worldwide (Anadolu Ajansi, March 19, 2011; July 25, 2011).
With these statistics, Ankara has been Ashgabat's chief trade partner, while Turkmenistan emerged as the main destination of Turkish investments in Central Asia. Most Turkish economic activity in Turkmenistan is carried out by small or medium scale enterprises. Established there by Turkish investors following Turkmenistan's independence, some of these companies acted rather in an adventurous manner and took risks. While many of them lost their investments in the 1990s, the first comer's advantage worked in favor of many others who later became important business actors.
Granted, Turkish investors still encounter problems. One particular issue has been the difficulties in receiving payment for the projects they complete in Turkmenistan. In addition to inviting new investments to take advantage of attractive business opportunities in his country, Berdimuhammedov also promised to solve the payment problems. Representatives from some Turkish business associations raised questions about his sincerity, as similar promises in the past have not ended the controversy – current pending payments for completed projects are worth $1.3 billion (Hurriyet Daily News, March 2). However, other Turkish firms doing business in the country had been presenting a different picture about the causes of the dispute. A large group undertaking major infrastructure work to build 180 bridges in the country maintained that those that complete their project on time face no such problems (Cihan, February 14).
Such high level contacts and flourishing economic ties highlighted the seamless political relations between Ankara and Ashgabad. Turkey was the first country to recognize Turkmenistan's declaration of independence and also supported its decision to pursue neutrality in 1995. Following the euphoria of the early 1990s, the Turkish-Turkmen relationship was severely restricted during the later period of Saparmurat Niyazov's (Turkmenbashi) reign (1991-2006). While his isolationist policy of neutrality was partly responsible for the deteriorating state of affairs, the negative experiences of some Turkish businessmen who went to the country early on also led to the cooling off of the relationship. With Berdimuhammedov's policy of opening up, which also corresponded to a proactive foreign policy course pursued by the current Turkish government, there has been a visible increase in bilateral exchanges. With the latest trip, Berdimuhammedov has been to Turkey for a fifth time, and especially in the economic realm the progress has been remarkable. For its part, Turkey has been hoping to bolster ties with this energy-rich country, which provides a major avenue for Turkish business operations abroad, especially while the turmoil in the Middle East raises questions about the prospects of these markets.