Turkey's Generals Speak out on Counter-Terrorism Strategies
Publication: Terrorism Focus Volume: 4 Issue: 38
By: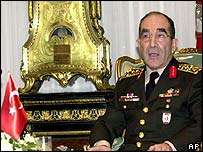 Turkish journalist Fikret Bila has just released an important work based on interviews with a number of retired Turkish military commanders. Komutanlar Cephesi (The Commanders' Position) examines the generals' views on Turkey's past and present security efforts. Excerpts from interviews with five retired generals were first published by the Turkish newspaper Milliyet in the week of November 5-9, and later reprinted in an English translation in the Turkish Daily News, November 12-16. With tensions along the Turkish-Iraqi border at their peak, the generals' comments provide useful insights on Turkish military policy in the region.
With at least two divisions of the Turkish Armed Forces (TSK) deployed along the Iraqi frontier, cross-border operations were naturally a topic of discussion for the generals. General Doğan Güreş (Chief of General Staff, 1990-1994) emphasized the need for secrecy in mounting successful cross-border operations, especially against the highly mobile PKK. In 1992 Güreş was able to bring 50,000 men up to the Iraqi border in relative secrecy. The efforts of Turkish military engineers in the following campaign allowed the TSK to insert armored units along PKK escape routes in mountainous areas, enabling the Turkish Armed Forces to deal a devastating blow to the Kurdish insurgents, which resulted in the ceasefire of 1993. General Ismail Hakkı Karadayı (Chief of General Staff, 1994-1998) also points out the value of surprise in making cross-border raids of the type made on northern Iraq during his command in 1995-1996. According to Karadayı, only an offensive posture is suitable in dealing with terrorism (Turkish Daily News, November 14).
General Hilmi Özkök (Chief of General Staff, 2002-2006) suggests that large-scale cross-border operations have a political value but cannot be regarded as the solution to the PKK problem. PKK bases lay deep within Iraq and the guerrillas receive support from the local population. Target selection presents another difficulty; Özkök notes that the PKK "do not have war operation centers, officers' clubs, dormitories or training centers for us to hit and paralyze them" (Turkish Daily News, November 15). A further problem is presented by the rapid growth of communications and international news networks that make it increasingly difficult to mount surprise attacks. PKK leaders can learn of impending offensives simply by turning on the TV. Last Sunday's TV announcement by Iraqi President Jalal al-Talabani that the Turkish army has "definite plans" to launch a limited operation against PKK bases in northern Iraq seemed to punctuate the general's remarks (Al-Sharqiyah TV, November 17).
The development of asymmetric war techniques has also changed the tactical landscape. General Özkök described the growth of battlefield technology such as improvised explosive devices (IEDs) as going hand-in-hand with the development of asymmetrical warfare. Large-scale operations are no longer the preferred method for dealing with modern insurgencies, according to Özkök. General Güreş noted the importance of smaller units like the Turkish Special Forces, which are able to fight and operate in the mountains like a "Turkish PKK."
General Aytaç Yalman (Commander in Chief of the Gendarmerie, 2000-2002; Commander of the Turkish Land Forces, 2002-2004) pointed out that Turkey's powerful military gave it considerable weight in dealing with neighbors that sympathize with the PKK, like Syria. PKK leader Abdullah Öcalan was expelled from Syria in 1998 after it became clear that Yalman's Second Army was prepared to cross into Syria. The Syrians hastened to sign and implement the one-sided Adana Agreement, in which Syria agreed to list the PKK as a terrorist organization and expel its leaders. Though Öcalan was not handed over to Turkey at the time, the loss of government protection and sponsorship led to Öcalan's flight to several countries and eventual apprehension and deportation from Kenya to Turkey several months later. General Yalman credits U.S. intervention for ensuring Öcalan's extradition as part of an effort to promote the standing of Iraqi Kurdish leaders Massoud Barzani and Jalal al-Talabani (Turkish Daily News, November 12). The U.S. goal, according to Yalman, was to eliminate Öcalan as a rival to Barzani and al-Talabani for the leadership of the region's Kurds, while at the same time making the two Iraqi Kurdish leaders important clients and allies in the struggle against Saddam Hussein.
The Turkish military would also arm the Iraqi Kurds when it was deemed necessary, as in 1992, when Kurdish peshmerga militia attacks on the PKK began to falter. By 1995, however, General Karadayı decided not to involve peshmerga units in a massive raid by 35,000 Turkish troops. Helping Barzani and al-Talabani with arms and diplomatic assistance was a strategic mistake that only contributed to their goal of creating a Kurdish state, says General Özkök, who also acknowledges that the alternative could have been even worse.
General Güreş displayed the military's suspicions of U.S. intentions towards Turkish territorial integrity through a reference to "maps depicting a divided Turkey" (Turkish Daily News, November 13). Güreş was alluding to a U.S.-produced map of a "new Middle East' displayed at a NATO military college in 2006. Present Turkish Chief of General Staff Yaşar Büyükanıt received an official apology for the map, which showed a new Kurdish nation incorporating most of southeastern Turkey (Today's Zaman, September 29, 2006).
General Karadayı also points to international support for Kurdish "separatism" as a complicating factor in the struggle against the PKK (Turkish Daily News, November 14). Because of this, even successful TSK operations against the PKK must be accompanied by political and diplomatic efforts to combat terrorism. Karadayı points to his own success in having British authorities ban a Kurdish television station by asking what the British reaction would be if Turkey allowed the IRA to broadcast from Turkish territory.
The war against Kurdish separatism was carried out with intense severity during the rule of General Kenan Evren. A Korean War veteran, Evren was for many years the commander of "Counter-Guerrilla," the Turkish branch of NATO's secret and highly-controversial "stay-behind" army in Europe, known as "Operation Gladio." In 1980 General Evren led a military coup and later became president of Turkey from 1982 to 1989. The general still regards Turkey's failure to hang PKK leader Abdullah Öcalan as a major mistake: "If he had been hung after the final verdict was issued, there wouldn't be any trouble. But of course, a few protests would have taken place on his death anniversary. But he wouldn't have been able to issue directives from prison." After his arrest, Öcalan claimed that "it was the 'Gladio' arm of NATO, in fact, which imprisoned me" (Statement of Abdullah Öcalan on his abduction from Kenya, November 26, 1999 [1]).
Administrative aspects of Turkish counter-terrorist efforts also received the generals' attention. In 1983 the Turkish government passed the State of Emergency Law, creating a civil-military structure to deal with national emergencies such as national disasters or insurrection. Before that time the military had generally been given a free hand to deal with crisis situations. The new law also provided for the designation of State of Emergency Regions (OHAL) with civil administrators to replace martial law. General Özkök criticized the use of OHAL, claiming that it was a mistake that had a negative impact on the war on terror and "caused chaos in the chain of authority" (Turkish Daily News, November 15). General Karadayı was also known for having little respect for OHAL structures, often overriding the authority of local governors. Security regimes have recently been re-imposed on the Iraqi border region and some districts of southeastern Turkey.
One aspect that comes through in the interviews is a general acknowledgement that successful counter-terrorism efforts must now have a political, diplomatic and social dimension, in addition to the exercise of military force. General Özkök sees improved educational facilities and economic innovations like micro-credit as the path to reduced tensions in Kurdish southeastern Turkey. With Turkey on a war footing along the Iraqi frontier, the reflections of the retired TSK commanders provide a historical dimension to the debate over how Turkey should deal with the PKK threat.
Notes
1. Öcalan's statement can be accessed at https://www.hartford-hwp.com/archives/51/162.html.