Turkey's Kurdish Question: Irony Within Irony
Publication: Eurasia Daily Monitor Volume: 6 Issue: 37
By: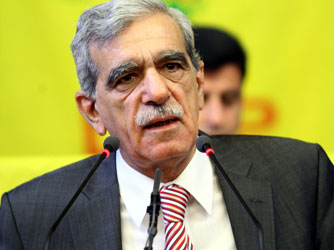 In November 2008 Prime Minister Tayyip Erdogan made one of his most disconcerting statements toward the Kurds in Turkey: "We have said, 'One nation, one flag, one motherland, and one state.'…Those who oppose this should leave" (See EDM November 4, 2008). In January 2009 the state-owned TV channel TRT 6 launched 24-hour broadcasting in the Kurdish language. Erdogan spoke Kurdish in his welcoming message to TRT 6. Even Justice and Development Party (AKP) parliamentarians appeared in various programs of Kurdish TRT, speaking in Kurdish and singing Kurdish songs. On February 21 Erdogan went to Diyarbakir and revealed his plan to open Turkey's doors to the famous exiled Kurdish singer Sivan Perwer (Aksam, Radikal, Taraf, February 22).
Perwer's story is another example of irony in Turkey's long-lasting Kurdish debate. Perwer was forced to flee from Turkey in 1976 just for singing a Kurdish song. Since 1976 he has lived in Germany. The name of the song that that led to his exile from Turkey was "Mihemedo." A TV producer was sentenced to five years in prison in 1999 just for playing "Mihemedo" on his local TV station (Yuksekova Haber, December 30, 2008). Ironically, "Mihemedo" is a folk song telling the story of a soldier from the Kurdish city of Diyarbakir, who joined the Ottoman Army in World Ward I and lost his life for his country. The same song that caused Perwer to flee the country was the opening song of TRT 6.
TRT 6's 24-hour Kurdish broadcasts and Erdogan's few sentences in Kurdish asking Kurdish singers to return to their country received applause from various segments of society. On February 24 Ahmet Turk, the Chairman of the Kurdish nationalist Democratic Society Party (DTP) stated that "The prime minister is speaking Kurdish. In fact, all people should speak freely in their native language. There should be no problem speaking Kurdish under the roof of parliament. Thus, today I will speak Kurdish in our party session in parliament" (Zaman, February 25). When he began speaking Kurdish, the state-owned TRT 3 TV channel, which televises parliamentary sessions live, stopped broadcasting and issued a statement saying, "The Turkish Constitution and the Law on Political Parties only allow speaking Turkish. In the political party meetings, speaking any other language is not permitted. Therefore, we have to stop broadcasting" (TRT, February 24).
Expectedly, Turk's Kurdish speech sparked a controversy among Turkish and Kurdish intellectuals. The Kemalists elites started accusing Erdogan of not understanding the Kurdish question. They argued that Ahmet Turk's attempt to speak in Kurdish in parliament showed that Kurdish broadcasting on state-owned TV and Erdogan's statements in Kurdish would not solve the problem (Milliyet, February 25).
Umit Firat, a Kurdish intellectual who writes extensively in Kurdish and had suffered because of his pro-Kurdish position, also disapproved of what the DTP chairman did in parliament. He stated that:

There is a regulation for each state-owned TV channel that outlines how and in what language it broadcasts [Implying that what TRT 3 did was right]. What is interesting, however, is the fact that when the DTP formed a group in parliament, Ahmet Turk openly declared that DTP would not make the same mistake that was made in the 1990s. What has changed? Suddenly Ahmet Turk came out and spoke Kurdish in parliament (Milliyet, February 24).

Speaker of the Grand National Assembly Koksal Toptan stated that it was not the first time that people had spoken Kurdish in parliament. There was no punishment for doing so. The constitution and other laws that regulate issues related to political parties do not, however, allow speaking in any other language during party meetings or parliamentary sessions. Therefore, TRT 3 stopped broadcasting when Ahmet Turk started speaking in Kurdish (www.gazeteport.com, February 25).
Political analysts think that Turk spoke in Kurdish because he was aware that his DTP party could lose some key Kurdish cities in the upcoming provincial election on March 29. In fact, in his Kurdish speech Turk directly criticized the AKP candidate for mayor of Diyarbakir (www.gazeteport.com, February 25). Liberal analysts believe that Turk's attitude made it necessary for Erdogan to show whether he had been sincere in his liberal stance on the Kurdish question for the last two months (Radikal, February 25).
It appears that the speech in Kurdish was an election strategy planned by the DTP to put Erdogan in a conflict between his Turkish and Kurdish constituencies. In order to ensure Kurdish votes, Erdogan would have to support Turk's action in parliament, but this could lose Turkish votes for the AKP. If Erdogan criticized what Turk did, this would enable the DTP to demonstrate that Erdogan's liberal discourse on the Kurdish question was just a political ploy to win Kurdish votes. On the surface the DTP strategy appears to be a clever move; but if Erdogan can show that it was simply a political maneuver done out of fear of losing in the Kurdish provinces, the DTP could become a hostage to its own election stratagem.
Whatever the motive for the speech was, speaking Kurdish in parliament once again shows that Turkey is a country full of ironies. It also shows that the Turkish people are ready to accept a reasonable democratic solution, inasmuch as a majority of the public was not incensed by the Kurdish parliamentarian's speech. When Kurdish parliamentarians spoke Kurdish in 1992, the people responded with outrage. Today, however, the reaction to Ahmet Turk was mild.