Turkey's Military Procurement Dilemma with Israel
Publication: Eurasia Daily Monitor Volume: 6 Issue: 99
By: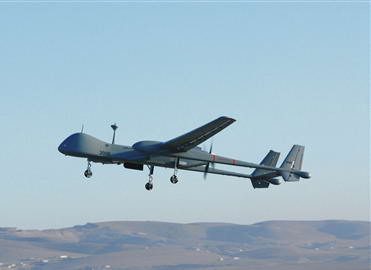 The latest hurdle to emerge between Israel and Turkey over the persistent technical problems in developing the former's Heron Unmanned Aerial Vehicles (UAV's), has highlighted not only the weakness of the Turkish defense industry infrastructure, but also Israel's customary failure to fulfil its commitments. "It is not the first time that Israel has failed to meet its commitments, at least in Turkish projects," one Turkish defense industrialist told Jamestown. He recalled that in many projects involving Israeli companies – including the modernization of Turkey's U.S. General Dynamics made 170 M60 A1 tanks and the joint production of counter-measure dispenser systems – Israel failed to honor its offset and technology transfer commitments.
However, despite the ongoing technical problems with the UAV's, which prompted the Israeli daily Haaretz to claim on May 18 that Turkey might cancel its Heron deal with the IAI and Elbit companies, the Turkish Defense Minister Vecdi Gonul said the project will proceed (NTV News Channel, May 20). However, he added that the Heron project is currently under examination, though he avoided providing any further details.
Murad Bayar, the undersecretary of the Turkish Defence Industries (SSM), meanwhile, told reporters that Israel has informed SSM that it will deliver the Herons with a new engine fitted to the UAV's by August, thereby fully complying with the terms of the contract (Cumhuriyet, May 21).
"Despite a two year delay, it is still a project that might succeed," Bayar said. He further explained that four Herons will be delivered in August, with the remaining six delivered in two stages. Turkey has set July as a deadline to resolve the setbacks occurring in the Heron UAV's, indicating that it might cancel the project if the technical issues are not addressed (Jamestown interview with a Turkish defense contractor, May 19).
At the center of the Heron dispute is the IAI-Elbit consortium's failure to fit Turkey's Aselsan-made electro-optical payloads (Aselfir300T) on the two Heron UAV's delivered to Ankara in late November 2008. The Aselsan payloads were heavier than required (it can carry multiple payloads of up to 250 kilograms), neccesitating the strengthening of the Heron UAV engines.
In April 2005 Turkey signed a contract awarding Israel's IUP partnership of IAI and Elbit for an off the shelf purchase of 10 medium-altitude, long-endurance UAV's as well as surveillance and command and control equipment, eliminating the U.S. General Atomics Aeronautical Systems Inc. from the contest. The project was valued at $183 million. Under the contract, Israel accepted the responsibility of integrating Aselsan payloads on the Heron UAV's in order to enable it to reach an altitude of 30,000 feet and sustain flight for upwards of 40 hours.
IAI officials insist the Herons are reliable UAV's. "The Heron system, as well as other Israeli manufactured UAV systems, were tested and accepted by numerous customers worldwide, and have been operating intensively ever since, with full customer satisfaction," they said (Today's Zaman, May 17). Heron derivatives have also been procured domestically for the Israeli Air Force, and its foregn customers include France and Canada.
Israeli sources told Jamestown that their companies made a mistake by accepting the Turkish contract terms, under which it committed to fit Aselsan payloads on the UAV's. Whereas, Aselsan payloads are developed through a research and development scheme, it was not a matured system. "In the very beginning Israeli companies should have refused to install a newly developed Turkish system on Heron UAV's which are successfully used by the Israeli Defense Forces," said the same source (Interview with Jamestown, May 19). One Israeli military source told Jamestown that Tel Aviv feared it might lose its chance to secure future Turkish contracts, which compelled Israeli companies to meet Ankara's requirements.
Paradoxically, Turkey, which eliminated the U.S. General Atomics due to its refusal to accept the integration of Aselsan payloads on its UAV's, has asked the company to supply two Predator UAV's as a stop-gap measure to meet its requirements in combating the outlawed Kurdistan Workers Party (PKK).
The recent dispute between Israel and Turkey, which signed defense cooperation agreements in 1996, came in the context of soured relations following Turkish Prime Minister Recep Tayyip Erdogan's dramatic walkout at Davos in late January, in protest over Israel's operation in Gaza. However, the Turkish government's strong protest did not prevent the politically powerful military signing a deal with the country prior to that operation in December 2008.
The Israel Aerospace Industries Ltd. (IAI) and Elbit Systems Ltd. announced on December 25, 2008 that their subsidiaries, (ELTA Systems Ltd. and Elbit Systems Electro-Optics Elop Ltd.) secured a $141 million contract ($54 million awarded to ELTA and $87 million to Elbit Systems) to supply the Turkish Air Force with combined airborne imagery intelligence systems. The remaining $24 million will be Aselsan's share, as the main contractor in the project -with a $165 million total cost for the project. According to 2007 figures, while the Turkish-Israeli trade volume stood at around $2.6 billion, defense contracts were estimated to be worth $1.8 billion -mostly in favor of Israel.
Israel offers Turkey high-technology military assets when requested by Ankara – despite its occasional failure to fulfil its commitments – one retired Turkish colonel familiar with Israeli-Turkish military cooperation told Jamestown. Israel is assumed to be Turkey's second largest military procurement partner (after the U.S.). This is despite the fact that the Israeli government often refuses to transfer certain critical technologies to Turkey in projects contracted to Israeli companies, which has become a source of frustration in Ankara.
In general, the delays over the UAV projects lie in the Turkish request for the transference of high-technology products, which Israel often fails to meet even after it signs contracts. The deficiencies in Turkish arms products, due to the country's weakness in the field of high-technology products means that Ankara is around 70 percent reliant on importing foreign critical technologies. The problems surrounding the Aselsan pod is only the latest illustration of this dilemma, according to one Turkish defense industrialist speaking to Jamestown.