Turkish-Armenian Accords Pronounced Dead By Yerevan
Publication: Eurasia Daily Monitor Volume: 8 Issue: 31
By: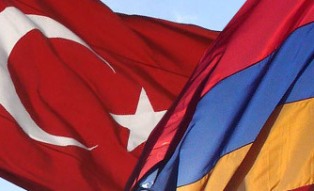 Armenia has announced the effective demise of its Western-backed rapprochement with Turkey, which could see relations between the two historical enemies sink to a new low. Yerevan has accused Ankara of "ruining" the normalization agreements signed by the two governments in October 2009 and threatened to annul them altogether if the Turkish side continues to link their implementation with the Karabakh conflict.
Armenian President, Serzh Sargsyan, personally raised the stakes in Turkish-Armenian relations with a series of unusually strongly-worded statements late last month. Such statements exposed Sargsyan's growing frustration with Turkey's refusal to unconditionally establish diplomatic relations and re-open its border with Armenia –which was envisaged by the two normalization "protocols." The protocols were signed in Zurich in the presence of senior diplomats from the United States, Europe and Russia after more than one year-long negotiations that led to an unprecedented thaw in Turkish-Armenian relations. Improvement of this bilateral relationship has long been a key Western policy goal in the region: hence, US and European policy-makers' strong endorsement of the process. US Secretary of State, Hillary Clinton's, presence at the signing ceremony underscored its significance for Washington (Armenian Public Television, January 30).
Amid an angry backlash from Azerbaijan, the Turkish government made clear afterwards that Turkey's parliament, in which it has a comfortable majority, will not ratify the protocols without decisive progress in Armenian-Azerbaijani peace talks towards a Karabakh settlement acceptable to Baku. Armenian leaders rejected this precondition, saying that neither document makes any reference to the Armenian-Azerbaijani dispute. They also said the Turkish side did not raise the Karabakh issue during their fence-mending talks with Yerevan. Citing Ankara's renewed Karabakh linkage, Sargsyan suspended the process of Armenian parliamentary ratification of the protocols, but stopped short of abrogating them in April 2010. In a televised address to the nation, Sargsyan said he decided not to formally scrap the protocals at the request of the US and other foreign powers (Armenian Public Television, April 22, 2010). Clinton praised this stance as "very statesmanlike" when she visited Yerevan in July 2010.
No further Turkish-Armenian talks have been reported since then. Armenian diplomats have dismissed their Turkish colleagues' implicit claims that contacts between the two sides are going on behind the scenes and that the process remains alive. Sargsyan publicly insisted that it is actually dead during a state visit to Cyprus last month. "With its contradictory posture, inconsistent statements and groundless manipulation of the [Turkish-Armenian normalization] process, Turkey destroyed it. Turkey backed away from its commitments and not only failed to ratify the signed protocols but also reverted to its old positions adopted before the process," Sargsyan declared in a January 17 speech in the Cyprus parliament posted on the presidential website (www.president.am). Sargsyan also attacked the current Turkish leadership's "neo-Ottoman" foreign policy and its perceived aspirations to play a leadership role in the South Caucasus.
The Armenian leader went on to strongly condemn the continuing Turkish occupation of nearly half of the island state and voiced unconditional support for its Greek-dominated government. "Armenia will never accept any attempt to partition brotherly Cyprus," Sargsyan declared in remarks meant to not only upset Ankara but also counterbalance continuing Turkish allegations of "Armenian aggression" against Azerbaijan. Sargsyan's ensuing assertion that the Armenians and the Greek Cypriots are "natural allies" confronting the same foe was quite extraordinary even by the standards of his more hawkish predecessor, Robert Kocharian.
Sargsyan's reiterated his verbal attacks in a January 26 interview with Ekho Mosvky. "If things continue like this, it is possible that the only way out for us will be the withdrawal of our signature from those protocols, and in that case, those protocols will have no legal force anymore, even after being ratified by Turkey," Sargsyan warned. Neither Turkey, nor the US has so far reacted to that threat reflecting a widespread sense in Armenia that Yerevan was simply deceived by Ankara.
Sargsyan has faced strong domestic opposition throughout pursuing his policy of rapprochement with Turkey, which has led the influential Armenian Revolutionary Federation (also known as the Dashnak Party) to quit his governing coalition and antagonized a large part of the worldwide Armenian Diaspora. "Those who had raised the alarm that the process was not feasible and the documents inadequate were vindicated," the Civilitas Foundation, a Yerevan-based think-tank led by former Armenian Foreign Minister Vartan Oskanian, asserted in a recent annual report (www.civilitasfoundation.org, December 26).
Sargsyan's critics, including Oskanian, claim that the Turks were never serious about normalizing bilateral ties and saw the process as an opportunity to prevent more countries, notably the US, from officially recognizing the 1915 mass killings of Armenians in the Ottoman Empire as genocide. Some have even accused Sargsyan of helping US President, Barack Obama, to ignore his campaign pledges to recognize the genocide once in office. The Armenian president and his allies dismiss such criticism, saying that despite the lack of tangible results, Armenia has taken the moral high ground in eyes of the international community. They argue that both the US and the EU support the Armenian insistence on unconditional protocol ratification. Whether this makes eventual Turkish-Armenian reconciliation any easier is a matter of debate.
However, it is clear that Sargsyan's reputation has been enhanced significantly in Western capitals since he helped launch the Turkish-Armenian dialogue shortly after succeeding Kocharian in a disputed February 2008 presidential election. Sargsyan has faced little Western pressure to release all opposition members arrested after the election or for an overall democratization of Armenia's political system. That external political dividend may well prove useful during Armenia's next parliamentary and presidential elections in 2012 and 2013 respectively. Sargsyan intends to retain a loyal majority in parliament and win another term in office, whether through popular support or (which is more likely) the kind of vote manipulation that has been all too familiar to Armenians.