Turkish-Israeli Normalization Efforts Seek a Fresh Start
Publication: Eurasia Daily Monitor Volume: 7 Issue: 221
By: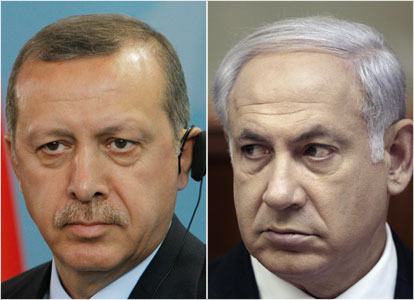 Turkey's recent humanitarian aid to Israel renewed the debate on how to normalize Turkish-Israeli relations, which have been in limbo since the flotilla incident in May 2010. Turkey has argued that Israel should acknowledge full responsibility for its raid on the humanitarian aid flotilla, which resulted in the deaths of nine Turkish civilians. After Israel released the Turkish citizens arrested during the raid and allowed the Turkish ships to return home, Ankara's demands concentrated on Israel issuing a formal apology and providing compensation for the human and material damage. Turkey refused to dispatch its ambassador to Tel Aviv, until Israel complied with these demands (EDM, June 7).
Turkish Prime Minister, Recep Tayyip Erdogan, offered to send two Turkish firefighting CL-215 aircraft to help Israel combat the devastating fire in Northern Israel last week. Having completed their task, the Turkish aircraft returned to Turkey (www.mfa.gov.tr, December 6). Israel's acceptance of the offer raised expectations for opening a new channel of communication between the two countries.
Such expectations were not entirely baseless, since historical precedents offer grounds for optimism. Following the August 1999 earthquake in Turkey's Marmara region, Greece moved swiftly to extend humanitarian aid, which was reciprocated by the Turkish side when another devastating earthquake took a heavy toll in Greece later that year. The intimate contacts established during that incident opened the humanitarian aspects of Turkish-Greek relations, which had been historically characterized by patterns of enmity. Political tensions rapidly subdued, as Greece removed its veto over Turkey's integration with European institutions and became an ardent supporter of Ankara within the EU (EDM, October 27).
Turkish commentators have been discussing whether such a scenario might be long overdue. Both Israel and Turkey arguably seek to steer away from the current stalemate, as they slowly realize the political costs of the ongoing impasse. As for Turkey, the deterioration of relations with Israel had negative repercussions for its relations with the US, which has grown increasingly anxious about Turkey's independent regional policies. Israel also faces the consequences, as it increasingly finds itself alienated in the region, having lost a valuable ally (Hurriyet Daily News, December 6).
Such an affirmation of a determination to mend fences was perhaps expressed by Israeli Prime Minister, Benjamin Netanyahu, who welcomed Turkey's help against the fire in a telephone conversation he initiated with Erdogan. Having expressed his gratitude, Netanyahu emphasized that his country would not forget this help and would seek to reciprocate accordingly. He also visited the Turkish airplanes and expressed his gratitude to Turkish pilots (Anadolu Ajansi, December 8).
Though Turkey's help in the recent fire crisis may not in itself bring an end to the stalemate, it nonetheless achieved a minor success, which might help precipitate a broader process to normalize Turkish-Israeli relations. Reportedly, Turkish and Israeli diplomats, Feridun Sinirlioglu and Yosef Ciechanover respectively, met in Geneva in an effort to find a solution. The Turkish and Israeli ambassadors to the US also held talks around the same time. Earlier, such an attempt was made, but ended in failure after Turkish Foreign Minister, Ahmet Davutoglu, and Israeli Labor Minister, Binyamin Ben-Eliezer, met in Brussels secretly, seeking to find a way to repair bilateral relations (EDM, July 7). Perhaps, that initiative was too early, as it did not enjoy full support within the Israeli government. It was also too "high level," as the parties apparently were not ready to meet at ministerial level, before working out the technicalities of normalization through contacts between officials. Consequently, considering Israel's resistance to Turkish demands, so far, there were no realistic alternatives to reset the relationship. Since the flotilla incident has become an issue of national pride, the Turkish government worked to find a way out of this stalemate that would allow it to argue credibly before the public that it did its best to defend Turkey's national interests.
According to media reports, in the recent talks, both parties discussed the steps that could be taken to mend the rift. Reportedly, while Israel sought a formula to apologize for the attack on the flotilla and offer compensation for the victims and their families, Turkey also would work on returning its ambassador to Tel Aviv. However, the parties' failure to find a suitable formula under which Israel would offer its apology ended the talks (ANKA, December 7).
Consequently, the positive atmosphere created in the wake of the firefighting assistance did not lead to an overnight change. On the one hand, Erdogan stressed that Turkey would not give up its earlier demands from Israel, most notably an official apology. If Israel was interested in turning a new page with Turkey, it would have to admit responsibility, apologize and pay compensation, Erdogan argued. More importantly, responding to speculation that Israel might not issue an official apology and settle for a "humanitarian" apology, Erdogan maintained that no such distinction exists and Israelis should apologize to the Republic of Turkey. Erdogan also added that Israel needed to end its blockade over Gaza (Anadolu Ajansi, December 7).
On the other hand, divisions inside Netanyahu's cabinet also surfaced, highlighting the degree of opposition to normalization on Ankara's terms. In defiance of Netanyahu's dialogue policy with Turkey, Israeli Foreign Minister, Avigdor Lieberman, and other government officials ruled out any apology to Turkey (Anadolu Ajansi, December 8). Israeli websites maintained that following the recent round of meetings, "all that has come out of Ankara so far, however, is a fresh torrent of anti-Israel abuse from Turkish leaders and harsher terms for settling the feud" (www.debka.com, December 7).
Both Erdogan's remarks and the radical voices inside the Israeli government underscore once again how hard it will be to normalize Turkish-Israeli relations without resolving the flotilla issue. Nonetheless, the parties' ability and willingness to talk to each other is positive, as it provides a better alternative than the ongoing impasse. Such contacts are likely to continue, at least, in the context of the UN panel investigating the flotilla incident.