Turkish-Israeli Relations Deteriorate Further
Publication: Eurasia Daily Monitor Volume: 7 Issue: 130
By: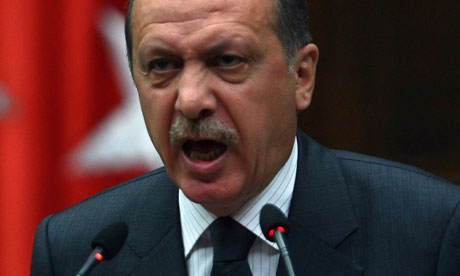 Turkish-Israeli relations continue to worsen, despite attempts to heal the divisions caused by the flotilla crisis. Ankara has asked Tel Aviv to issue an official apology for the killing of its citizens, pay compensation to the victims' families, accept an independent international probe into the incident, return the confiscated ships and end its blockade on the Gaza strip. Although Turkey threatened to sever ties if Israel fails to deliver, how far Ankara might go with its "punitive" actions has been a matter of controversy (EDM, June 7).
Thus far, the steps Israel has taken are far from meeting Turkish expectations, as acknowledged by Foreign Ministry Spokesperson, Burak Ozugergin (Anadolu Ajansi, June 30). For instance, Israel defied a UN-proposal to form an international commission and instead launched its own internal inquiry. The Israeli panel had only limited powers to examine "whether Israel's Gaza blockade and the flotilla's interception conformed with international law and also investigate the actions taken by the convoy's organizers and participants." Although the panel's mandate was expanded slightly by the Israeli cabinet, Turkey continues to dismiss it (www.worldbulletin.net, July 4).
There has been no progress on compensation for the killings. Similarly, Israel has not taken any steps to return the three ships it confiscated during the raid. Although Tel Aviv announced some measures to ease the Gaza blockade, humanitarian aid is not flowing into the area freely. Therefore, the Turkish government has continued its criticism of Israel on various domestic and international platforms. During the G20 summit in Toronto, Prime Minister, Recep Tayyip Erdogan, labeled Israeli actions as state terrorism and vowed to pursue this issue until Israel changed its attitude on Turkey's conditions (Anadolu Ajansi, June 28). Again, during his state of the union address, Erdogan continued with the same level of criticism against Israel (Anadolu Ajansi, July 1).
Nonetheless, a secret meeting between Turkish Foreign Minister, Ahmet Davutoglu, and Israeli Industry and Trade Minister, Ben-Eliezer, in Brussels altered the terms of the discussion (www.ntvmsnbc.com, July 1). Although the meeting was allegedly "secret," the manner in which it entered the press demonstrated that both sides did not want it to remain secret. They probably sought to send signals that they were willing and able to discuss ways of overcoming the stalemate, despite the confrontational public rhetoric adopted by their leaders.
While government sources from both countries confirmed the meeting, it had significant reverberations on each side. In Israel, the meeting caused a major debate, as it turned out that Ben-Eliezer was acting in consultation with Prime Minister, Benyamin Netanyahu, and Defense Minister, Ehud Barak, while Israel's hard-line Foreign Minister, Avigdor Lieberman, was not informed.
The Turkish opposition also capitalized on this story, presenting it as an indication of the government's "insincere" foreign policy. Opposition parties argued that while the government was lambasting Israel publicly for domestic political reasons, it continued dialogue with Israel behind closed doors. Responding to such criticism, Davutoglu ruled out any "inconsistency" in the government's foreign policy and defended the meeting. He argued that, the meeting was requested by the Israeli side and he used that opportunity to state Ankara's demands directly to Israeli officials (www.cnnturk.com, July 1).
However, subsequent exchanges between Turkish and Israeli sources showed that the parties were far from overcoming differences. In defiance of Turkey's account of the secret meeting, Netanyahu argued that no compensation was discussed and the panel formed by Israel would satisfy the demands of the international community. Although expressing regret for the loss of life, Netanyahu ruled out any apology and compensation (www.cnnturk.com, July 3).
This statement prompted Davutoglu to issue further harsh remarks directed at Israel in an interview with Hurriyet, which appeared as an ultimatum: "Israelis have three options: they will either apologize or acknowledge an international impartial inquiry and its conclusion. Otherwise, our diplomatic ties will be cut off" (Hurriyet Daily News, July 4). Davutoglu also indicated that Turkey could not wait indefinitely and would continue to take measures to isolate Israel, which might include extending a flight ban on Israeli military aircraft over Turkish airspace to civilian flights as well.
In response, Israeli sources again rebuffed Turkey's demands for an apology. Liberman and Foreign Ministry Spokesman, Yigal Palmor, slammed Ankara's harsh rhetoric. "When you want an apology, you do not use threats or ultimatums… Everything leads us to believe that Turkey has another agenda in mind," Lieberman maintained (AFP, July 5; Today's Zaman, July 6).
Turkish-Israeli tensions have been an important issue affecting the course of Turkish-US relations, which also experienced recent turbulence. Since the Davutoglu-Ben-Eliezer talks took place after Erdogan's meeting with the US President, Barack Obama, at the G20 summit, some speculated that Washington was behind this development. Moreover, Obama arguably sought to convince Erdogan to drop his demand for an international investigation into the flotilla incident (www.cnnturk.com, July 4). Davutoglu has rejected the suggestion that the meeting was held due to American pressure.
Although it might be difficult to confirm what role US diplomatic sources played in the latest meeting, US efforts to mend ties between Turkey and Israel are no secret. Since the parties started bickering immediately after the revelation of the "secret" meeting, it might indicate that they were encouraged by Obama to meet. Indeed, Turkish-Israeli ties were one of the items on the Erdogan-Obama meeting, where Erdogan extended his gratitude to Obama for his constructive role in the flotilla crisis (Anadolu Ajansi, June 28).
However, it seems Obama has been less successful in dampening the tension between the two allies in the Middle East and in convincing Erdogan to drop his critical rhetoric towards Israel. The row over the secret meeting, obviously seeking to bridge differences, demonstrated the depth of the Turkish-Israeli rift. As a final straw, it was announced that Turkey will not attend a US-Israeli-Turkish joint naval search-and-rescue exercise, scheduled in the Eastern Mediterranean next month. Dubbed "Reliant Mermaid," the drill has been held regularly over the past decade (www.ntvmsnbc.com, July 5).